126898
710W Hammer Drill
710W UK
---
---
Variable speed & reverse
13mm (1/2") keyless chuck
Lock-on button
Drilling capacities: wood 25mm, masonry 13mm, steel 13mm
Includes adjustable auxiliary handle & depth rod
---
Kupte Online
Najít prodejce
Zhodnoťte tento produkt
21 recenze/í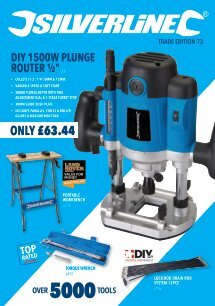 ---
Informace o produktu
| | |
| --- | --- |
| Gauge | Plastic gauge |
| Handle - Primary - Finish | PA6 and TPR |
| Třída IP | IPX11 |
| Rozsah ponoru | <100mm |
| Výkon | 710W |
| Otáčky naprázdno | 0 - 3200rpm |
| Velikost sklíčidla | 13mm |
| Typ sklíčidla | Peacock keyless |
| Nastavitelná rychlost | Yes |
| Hloubka vrtání - max. ve dřevě | 25mm |
| Hloubka vrtání - max. ve zdivu | 13mm |
| Hloubka vrtání - max. v oceli | 13mm |
| Hmotnost | 1.9kg |
---
Klíčové vlastnosti
Silverline's 710W Corded Hammer Drill is a powerful tool that excels in building and construction tasks around the jobsite, workplace, home and garden. With the ability to disengage the effective hammer action, you can be drilling into or splitting concrete one minute, and making a doll's house the next.
Keeping a firm grip on this punchy drill will be a breeze with the comfortable, rubber-coated handle, which reduces vibration significantly when pushing the tool to its limits of drilling 25mm into wood and 13mm into cement, concrete and steel.
An additional, adjustable, auxiliary handle means awkward angles are not a problem and extra force can be applied where required. Variable speed allows you to continually adjust the revolution rate, enabling the perfect amount of torque and force to be manually applied to every application.
As is often the case with Silverline tools, steps have been taken to maximise quality and performance, and this Hammer Drill is no exception. Fitted with all-metal gearing and gearbox casing, the tool is durable and reliable for confidence in performance. The hammer action should be engaged when drilling into concrete and other masonry materials, and disengaged when you are working on wood or steel.
Silverline offers a wide range of drill bits for almost every requirement - why not opt for the 19pce set combining a mixture of high speed steel bits for wood and metal with tungsten-carbide tipped bits for masonry tasks; search 'Silverline 633805'.
---
Balení obsahuje
1 x Hammer Drill 710W
1 x Depth Gauge
1 x Auxiliary Handle
1 x Instruction Manual
---
Hodnocení zákazníků
kým: David J
2020-06-01T00:00:00
Bought to replace previous Silverline power drill that had lasted for years. This is more powerful model & I would expect many years use out of a quality product that is sensibly priced not including a premium for the brand name
---
kým: keith f
2020-05-27T00:00:00
This 710w Hammer drill (126898) is such a great replacement for my old Drill which was 1050w but this Silverline model beats it hands down with all its facilities and technology and great power range
---
kým: Matthew M
2020-05-04T00:00:00
Great product at the right price, 5 stars
---
kým: Jill
2020-01-01T00:00:00
Hubby is over the moon with this drill, its small and does the job he wants to do in tight spaces. Thank you.
---
kým: Diego
2019-11-16T00:00:00
Very good fully recommended
---
kým: Kevin o
2019-06-24T00:00:00
Great power with hammer control, variable speed and solid drill. Well worth buying.
---
kým: Phil W
2019-06-06T00:00:00
I''ve not used the drill a lot as yet but I have used it a couple of times to drill in wood and just as a test and out of curiosity I drilled a couple of holes in an old hard brick with no problem. So far I would definitely recommend this drill!
---
kým: Tony R
2018-12-14T00:00:00
Just brilliant, more or less same spec and just as good as the Bosch drill I''m replacing for half the price!
---
kým: Ms H
2017-10-11T00:00:00
Excellent product, great value for money, and a 3 year warranty! What''s not to like 😊
---
kým: Garry S
2017-04-25T00:00:00
Great hammer drill at a budget price. Well made, robust and good balance in the hand. Generous cable length, smooth speed shift and a hand-tighten chuck stand out at this level.
---
kým: Paul M
2017-04-08T00:00:00
Excellent value for money
---
kým: Tony N
2017-03-09T00:00:00
When looking at quality, one normally says, "You get what you pay for." BUT this gem of a hammer drill does not fit that adage. It performs as well as similar tools three or more times the cost. And although it is light for ease of use, it is no lightweight when it comes to doing the biz. Thoroughly recommend it.
---
kým: Tony N
2017-03-02T00:00:00
Comfortable to hold, packs a punch that is incredible for it''s comparatively low wattage, a really good all rounder drill, driver, hammer drill.
---
kým: Rich
2016-11-29T00:00:00
Recently purchased this drill for light DIY use, and so far it''''s been performing great. The hammer action is great for going through masonry with ease with good bits and its got plenty of torque for my requirements.
---
kým: Noel P
2016-09-21T00:00:00
I bought this Electric drill as a cheap replacement for my burnt out old Black and Decker when I needed to do some tough hammer drilling in some hard burnt brickwork and expected it to fail after a shorty while. I examined the product out of the box and was surprised how good the build quality is and after some very hard work the drill is still performing well with no sign of damage or wear and tear a year later. It was a bargain and I am very pleased with it.
---
kým: Martin H
2016-09-15T00:00:00
A great hammer action backed up by loads of power, this drill is a lovely addition to my power tool collection, smooth power delivery and a hammer action that isn''t much less than that of my SDS, It eats through brick and blocks with ease and is small enough for you to keep full control.
---
kým: Ken P
2016-09-12T00:00:00
This is probably the best drill I have owned. It is light in weight in comparison to most other drills and very powerful. It will undertake anything that is expected of a drill, whether drilling wood, brick or metal. Value for money certainly I would give 10 out of 10 for performance
---
kým: Kenneth C
2016-09-12T00:00:00
A good powerful drill - very satisfied.
---
kým: Steve P
2016-09-12T00:00:00
I use the drill for a few odd jobs around the house, and over the last year or so it has performed very well. It''s got more than enough power for the jobs I''ve done, (including drilling in to concrete, bricks and tiles). Armed with an extension cord and this drill, I''ve been able to abandon my battery drill, which never quite had enough oomph or enough life to complete more than a very easy job. The slowest slow speed isn''t really slow enough to use as a regular screw driver, but I have managed to use it that way. You just have to be careful to press lightly and be prepared to stop quick, as the drill is very quick.
---
kým: Keith S
2016-09-12T00:00:00
I have only used the drill a few times and the trigger switch mechanism has already fallen apart. In my opinion the price reflects the quality. Have now replaced with a more expensive but hopefully more robust make.
---
kým: Sue C
2016-08-09T00:00:00
very pleased with this product
---
3-letá záruka
Teto Silverline 710W Hammer Drill je během 30 dní od nákupu chráněn před vadami z důvodu použití špatného materiálu při výrobě nebo použitím nesprávného výrobního postupu. Tuto záruku můžete prodloužit tím, že svůj 3-letá registrujete během 30 dní od nákupu. Jakékoliv vadné výrobky budou opraveny nebo vyměněny zdarma.