245077
Prořezávací pila s prodlužovací násadou
1,5 - 2,5 m
---
---
Lehká
Vysouvá se od 1,5 m do 2,5 m
Bezpečná, zamykatelná násada v různých délkách
Pevné, speciální ostří pro snadné řezání větví
---
Kupte Online
Najít prodejce
Zhodnoťte tento produkt
45 recenze/í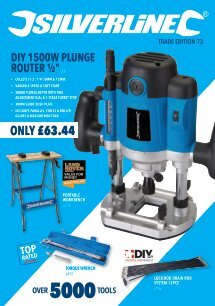 ---
Informace o produktu
| | |
| --- | --- |
| Velikost nože/kotouče | 1.1mm |
| Šířka nože/kotouče | 470mm |
| Povrch | Polished |
| Handle - Primary - Finish | Foam grip |
| Výškový rozsah | 1.5 - 2.5m |
| Hmotnost | 1.402kg |
---
Klíčové vlastnosti
Nezničitelná prořezávací pila s prodlužovací násadou s trojitými zuby. Násada se vysouvá od 1,5 m do 2,5 m. Skvělé pro dosažení vysokých větví. Vysouvací násada se pro větší bezpečnost zamyká v různých délkách. Superosté pro snadné řezání větví.
---
Balení obsahuje
1 x Extendable Pruning Saw
---
Hodnocení zákazníků
kým: Simon b
2022-02-06T00:00:00
I am a director of a tree surgery company treescape in Sussex I use many different tools on a daily bases I bought the pole saw from silverline out of curiosity as I have very exspensive Sthil pole saws and can honestly say apart from the reach this cuts with ease is very light and can save you a climb up the tree will buy again
---
kým: John Y
2021-03-19T00:00:00
The bracket connects the shaft to the saw is poorly designed. Mine has broken, silverline are not offering a replacement. Very poor service.
---
kým: Trevor G
2020-07-05T00:00:00
This saw is amazingly sharp and the extendable pole gives fantastic reach as well as being very easy to use. Every now and then you need to make sure the wing nuts stay tight on the bolts that fix the blade to the pole. They can work loose if they get knocked while sawing.
---
kým: Harry S
2020-05-30T00:00:00
I received your Extendable Pruning Saw 1.5 to 2.5 metres recently and was pleasantly surprised to see that it comes with a lifetime guarantee. It is certainly very well made and comfortable to use with a soft grip. It is not too heavy and did the job with ease.
---
kým: Arron H
2020-05-13T00:00:00
Very good at this price point. Blade does flex marginally if not used correctly but otherwise no complaints.
---
kým: Mike s
2020-05-07T00:00:00
I have an orchard and at the moment have plenty of time on my hands.....decided to sort the trees out ....I'm delighted with the performance of the saw it's light/sturdy/and sharp......a joy to use.
---
kým: Brian P
2020-04-29T00:00:00
Did the job with ease and at a reasonable price you cannot ask anymore than that
---
kým: Mike Y
2020-04-18T00:00:00
This is a really efficient piece of equipment. I was able to reach high branches and remove them with little effort. I couldn''t be happier with it.
---
kým: Hal G
2020-04-15T00:00:00
Not quite slicing butter with a hot knife, but surely the next best thing. For years I''d been watching 3 trees grow up from the middle of my hedge and had tried every pruning saw in my shed, Not any more! This pruning saw worked a treat. The curve is ideal, the ends allow you to use the whole blade without it slipping out and the blades are offset enough to prevent jamming. Thoroughly recommended.
---
kým: Rob
2020-04-08T00:00:00
Comprata per potare qualche alberello del giardino senza affaticarmi troppo e senza arrampicarmi pericolosamente sulla scala, aggrappandomi maldestramente a qualche ramo. La sega taglia benissimo, l''asta è solida e si lavora bene e con l''estensione sono arrivato praticamente ovunque, salendo al limite sui primi due gradini della scala. Consigliata
---
kým: Ken G
2020-04-01T00:00:00
I recently bought an extendable tree pruning saw from Silverline and am glad that I have added it to my tool shed as it has performed faultlessly and is an excellent tool. I would strongly reccommend it.
---
kým: Stephen H
2020-03-15T00:00:00
Brilliant, the wife couldn''t believe how quick I pruned the tree. Hardly any pressure needed, it was sharp, and still sharp when I had finished. Quality product.
---
kým: Fabrizio
2020-03-11T00:00:00
---
kým: Fabrizio
2020-03-05T00:00:00
---
kým: Artie
2020-03-02T00:00:00
I wanted a pruning saw that was slim enough to go between branches, many are too bulky. Cut through 4 - 6 inch conifers without much effort. Take care to use with stout safety gloves, don't take chances, it can happen to you !!
---
kým: David J
2020-02-23T00:00:00
For the price this is a very excellent saw, it tackled branches up to 6" with ease. It has a very good grip. I am pleased with this product and would recommend it to anyone.
---
kým: TONY S
2020-02-08T00:00:00
Best tool for pruning, blade very sharp and well shaped also clears well. Exultant price.
---
kým: Michael B
2019-11-26T00:00:00
Not had chance to use the saw yet but judging by the apparent quality of the product I''ve no reason to doubt it ticks all the boxes.
---
kým: Peter D
2019-09-12T00:00:00
Great tool to use. Extends easily, and feels solid when being used. The was is very sharp, offering clean cuts when trimming shrubs and trees.
---
kým: Peter G
2019-08-21T00:00:00
Having looked around, non could beat this on functionality and price. A sturdy, solid tool with a lifetime guarantee; unbelievable.
---
kým: Nigel S
2019-08-08T00:00:00
Excellent extended saw. Good saw blade cut with ease and reach is good. Handle gives good grip. Extending and contracting confusing to start with but quickly got the hang of it. Recommend it!
---
kým: Alison C
2019-07-03T00:00:00
I was a bit daunted by having to get about 15'' up to cut off over-grown and diseased plum tree branches hanging over my garden from next door. Saw this extending saw and the good reviews from other ''elder ladies'' and decided to have a go (whilst the house is empty and up for sale). Well I can say the job was indeed easier than I had thought with this saw; it easily cut through 4-5" branches once one got the hang of the required action. Blade caught and bent a few times, but did not break. In a relatively short time I had cut down all the branches on my side of the fence and my plants at that end of the garden can now get light and rain water and not many diseased fruit falling on them. Could not have done the job without this saw, and best of all I never had to climb on anything to reach the higher branches so much safer. Lifetime guarantee too, but there seems to be no word about where to buy replacement saw blades yet, so that is the only possible future downside.
---
kým: Paul B
2019-07-02T00:00:00
I bought this recently for a specific job in my garden, where some rotten branches on a lime tree were threatening to fall onto vehicles parked underneath. I have not used one before, but I found it well designed and it cut through the wood quickly and accurately. Moreover, if - like me - you are in advanced years and prefer to keep your feet on the ground, you feel much safer than balancing on a ladder or step ladder. Only used once so far, but I feel confident it will come in very handy in the future.
---
kým: Alison C
2019-06-27T00:00:00
Needed this saw to take out the overhanging branches from next door''s diseased plum tree. (That house is empty just now, and being sold, so the perfect time for me to cut down the unwanted invading branches which shade and infect my own fruit trees! It was very easy with this long saw I have to say. I struggled a bit to get the saw balanced for the top-most two branches (but they were high up). I didn''t even need to go get tall step-ladders! The saw did snag occasionally, but that was due to the fact that I was cutting so high above me. Cut really well once I got used to the action required to saw - even branches of 3" cut smoothly. I really couldn''t have done the job at all without this great saw. Worth every penny - just hope they get spare saw blades in for the future. BUY THIS WITH CONFIDENCE IN A GREAT PRODUCT.
---
kým: Adrian
2019-06-19T00:00:00
The blade is really sharp and made short work of a thick trunk of an overgrown Buddleia bush. The hooked ends are ideal for taking off twiggy bits that are too small to be sawn. If the extending handles are removed, the saw can be used as a simple hand-saw too. The handle sections are good and solid and don''t whip or twist when extended, with secure latches to keep them in place when extended. Only slight criticism is that the wingnuts that secure the blade to the handle are a bit on the small side and prone to coming loose, but easily solved by substituting with nyloc nuts.
---
kým: Ciaran C
2018-04-06T00:00:00
Good saw for cutting smaller hard to reach thinner branches. Any thicker branches aren''t possible to cut because of the width of the blade which I already expected. Downside was that one of the screws that holds the blade in place came loose quite quickly and I ended up losing the screw and nut. I will have to find a replacement screw and nut for this before I use it again. All in all but it done the job I needed it to do so happy with it.
---
kým: Gareth M
2017-05-19T00:00:00
Saw arrived quickly and is very very sharp. Looks exactly what I need and a good price. Many thanks
---
kým: philip j
2017-04-27T00:00:00
---
kým: Paul M
2017-04-04T00:00:00
Excellent saw cuts through branches with ease. Well constructed adjustable pole light and easy to manoeuvre ideal when using steps or ladders. Excellent value would recommend highly.
---
kým: Steve
2017-03-20T00:00:00
I bought this to cut down branches that were out of reach without needing ladders etc. The saw is easy to use, has a good ''feel'' to it and allows quite some pressure to be applied whilst sawing. I was able to cut through branches up to several inches thick with minimal effort. Cannot think of any flaws or downsides to it.
---
kým: Geoff
2017-03-13T00:00:00
Lightweight, easy to use,VERY sharp, best yet. Thanks Silverline.
---
kým: Geoff H
2017-03-06T00:00:00
What a great product! easy to use, light weight, and Very Sharp.
---
kým: Geoff H
2017-03-06T00:00:00
Well thought out Saw, well made and should last a lifetime. G
---
kým: Roger E
2017-01-13T00:00:00
This extendable pruning saw is absolutely great, so sharp it goes through thick branches like butter!!!
---
kým: Robin W
2016-12-15T00:00:00
An excellent product that does what it says really well.
---
kým: Laffaye
2016-12-03T00:00:00
Not a chance yet to use it : yet seems to ccorrespond to the internet description, with hopefully not too much difficulties to operate the extensions blocking ....
---
kým: Alexander J
2016-11-19T00:00:00
A FIRST CLASS PRODUCT WHICH HAS MADE MY LIFE A LOT EASIER WHEN PRUNING AT A HIGH LEVEL.
---
kým: Alexander J
2016-11-12T00:00:00
A first class product which has made my life a lot easier it has a good reach and quality with a lifetime guarantee.
---
kým: FESTRAETS P
2016-10-10T00:00:00
---
kým: PAUL G
2016-09-27T00:00:00
EXCELLENT PRODUCT - RAZOR SHARP BLADE - STURDY EXTENDABLE HANDLE. MAKES LIGHT WORK OF PRUNING BRANCHES.
---
kým: Norman B
2016-09-26T00:00:00
Pruning saw is easy to use- gives a good reach and is very robust
---
kým: Radcliffe
2016-08-30T00:00:00
So far working very well with a good sharp blade brought down a 6 inch branch no trouble
---
kým: Richard C
2016-08-30T00:00:00
The Extendable Pruning Saw is very good value and quality. I could not believe just how well designed and made it was when it arrived. It extends easily, due to a clever locking mechanism, and stays securely in place. The blade is very sharp, will last for a long time and can easily be sharpened when it eventually loses its edge. There is nothing like it from any other manufacturer, anywhere near this price,on the market. I highly recommend this product.
---
kým: T H
2016-08-30T00:00:00
The saw arrived in good condition and was razor-sharp. I used it to do extensive pruning on a large tree, cutting boughs up to around 125mm diameter and then slicing those boughs into lengths of 600-800mm long. I was amazed at how easily it sliced through the branches, down to approx. 25mm diameter and remained sharp, although I could notice a little more effort required towards the end of the job. It is a little flimsy - the blade and bends quite easily, but used with the correct drawing action does an excellent job. I was highly impressed for the price and will use it again next year. Well worth the expense.
---
kým: Ian P
2014-09-12T00:00:00
Very sharp and efficient blade. But after a year of use I have to throw the whole tool away because I can''t find replacement blades.
Silverline are currently looking into a replacement parts range for the garden tool category.
---
Doživotní záruka
Teto Silverline Prořezávací pila s prodlužovací násadou je během 30 dní od nákupu chráněn před vadami z důvodu použití špatného materiálu při výrobě nebo použitím nesprávného výrobního postupu. Tuto záruku můžete prodloužit tím, že svůj Doživotní registrujete během 30 dní od nákupu. Jakékoliv vadné výrobky budou opraveny nebo vyměněny zdarma.