267204
Rotary Tool Accessory Kit 216pce
3.17mm Mandrel
---
---
Includes cutting/grinding wheels & stones, burrs, sanding drums & felt polishing tips
For model & jewellery making, arts & crafts, home decor, car care, woodworking & DIY
For use on ceramics, tiles, stone, glass, plastics, fibreglass, metals, alloys & wood
Max 28,000rpm / 3.17mm mandrel
Compatible with most rotary tools including Silverline, GMC & Dremel
---
Kupte Online
Najít prodejce
Zhodnoťte tento produkt
1 recenze/í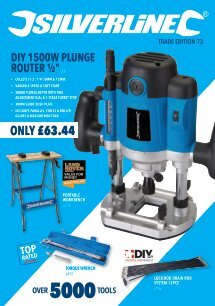 ---
Informace o produktu
| | |
| --- | --- |
| Povrch | Natural |
| Materiál - abrazivum | Resin bonded aluminium oxide / aluminium oxide / diamond dust / felt / nylon / brass / steel |
| Materiál - povrch | Various |
| Hmotnost | 0.156kg |
---
Klíčové vlastnosti
Includes cutting and grinding wheels and stones, burrs, sanding drums, felt polishing felt tips and compound. For model and jewellery making, arts and crafts, home decor, car care, woodworking, DIY and restoration. For use on ceramics, tiles, stone, glass, plastics, fibreglass, metals, alloys and wood. Compatible with most rotary tools including Silverline, GMC and Dremel. Mandrel 3.17mm. Max 28,000rpm.
---
Balení obsahuje
12pcs grinding wheel F20*3*2, 2pcs rubber emery wheel, 30pcs sanding band grit 80( F12.7*15pcs, F6.35*15pcs)
5pcs diamond cutter F3.17, 2pcs mandrel F3.17, 2pcs sanding shank 12.7mm & 6.35mm, 1pc Flap wheel
4pcs felt wheel, 1pc sharping stone, 1pc diamond disc, 10pcs cut off wheel fiber glass, 1pc wrench
1pc mandrel for felt wheel F3.17, 2pcs HSS cutter, 1pc felt wheel point, 1pc cloth wheel, 4pcs collet F3.17*2pcs, F2.35*1pc, F1.6*1pc
6pcs aluminium oxide grinding wheel with shank, 4pcs silicon carbide grinding wheel with shank
9pcs brush, 12pcs grinding wheel with shank, 38pcs sanding disc F20
36pcs cut off wheel brown F24*0.6mm, 30pcs cut off wheel black F24*0.8mm
1pc polish compound
---
Hodnocení zákazníků
kým: Ianto E
2020-05-13T00:00:00
I bought this set recently from my local hardware store in order to complete a project I had on the go. The pieces are all of a high quality, wih a massive selection. There is a but following all situations! I love the addition of the polishing paste, and the high speed cutting bit has really come in handy. My only niggle with this product is the fact that the little screwdriver but on the spanner bends way too easy. Other that, a great product, which I would most certainly buy again!
---
Doživotní záruka
Teto Silverline Rotary Tool Accessory Kit 216pce je během 30 dní od nákupu chráněn před vadami z důvodu použití špatného materiálu při výrobě nebo použitím nesprávného výrobního postupu. Tuto záruku můžete prodloužit tím, že svůj Doživotní registrujete během 30 dní od nákupu. Jakékoliv vadné výrobky budou opraveny nebo vyměněny zdarma.