312279
Ostřič vrtáků 95 W
95 W
---
---
Rychle naostří tupé vrtáky
Vhodné pro vrtáky HSS a z uhlíkové oceli, 3,6 až 10 mm v průměru
Zabudované vodítko na vrták
Rychlé a snadné použití
Wheel Dia: 60mm
---
Kupte Online
Najít prodejce
Zhodnoťte tento produkt
9 recenze/í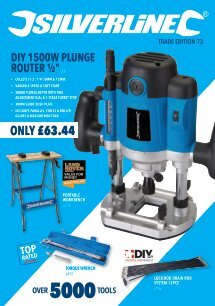 ---
Informace o produktu
| | |
| --- | --- |
| Povrch | ABS plast |
| Otáčky naprázdno | 1350 otáček/minutu |
| Hmotnost | 0,974 kg |
| Wheel Diameter | 59 mm |
---
Klíčové vlastnosti
Rychle naostří tupé vrtáky. Vhodné pro vrtáky HSS a z uhlíkové oceli, 3,6 až 10 mm v průměru. Zabudované vodítko na vrták.
---
Balení obsahuje
1 x Electric Drill Bit Sharpener 95W
---
Hodnocení zákazníků
kým: JOHN R
2022-05-05T00:00:00
Delivery time was excellent and the sharpener does what it says on the box ,saving pound''s in sharpening the drills instead of buying them
---
kým: Paul D
2022-03-10T00:00:00
I bought this drill bit sharpener to improve the cutting edge on some cheap drill bits which I had bought in an emergency during Covid related shortages, the sharpener has cut a very sharp edge on every drill bit tried so far, I am greatly impressed and I''m sure it will pay for itself in no time!
---
kým: Phil H
2021-05-08T00:00:00
I am very impressed with this machine. I have used it to put a sharp edge on four sets of HSS twist drills and it has worked perfectly. So quick and easy to use. Took a little longer to re-grind a badly chipped 8mm drill but it ended up perfect. It will sharpen imperial sized drills as well. Definitely recommended.
---
kým: DAVE F
2020-05-20T00:00:00
GREAT LITTLE TOOL FOR YOR WORKSHOP ,AT THIS PRICE CANNOT BE BEETEN.
---
kým: Stewart
2019-12-04T00:00:00
Arrived on time and as described. Seems to sharpen as it should.
---
kým: leroy j
2019-06-22T00:00:00
dommage que l on ne trouve pas la meule de rechange car la mienne et usée
---
kým: DAS S
2018-04-23T00:00:00
Hello, First of all I want to tell that I got this not so long ago and played with it half a day. It''s working great except that it do not make a new pike, but intead of, do two side of the drill with no center. I''m certainly not using it properly even if I read and try to apply the intructions from the notice. I got back and forward on the 2 sides by 20° as explained, but this is not close the redo a pik in the center of the drill, still does two sides without pik in the middle. So at the end, the drill is not usable anymore... Maybe I need to practice more. Finally, it really does sharpening of the drill.
---
kým: colpin
2017-05-20T00:00:00
Bonjour, j''avais bien besoin de cet outil la , car mes forets étaient un peu trop usés, maintenant, ils revivent et travaillent très bien, grâce à l''affutage réussi par cet outil, Merci !
---
kým: Alan A
2017-01-11T00:00:00
This is one of a number of tools I have bought from Silverline. The quality is always first class, complete with a brilliant guarantee which can easily be completed on line.Cannot fault this company
---
3-letá záruka
Teto Silverline Ostřič vrtáků 95 W je během 30 dní od nákupu chráněn před vadami z důvodu použití špatného materiálu při výrobě nebo použitím nesprávného výrobního postupu. Tuto záruku můžete prodloužit tím, že svůj 3-letá registrujete během 30 dní od nákupu. Jakékoliv vadné výrobky budou opraveny nebo vyměněny zdarma.