553079
Plynový butanový hořák
1300 °C
---
---
Volitelná velikost a teplota plamene
Pro řemeslné práce, bižuterii, modelářství, pájení a drobné instalatérské opravy
Praktická základna
Plnitelný
---
Kupte Online
Najít prodejce
Zhodnoťte tento produkt
8 recenze/í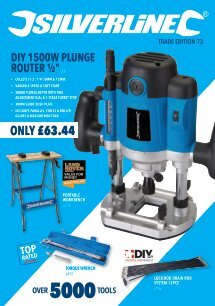 ---
Informace o produktu
| | |
| --- | --- |
| Handle - Primary - Finish | Comfort grip |
| Hmotnost | 0.164kg |
| Max Temperature | 1300°C |
| Max Working Time | 25 minutes |
---
Klíčové vlastnosti
Lehký, kompaktní plnitelný plynový hořák. Piezoelektrické zapalování a jemné nastavení plamene. Vhodné pro řemeslné práce, bižuterii, modelářství, pájení a drobné instalatérské opravy. Maximální teplota 1300 °C. Přibližná provozní doba 25 minut.
---
Balení obsahuje
1 x Manual
1 x Butane gas torch
---
Hodnocení zákazníků
kým: Ludivine
2020-01-22T00:00:00
I chose this torch to help me with my creation of jewelry on silver solder; and I must say that I am very satisfied! Small handy, quickly rises in temperature .. And we see that the materials used on this torch are of quality! I recommend to all creatives like me!
---
kým: Paul B
2019-07-02T00:00:00
Excellent value , it's extremely reliable, I would recommend this product, the flame is regulated and is very positive on the control knob , this product is excellent , 5*****
---
kým: Guy D
2019-01-28T00:00:00
It has a stand to hold it straight up, it uses gas, it moves to where I out it, it fires up when I want it to and goes out when I turn it off - in other words, it does just what I want it to.
---
kým: Mr D
2018-11-27T00:00:00
This torch worked perfectly well until the gas ran out I found I couldn't refil it trying more than one gas canister. Tried so-called refil point/pressure adjustment without success. This problem has been well documented on line. Help.
---
kým: Mohammed S
2017-11-06T00:00:00
The Butane Gas Torch is very simple &amp easy to use all you need is Butane Gas normally sold as a lighter refiller at nearest local store, place the Gas nozle below the foot of the Torch where a filler cage exists, fill &amp adjust gas pressure to desired choice turn top rotating nozzle marked as On/Off the press the ignite button to start a standard constant flame immediately &amp enjoy this great tool. A excellent choice preferably.
---
kým: David L
2017-03-10T00:00:00
A good little tool,only dislike is you can only use it for 2 minutes at a time, then you have to let it cool down. Apart from that, great.
---
kým: Richard T
2016-10-25T00:00:00
The torch is excellent for consistent heat and is easy to control the flame for small solders in jewellery. However, I did find filling it difficult having to buy a three different cans of gas until I found an attachment that fitted without leaking gas. That said, now I have it, I don''''t need to worry about it.
---
kým: keith b
2016-10-10T00:00:00
I use it for hobby use, soldering brass and copper parts, the gentle hot flame is better than an electric soldering iron because you don''''t get excess solder everywhere.
---
3-letá záruka
Teto Silverline Plynový butanový hořák je během 30 dní od nákupu chráněn před vadami z důvodu použití špatného materiálu při výrobě nebo použitím nesprávného výrobního postupu. Tuto záruku můžete prodloužit tím, že svůj 3-letá registrujete během 30 dní od nákupu. Jakékoliv vadné výrobky budou opraveny nebo vyměněny zdarma.