589681
Digitální multimetr
AC & DC
---
---
Měří s přepínáním, signalizace bzučákem, diodami a NPN/PNP tranzistory
Napětí 200 - 750 V AC, 0 - 5 A DC
DC proud 0 - 10 A, odpor 200 - 2000 K, hFE tranzistorový test měřící rozsah 0 - 1000
Dodává se s testovacími kabely
Vyžaduje 9 V baterii
---
Kupte Online
Najít prodejce
Zhodnoťte tento produkt
6 recenze/í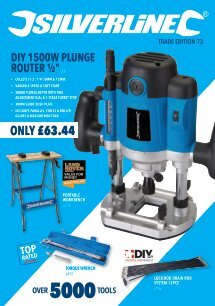 ---
Informace o produktu
| | |
| --- | --- |
| AC Voltage | 200 - 500V |
| Počet baterií | 1 |
| Typ baterie | 9V |
| Display Type | LCD |
| Function 01 | 200mV - 500V DC in incriments of 2000mV / 200mV / 20/200/500V / 0 - 500V AC in incriments of 200/500 / 2000uA - 5A DC in incriments of 2000MicroA/200mA/20mA/5A / 0 - 2,000k Ohm in increments of 200/ 2000/20k/200k/2000k/hFE / Sinus / Continuity / Diode |
| Nosnost - maximální zatížení | 500V |
| DC Current | 2000uA / 200uA / 20mA / 200mA / 5A |
| DC Voltage | 200mV - 500V |
| Resistance | 2000k / 200k / 20k / 2000 / 200 Ohms |
| Hmotnost | 0.111kg |
| Range | 200mV - 500V |
---
Klíčové vlastnosti
Ruční multimetr pro měření DC a AC napětí, DC proudu a odporu. Velký digitální displej pro snadné čtení. Dodává se s testovacími vodiči. Vyžaduje 9 V baterie (PP3).
---
Balení obsahuje
1 x Digital Mulitimeter
1 x Safety Sheet
1 x Set of Leads
---
Hodnocení zákazníků
kým: Hendrik
2020-04-13T00:00:00
Super multi meter, using is simple and a lot of opportunities, good price! So 5 star rating!
---
kým: Hendrik W
2020-04-06T00:00:00
I bought the digital Multimeter and what a good one, lot of choices to use it! 5 star rated, best one!
---
kým: A M
2020-03-22T00:00:00
Excellent piece of kit, very competitively priced and easy to use for amateurs and experienced users alike. Very pleased with this purchase.
---
kým: Mr P
2017-07-28T00:00:00
I HAVE USED ONE FOR A LONG TIME BUT IT HAS STOP WORKING.
---
kým: Xander W
2017-04-19T00:00:00
Perfect tool, particularly for the price. I''ve been using this for automotive electronics and got every job done without a hitch.
---
kým: John A
2016-12-09T00:00:00
Purchased this as I needed a multimeter for a few small jobs that have been building up for a little while and decided now was the time to purchase it. Not only is it a very good multimeter it comes from a tried and tested brand and comes with a 3year guarantee included. I found a couple of small electric faults I had when installing a cd multichanger in the car but I also use it in PC repair as well and its as good as any out there that cost a lot more. This is not my first purchase of the silverline brand I also have others from cutting disks to hand tools and it is always a brand I look out for when purchasing tools. As i am trying to build my tool collection currently I am sure there will be a few more Silverline products to join the collection.
---
3-letá záruka
Teto Silverline Digitální multimetr je během 30 dní od nákupu chráněn před vadami z důvodu použití špatného materiálu při výrobě nebo použitím nesprávného výrobního postupu. Tuto záruku můžete prodloužit tím, že svůj 3-letá registrujete během 30 dní od nákupu. Jakékoliv vadné výrobky budou opraveny nebo vyměněny zdarma.