633465
Nastavitelný hoblík č.4
50 x 2 mm nůž
---
---
Nůž z kvalitní uhlíkové oceli
Ofrézované strany a ryhovaná základna
Rukojeť z růžového afrického dřeva
Mosazný seřizovací šroub
Délka 225 mm
---
Kupte Online
Najít prodejce
Zhodnoťte tento produkt
40 recenze/í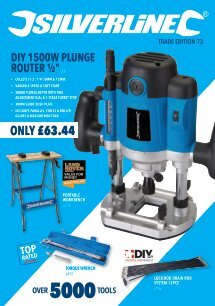 ---
Informace o produktu
| | |
| --- | --- |
| Handle - Primary - Finish | Rosewood |
| Handle - Secondary - Diameter | 45mm |
| Handle - Secondary - Diameter | 45mm |
| Šířka nože/kotouče | 50mm |
| Hoblovací šířka | 50mm |
| Hmotnost | 1.67kg |
| Způsob nastavení | Brass screws |
| Tvrzené | Yes |
---
Klíčové vlastnosti
Rukojeť z afrického růžového dřeva rukojeť zajištěna 2 mosaznými šrouby. Ofrézované strany, mosazný stavěcí šroub a pevný nůž 2mm. Jednoduché, rychlé nastavení se snadným vyjmutím nože pro broušení a honování. Rýhovaná základna snižuje tření na pryskyřičných dřevech. Nůž šířka 50 mm.
---
Balení obsahuje
---
Hodnocení zákazníků
kým: Maurice
2020-06-01T00:00:00
Looked good at 1st sight but was a disaster once opened. The threads of the frog mount were destroyed. Had to put in new but bigger threads. Also the iron casting of the frog was a mess. So this is where low quality iron parts go to. Honestly, this is not even worth the low price.
---
kým: Paulo J
2020-05-18T00:00:00
Although assembly was jot properly done correcting it wasn''t too hard. Maybe a little less grease would be good. Had to clean it before I could hold it meaning spending unnecessary time. The main handle was loose, this can only be fixed by removing the blade and holder, tighten the handle top screw and assemble it back. Quality reflects the price so overall it is a good value.
---
kým: Stephan
2020-05-16T00:00:00
Ich habe einen Hobel für gelegentliche Arbeiten gesucht. Diesen Kann man auch als Laie leicht betriebsbereit machen und er ist einfach in der Handhabung
---
kým: miguel a
2020-05-07T00:00:00
Buen producto . Tiene versatilidad y proyección por su simple concepto. Espero que me de satisfacción mucho tiempo.Un saludo
---
kým: John.
2020-05-05T00:00:00
It is of very good quality this hand plane. It won''t definitely be my last one.Looking forward for the rest
---
kým: Histman
2020-04-15T00:00:00
My first plane, after watching a few YouTube videos I managed to work out how to set it up. Seems well-made and very good value.
---
kým: Chris v
2020-03-12T00:00:00
Good smoothing plane but would be better if it came with setup instructions, had to Google instead rather annoying really.
---
kým: Efrem
2020-03-09T00:00:00
The tool couldn''t be used properly as it came out of the box. Extended sanding of the sole was necessary in order to flatten it. Even after much work, the back of the iron still has a low spot on one corner. The surface where the frog meets the iron also needs to be trued; on its underside there are 2 machined regions, but only one of them meets a machined spot on the body of the plane. The lateral adjustment lever''s pin has been installed at least a couple mm off center. The chip breaker also needs some work. Side walls are somewhat perpendicular but they don''t lay flat on the surface. After all the work done to it, the iron sharpens easily and seems to hold an edge for a reasonable time and shavings are more than paper thin. End grain work comes out reasonably ok
---
kým: David H
2020-03-02T00:00:00
Good general plane and value for money.
---
kým: Peter R
2020-02-04T00:00:00
Looks OK, but the Forklever broke while first Testing, Maybe because it was so hardly waxoiled, it could not slide and the big Handle is a Little bit loose. Thatfore I could not test it yet - going to ask for an new Lever an will have a second look ...
---
kým: Roy v
2020-02-01T00:00:00
The handle came off the plane before even using it. The chissle in the plane was dull too
---
kým: Martin M
2020-01-18T00:00:00
Dieser Hobel ist für mich genau der richtige Hobel! Man muß noch ein bischen schleifen un dann ist er perfekt!:-) Silverline nr 5 ist schon bestellt!
---
kým: Matjaz R
2020-01-17T00:00:00
I was quite disapointed as unfortunatelly I discovered that the body of the plane was extremely inacurate. I spent a number of hours flattening the base of the plane. The metal is very hard and I had dificulties flattening. Fortunatelly the sharpening of the blade went much faster. This may mean that the material of the blade is too soft but I''ll see how it hold the edge. After hours of work on the product I am happy with the result. The plane cuts well and I am satisfied with the results. Considering the price which is originally very fair (unfortunatelly not so low in my country Slovenia) I would definitelly recomed the product to less demanding users and ones that are prepared to inves time in working on the plane to make it acceptable.
---
kým: Stuart N
2019-10-06T00:00:00
Received the plane in excellent condition and works very well
---
kým: gunner
2019-09-19T00:00:00
finally got round to setting this up and it could have been a good plane but it is basically useless. the problem is that the yoke for the iron height adjustment doesn''t stick out the front far enough to engage the slot on the cap iron so you can''t adjust the blade height other than by undoing the lever cap. might be able to scavenge some parts for refurbing a few old stanleys I guess
---
kým: David h
2019-09-12T00:00:00
Great value, the blade is basic ground and you need to grind and sharpen it before you can use it.once done the plane performs very well.
---
kým: Simon B
2019-05-24T00:00:00
At under £14 anyone would be concerned about the quality of a tool like this, but it''s a surprisingly sound piece of kit. I do some fine carpentry and needed a plane quickly without a lot to spend for a job. The tool does need some cleaning and setup out of the box, which I would expect to do with any tool, including sharpening the blade properly before use. However, that done, it works wonderfully well. Sturdy, true, nicely balanced and comfortable to use. Along with an eternal warranty, excellent!
---
kým: Gruber J
2018-12-21T00:00:00
Fine Quality, I can recommend it!
---
kým: marcello
2018-12-19T00:00:00
Ottimo rapporto qualità prezzo
---
kým: Jernej C
2018-10-27T00:00:00
Moderate make, the blade was not sharpened at the right angle, othervise does the job. Good value for the money
---
kým: Dawn
2018-10-19T00:00:00
What a fantastic piece of kit, as I have only just started a little business this is the start of my hand tool collection, I found it easy to work with smooth operations and comfortable in your hand, prices are very compatiable,. I will be choosing Silverline Tools for other pieces of equipment, Great work guys
---
kým: Martin N
2018-09-25T00:00:00
Had a nice solid feel out of the box which suggested a quality tool and so it proved. However it was not set up for immediate use and there was not a word of instruction in the box. As someone who had never set up a plane before it took longer to do so by trial and error than it took to do the actual job I bought it for. A competeive price shouldn't mean "Go figure for yourself, we're not going to help you". How hard would it be to include a basic set-up guide for relative DIY novices?
---
kým: Glyn T
2018-07-11T00:00:00
Silverline seem to have bad reviews on many of their tools - nevertheless I purchased a No. 4 Hand plane. I was very surprised at the build quality. The casting was heavy, square and the sole was flat. The plane worked out of the box, but as you would expect it would benefit from sharpening the blade. This only took moments and with some minor adjustments the plane works excellently. Now I am not a newcomer to hand planes - my collection exceeds five hundred - so I was not expecting anything exceptional. The plane, however, is very good - not as good as a lie nielsen, obviously, but was exceptional value. Seriously if you know of any tool that is better value please let me know. In summary an exceptionally good value serviceable hand plane
---
kým: Stefan R
2018-05-18T00:00:00
Reasonably good plane for what I was trying to achieve. It doesn''t work out of the box as it requires to setup up the blade. Some people complained about the blade not being sharp enough and I agree, it isn''t one of the sharpest. However, I did not have the patience to use my whetstones before jumping straight into doing what I was planning to do. Figured out that when it''s properly set, then it mitigates most of the issues with the slightly dull blade. For the less lazy, there''s always the whetstones. A screwdriver around is definitely recommended for the process of setting up the blade. Some instructions would be welcome for those who haven''t used a plane for the past 20 odd years. It was bit of a mental struggle to remember how to do setup the blade. Considering that I have paid slightly more than a tenner, and with lifetime warranty, can''t really fault it. There''s nothing fundamentally wrong with the product, and most of the issues can be mitigated by setting and skill.
---
kým: James B
2018-04-16T00:00:00
Since buying the No.4 wood plane from Silverline, it has been great to use so far. It''s been flawless to use from the off. If for any reason, anything would be faulty in the future, I have the brilliant option to get it replaced free of charge as I simply registered the my tool on their website which guarantees me a lifetime warranty. I feel like Silverline will always be my primary place to shop when buying my tools.
---
kým: Degory
2018-03-18T00:00:00
The plane comes quite oily but the main issue is that the yoke is very narrow meaning lots of room to move laterally. A thicker home would help the plane seat more evenly and ease setting up. Each time you sharpen or remove the chip breaker to clear any waste it takes quite long to reset. But great rosewood handles and a solid plane, comfortable and nice to use.
---
kým: Andrew P
2017-10-20T00:00:00
cheapest price around and does the job!
---
kým: Darren M
2017-06-05T00:00:00
Strong, sharp, well built and at a great price.
---
kým: John H
2017-03-11T00:00:00
What a surprise..... such a quality tool for the price..... after going through the usual plane setup the tool worked perfectly. A quality tool for the price....
---
kým: Chauvet
2017-01-14T00:00:00
J''''ai utilisé ce rabot et je suis surpris par sa facilité d''''utilisation et sa bonne prise en main. J''''ai apprécié de travailler avec et je le recommande a tous les amateurs ou/et les plus confirmé. Bon copeau a vous.
---
kým: Chauvet
2016-12-21T00:00:00
Livraison rapide. Rabot de bonne qualité facile a régler avec une bonne prise en main. Je le recommande avec plaisir Bon copeaux a tous
---
kým: Jacek M
2016-12-15T00:00:00
Really heavy duty and professional tool. Good value for money.
---
kým: Keith M
2016-11-12T00:00:00
I was really impressed when I opened the box to find it wrapped in a piece of oiled paper and the plane nicely oiled to protect it from rusting. I quickly wiped the oil off the plan and started looking at it. Really impressed with quality of the plane itself, very sharp blade and easy adjustment of the blade and the angle of the blade. I then adjusted the blade to take a thin slice off my bathroom door. It operated very easily and made a job well done and easy. I will use this plane on several other projects I have to do. This is a very well made product of such high quality tool, I would recommend this tool to anyone who needs a decent plane at a more than reasonable price. I now have a couple of Silverline tools and have not regretted either purchase, and an added bonus is the Lifetime Guarantee which shows how roud Silverline are with their products. Thanks Silverline, " I WILL BE BACK, to buy more tools. "
---
kým: Niels K
2016-11-08T00:00:00
It''''s the first plane I ever bought and I am still in the process of tuning and setting it up. So far the look and feel are good. Whether it does exactly what I expect I can not yet tell.
---
kým: Muhammad A
2016-11-06T00:00:00
This hand plane is one of the best so far hand tool going.
---
kým: chris
2016-10-10T00:00:00
Well built plane. Got it to replace 6 new doors. cheep to buy but not in quality. wood handles nice and strong. Blade need sharping first but when set up cut the wood smooth not ripping the wood. use it on lots of other projects going strong. like guaranteed forever can''''t go wrong.
---
kým: Paul
2016-09-05T00:00:00
Great buy good tool for a diy-ear like me sharp blade and does the job well great price as well
---
kým: PHILIP L
2016-09-05T00:00:00
Can''t fault it. Very good value for money.
---
kým: James L
2016-08-03T00:00:00
There''s certainly no reason why this shouldn''t be an excellent hand plane for a lifetime of use. However as with all new planes, the blade needs cambering and sharpening for the intended use, and the cap iron certainly needs some work to make it flush in its presentation to the cutting iron. The cutting iron sharpens well and cuts silky smooth when honed. The depth wheel and lateral adjustment are super smooth with a bit of 3-in-1 oil added. The handles are comfortable, and the main casting is good quality. I haven''t measured the sole for flatness.
---
kým: Philip S
2016-06-18T00:00:00
I bought this plane as a beginner to wood working and picked it up for a great price. I thought with a plane that cheap if it''s crap I can use it as a paper weight. Out of the box it looked as good as any other no. 4 planes I''d seen, until I checked the sole plate and this took a fair bit of work to get half right along with a good blade sharpening. I still have a bit of work to do on the sole but I must say I love this plane. I have it purring like a kitten now and never knew I could get a plane to perform so well. I''m seriously thinking of getting the whole range of silverline planes, they look and feel good and at the price being offered I think it''s a good deal. Ok I know it''s not a lie neilson but come on I paid €17.
---
Doživotní záruka
Teto Silverline Nastavitelný hoblík č.4 je během 30 dní od nákupu chráněn před vadami z důvodu použití špatného materiálu při výrobě nebo použitím nesprávného výrobního postupu. Tuto záruku můžete prodloužit tím, že svůj Doživotní registrujete během 30 dní od nákupu. Jakékoliv vadné výrobky budou opraveny nebo vyměněny zdarma.