633569
Nastavitelný hoblík č.2
178 x 41 mm
---
---
Odlitek z kvalitní šedé litiny
Nastavení pro hrubé a jemné práce
Šrouby pro nastavení z mosazi
Pro konečnou úpravu povrchu a jemné dokončení
Ideal for end grain work & fine finishing
---
Kupte Online
Najít prodejce
Zhodnoťte tento produkt
7 recenze/í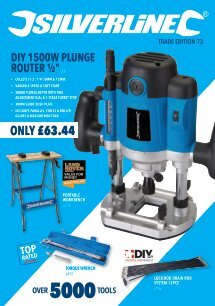 ---
Informace o produktu
| | |
| --- | --- |
| Handle - Secondary - Diameter | 25mm |
| Handle - Secondary - Diameter | 25mm |
| Šířka nože/kotouče | 35mm |
| Hoblovací šířka | 41mm |
| Hmotnost | 0.726kg |
| Způsob nastavení | Brass screws |
| Tvrzené | Yes |
---
Klíčové vlastnosti
Vyroben z šedé litiny s mosaznými prvky pro nastavení. Pro konečnou úpravu a jemné dokončovací práce. Šrouby pro nastavení hloubky, boční nastavení a fixování nastavení. Seřiditelný pro hrubé a jemné práce. Šířka nože 41 mm.
---
Balení obsahuje
---
Hodnocení zákazníků
kým: Ian D
2019-09-21T00:00:00
Well made, and a good price
---
kým: Ian D
2019-09-14T00:00:00
Seems well made, with some weight to it. An excellent price, and guarantee
---
kým: Gerry H
2016-10-11T00:00:00
The block planes I bought from your cie, is a welcome tool , specialy the price for a tool like this!
---
kým: Harvey L
2016-09-26T00:00:00
I have been using woodwork tools for over 50 years now and I must say that the quality of my Silverline block plane far exceeds it''s modest price.
---
kým: Ryan L
2016-09-05T00:00:00
This is a basic tool for a carpenter and i have used this near enough on a daily basis since i''ve purchased it. If you sharpen the blade before each use and try to keep it cheap, it should last years....this plane has done just that, its tough and withstands a beating and constant use day in and day out. Brilliant bit of basic kit and worth every penny!
---
kým: David W
2016-08-31T00:00:00
I could not believe my luck when this plane arrived as the quality was way beyond anything I expected, and when you consider the price the quality is outstanding. After I fettled the block plane it was really nice to use and gives a fantastic finish to the surface being planed. This is not my first Silverline product I have bought, and it will not be my last.
---
kým: david f
2015-11-21T00:00:00
At the price I expected an absence of quality and was not disappointed. There were a number of areas where the product could be improved, probably without raising the cost by much. First, the blade was supplied blunt so I spent a few minuted with my oil stones and sharpening jig. There are several areas where the fit is not good. First the adjustable mouth was 0.005 inch under flat on one side. I Araldited in a slip of shim steel to correct. Second there was much sideways play in the side adjustment lever. A small strip of brass was soldered on to take up the slack. Third, the fore/aft blade adjustment had a great deal of play, so the screw and knob was dismantled, trimmed and rebuilt with Loctite. There are areas which still require attention, but are lower prioirity. The blade width is a couple of mm narrower than the body, making alignment tricky. The blade fore/aft adjustment is still sloppy as the slot in the blade is bigger than the tongue which moves it. With the mods so far it has become a useful tool. With a bit of further attention it will assume good quality.
---
Doživotní záruka
Teto Silverline Nastavitelný hoblík č.2 je během 30 dní od nákupu chráněn před vadami z důvodu použití špatného materiálu při výrobě nebo použitím nesprávného výrobního postupu. Tuto záruku můžete prodloužit tím, že svůj Doživotní registrujete během 30 dní od nákupu. Jakékoliv vadné výrobky budou opraveny nebo vyměněny zdarma.