794340
Ohebná hnací hřídel
1070 mm
---
---
Pen grip allows finger-tip control for intricate work
Great for working in confined spaces
For use with Silverline Flexi Drive Shaft & Silverline Rotary Tool
Compatible with most rotary tools including Silverline, GMC & Dremel
Max 28,000rpm
---
Kupte Online
Najít prodejce
Zhodnoťte tento produkt
20 recenze/í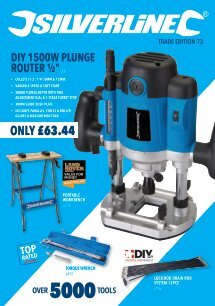 ---
Informace o produktu
| | |
| --- | --- |
| Povrch | Natural |
| Maximální otáčky/minutu | 28,000 rpm |
| Materiál - povrch | Plastic |
| Hmotnost | 0.226kg |
---
Klíčové vlastnosti
Kompatibilní s většinou rotačních nástrojů. Rukojeť ideální pro složitou práci. Pro stopky 3,1 mm. Maximální rychlost 35000 otáček/min..
---
Balení obsahuje
1 x Flexi drive shaft 1070mm
1 x Tommy bar
---
Hodnocení zákazníků
kým: John M
2020-01-31T00:00:00
Excellent product and does what it says.
---
kým: Paul
2020-01-22T00:00:00
Bought this to go on my VonHaus Rotary Tool and it fit perfectly and has worked great for me.
---
kým: Colin S
2019-12-29T00:00:00
My previous flexible drive broke after many years of hard work. Ordered a new one and it was here the next day. Wonderful product and great service.
---
kým: Steven C
2019-09-01T00:00:00
Very good for the job noisy but it''s under tremendous speed torque. The silver part gets very hot on mine be careful check temperature before touching with your hands. I enjoy useing it you need the tall holder for this to work I found. Enjoy useing it have fun creating things
---
kým: Steven C
2019-08-24T00:00:00
This works very well with my Dremel 300 I would advise getting the higher stand for using this for engraving very good item will order more things as and when required good pricing of goods great delivery prompt service
---
kým: Dave
2019-06-08T00:00:00
Does the job with a Dremel type multi-tool when you need to get at awkward corners. There wasn''t any instructions so it took me a minute to work out you need to pull out the inner core to lock it into the collet on the tool first, then screw the outer sheaf onto the neck of the multi-tool.
---
kým: Justin
2019-01-26T00:00:00
Really simple to attach to a Dremel. Works a treat.
---
kým: shane o
2019-01-15T00:00:00
Would be lost without it brilliant quality great addition for any crafter.
---
kým: Andrew J
2018-11-01T00:00:00
I had been looking for a flexible drive for a rotary tool that I''d already purchased when I spotted this on Amazon not only is it a great price, but when registered on the Silverline tools website, it comes with a warranty that lasts forever. It''s easy to fit, very useful and comfortable to hold. I showed mine to a friend at work and he ordered one the next day. Great price. Great accessory. Great warranty.
---
kým: Mike C
2018-06-02T00:00:00
OK tool. Does the job no problem.!!!! Would highly recommend.
---
kým: Kevin R
2018-05-15T00:00:00
Excellent addition to my Silverline 135W Multi-Function Rotary Tool. Its brilliant, frees up your hand instead having to hold the full tool, its like using a powered pen!. Gives you freedom to get the intricate jobs done and done well. Really pleased with my purchase.
---
kým: Mans
2017-04-22T00:00:00
Essential for the rotary tool, Perfect for the details !
---
kým: malc d
2017-04-03T00:00:00
I use this drive shaft with an Apollo multi tool for wooden sculptures etc.....it is an excellent product and makes my hobby so easy......all of my wood bits which are mainly Dremel ones fit the Shaft and are so easy to fix in and remove......comes complete with tightening tool....I will be using Silverline Products all the time in the future
---
kým: Nick B
2017-03-29T00:00:00
I got this to replace my dremmel this is smaller and lighter great for small projects. I prefer useing it its more flexible. Thankyou so much service was great too
---
kým: Julia H
2017-03-02T00:00:00
when i first ordered this i was somewhat sceptical about how good this would be as no a genuine Dremmel product, howerever i goes past all expectations and make things so easy at a fraction of the cost. Then you add the lifetime guarantee and you just can not go wrong. Easily assembled and straight forward. Excellent Product all round. I really couldn''t be happier with it.
---
kým: Stuart B
2016-12-18T00:00:00
A very good product for the application but the unit suffered a failiure after less than 10 hrs of use making it inoperable.
---
kým: C I
2016-12-12T00:00:00
Exactly what I wanted, reasonable price and delivery great.
---
kým: Norman B
2016-10-10T00:00:00
Only used once to date, but it performed very well.
---
kým: paulkeward
2016-09-05T00:00:00
Fits both my Dremel and my unbranded multi tool. A brilliant product like all Silverline tools budget price, high quality tools.
---
kým: pete
2016-08-30T00:00:00
I''ve read some negative reviews about this flexi shaft and they are wrong. I have both the B&ampD RT650KA and the Dremel 3000 and it fits both without any bother. You have to remove the collar on your rotary tool then using your fingers or thin pliers pull out about an inch or so of the core from the flexi shaft and attach it as you would any mandrel, then simple slide the outer casing up and attach to the rotary tool and you''re good to go. no need for any extra nuts as I''ve seen someone commenting. Plus its a life time guarantee.
---
Doživotní záruka
Teto Silverline Ohebná hnací hřídel je během 30 dní od nákupu chráněn před vadami z důvodu použití špatného materiálu při výrobě nebo použitím nesprávného výrobního postupu. Tuto záruku můžete prodloužit tím, že svůj Doživotní registrujete během 30 dní od nákupu. Jakékoliv vadné výrobky budou opraveny nebo vyměněny zdarma.