815969
710W Laser Jigsaw
710W
---
---
Variable speed with 3-stage pendulum action
Lock-on button & clear blade guard
Cutting angle range 0-45°
Dust extraction port & tool-free blade change
Includes wood saw blade
---
Kupte Online
Najít prodejce
Zhodnoťte tento produkt
22 recenze/í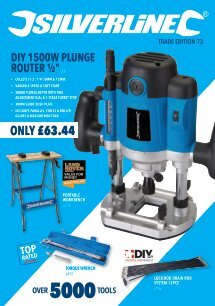 ---
Informace o produktu
| | |
| --- | --- |
| Úhel nože/kotouče | 4-Position pendulum action |
| Třída IP | IPX64 |
| Maximální hloubka řezání | Wood - 80mm Steel - 10mm Aluminium - 10mm |
| Výkon | 710W |
| Otáčky naprázdno | 0 - 3000rpm |
| Odsávání prachu/pilin | Yes |
| Rozsah zkosení | 0 - 45° |
| Hmotnost | 2.2kg |
---
Klíčové vlastnosti
The high specification Silverline Laser Jigsaw is an invaluable tool for swift and accurate completion of straight, curved and internal cutting tasks, including cutting openings for electrical sockets or holes in worktops, in wood and metal.
With laser guide for cutting accuracy, 3-position pendulum action, 45° adjustable bevel plate, variable speed capability and an aluminium housing for the gearbox, the fully-featured Silverline Laser Jigsaw will meet your needs at every level. Maximum cutting capacity of 10mm in steel, and 80mm in wood. If you haven't used laser guidance before, you will quickly appreciate just how useful this facility is for achieving accuracy of cut. The laser beam will help you guide the blade exactly as needed to produce perfect results, avoiding the frustration of wasted time and materials.
In addition, the clear safety guard protects the operator whilst ensuring the blade remains clearly in view at all times, even whilst cutting. With variable speed, the Silverline Laser Jigsaw 710W enables close control of the cutting action and application of the optimum speed to suit the density of material you are cutting.
The Silverline Laser Jigsaw 710W offers a 3-position pendulum action, in which the blade swings from side to side slightly in use. This added motion allows the jigsaw to cut faster, reduces jamming and extends the life of the blade. The 3-position setting allows fine adjustment of the pendulum action to suit the material. The base plate can be tilted and locked at any angle up to 45° for accurate bevel cutting.
Fitted with a soft-grip ergonomic handle and lock-on switch for comfort and efficiency, even over prolonged periods of use, the Silverline Laser Jigsaw 710W also boasts a 'quick chuck' for fast and easy blade change and delivers a speed (without load) of between 0-3000rpm, which is adjustable to best suit your current application.
---
Balení obsahuje
1 x Jigsaw 710W
1 x Dust Port Adaptor
1 x Hex Key
1 x Spare Pair Carbon brushes
1 x Wood Saw Blade
1 x Guide Ruler
1 x Instruction Manual
---
Hodnocení zákazníků
kým: Dominic M
2020-05-28T00:00:00
Purchased this recently and very impressed. Good price too
---
kým: Michealbagshaw
2020-05-19T00:00:00
It arrived last week I''m very impressed cuts through wood plastick no problem at all, plus the price is fantastic
---
kým: Bernard
2020-05-12T00:00:00
I have owen drills and saws of all prices but value for money I''m finding this new silverline is up with the best iv owned it would be in my top. Three that is saying something with the quality of tools iv had over the years
---
kým: archie m
2020-03-01T00:00:00
very good tool, far better than expected works a treat grate saw
---
kým: archie m
2020-02-23T00:00:00
very good tool, works very well first class machine.
---
kým: richard b
2020-01-31T00:00:00
a good bit of kit for the money the laser sold it to me has i dont have good eye sight it is easy to see were you are cutting
---
kým: Gurgen G
2019-10-23T00:00:00
Ik ben erg tevreden over de producten
---
kým: David P
2018-09-20T00:00:00
Great price, works really well. Just need to set it right before starting to cut. Excellent value.
---
kým: Fred H
2018-04-03T00:00:00
Très bon rapport qualité-prix Je recommande ce produit
---
kým: Gerrit
2017-11-24T00:00:00
Bij het zoeken naar een decoupeerzaag met variabele snelheid, behoorlijk vermogen, stofafzuigmogelijkheid en laser, kwam ik op de Silverline.Ik was onbekend met dit merk maar omdat Toolstation mij 25 jaar garantie hierop verzekerde heb ik deze bij hen aangekocht. De decoupeerzaag ziet er goed uit en hij werkt goed. Helaas is de informatie die Toolstation gaf onbetrouwbaar gebleken want bij aanmelding blijkt het 3 jaar in plaats van 25 jaar garantie te zijn. Drie jaar is uiteraard ook niet weinig maar strookt geheel niet met de belofte van 25 jaar. Duurzaamheid dus nog even af te wachten.
---
kým: dave c
2017-11-05T00:00:00
---
kým: Lily M
2017-05-03T00:00:00
Very pleased with this saw. Efficient and easy to use. Would recommend this product.
---
kým: John n
2017-04-17T00:00:00
Great little tool got used to it straight away . Can''t wait to find things to do with my laser jig saw
---
kým: Anisa G
2017-03-30T00:00:00
Excellent tool and does the jobs I need highly recommended
---
kým: Bill D
2017-03-04T00:00:00
I have been a DIYer for some 50 years and I can honestely say that this jigsaw has more features than any that I have had before with two different speed controls as well as the lazer guide. It appears to be solidly made with 3 year guarantee. They even give you spare brushes for the motor. Thoroughly recommended
---
kým: James S
2017-02-16T00:00:00
Got this for my birthday, have used it sevrial times such a great product better than my last one which was black and decker.
---
kým: Piotr M
2016-11-21T00:00:00
it looks powerfull. Laser make job easier
---
kým: G. F
2016-09-30T00:00:00
It has done all that I have required it to do. I find it easy to use and the laser beam helps to follow a profile
---
kým: brian s
2016-09-12T00:00:00
i think the Silverstorm 710w laser jigsaw is very good for the money i paid and the laser is out of this world i can now cut in straight lines
---
kým: Richard L
2016-09-12T00:00:00
I have purchased a Combi Hammer Drill and a Laser Jigsaw from Silverline and i must say they are the best rechargeable drills i have ever used .They are strongly made with loads of power and i would recommend them to anyone .
---
kým: Julian E
2016-08-15T00:00:00
So far I have been surprised by the value of the products. They have stood up to the use and were a competative price.
---
kým: Steve
2016-08-08T00:00:00
I bought this to replace a B&ampD jigsaw that gave up the ghost after 26 years of sterling service. This one seems just as well made and is variable speed with the added bonus of a laser guide. The only small gripe is that (as far as I can see) the description does not include the blade type. As a result I will have to replace my stock of "universal" blades with the "shoulder fit" type that this machine uses. Maybe not a bad thing (some of my blades are very old!) but I would have appreciated knowing this before purchase. That is the only reason it gets 4 not 5 stars.
---
3-letá záruka
Teto Silverline 710W Laser Jigsaw je během 30 dní od nákupu chráněn před vadami z důvodu použití špatného materiálu při výrobě nebo použitím nesprávného výrobního postupu. Tuto záruku můžete prodloužit tím, že svůj 3-letá registrujete během 30 dní od nákupu. Jakékoliv vadné výrobky budou opraveny nebo vyměněny zdarma.