SW05
Přesná pokosnice
---
---
Řeže dokonale přesné pokosy
Ostří o délce 500 mm
400 mm dlouhá upínací základna, odlitek s 9 přednastavenými pokosy
Nastavitelné dorazy a upínky
Maximální rozměry pro řezání: 20 mm pro 90°, 110 mm pro 45°, tloušťka 100mm
---
Kupte Online
Najít prodejce
Zhodnoťte tento produkt
24 recenze/í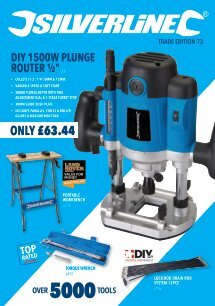 ---
Informace o produktu
| | |
| --- | --- |
| Šířka nože/kotouče | 45mm |
| Materiál - vedlejší složení | Blade: 65Mn, induction hardened teeth |
| Rozsah zešikmení - ° | 45° |
| Hmotnost | 3.6kg |
| Velikost desky | 480 x 150 x 15mm |
| Délka nože/kotouče | 550mm |
| Tvrzené | Yes |
| Stupnice | 45-90° |
| Povrch | Painted metal body & plastic handle; veneered subsurface, chrome-plated steel parts |
---
Klíčové vlastnosti
550mm dlouhá pokosová pila pro délku upínání 400 mm, základna je odlitek s 9 přednastavenými pokosy, upínkami a nastavitelným délkovým dorazem. Schváleno GS. Pilový list s tvrzenými zuby.
---
Balení obsahuje
1 x Work platform
1 x Mitre angle guide
1 x Mitre saw assembly
1 x Adjustable length stop
1 x Adjustable width clamp
1 x Fastner bag (2 x slide clamps, 2 x slide clamp screws, 1 x M6 cap head screw, 1 x M8 screw, 1 x M8 nut nyloc, 1 x M8 wave washer, 1 x M8 washer flat, 1 x plastic angle stop)
1 x Fastner bag (4 x rubber feet, 4 x M6 cap screws, 4 x self-tap screws, 1 x spanner, 1 x hex key)
1 x Assembly instructions
1 x Wooden base
---
Hodnocení zákazníků
kým: Wayne A
2022-02-05T00:00:00
A great item ideal for the job in hand and never let me down
---
kým: Richard E
2021-02-17T00:00:00
Cuts angles as required, but the blade does not sit vertically in the saw frame and therefore does not cut vertically at 90 degrees
---
kým: Michael J
2020-01-11T00:00:00
The saw was a easy assembly and it cuts the wood at perfect angles it's a saw for all them jobs that a chop saw would rip to bits well worth the money recommend 100% Mike
---
kým: Mark
2020-01-05T00:00:00
Bought this saw as I wanted a better one than the cheap saw and plastic block I got from B&Q. Cuts nice and straight and gives a perfect 45 degree angle cut too. Smooth motion when cutting too. Would highly recommend this product looking for a mitre saw.
---
kým: Les T
2019-11-04T00:00:00
We have used these saws in a school workshop for a number of years now and they are a solid piece of equipment. As you can imagine they get a lot of misuse by some pupils and they cope better than all the other makes that we have used.
---
kým: Christian F
2019-08-30T00:00:00
Good quality mitre saw. Used for DIY cutting skirting boards for an extension at home. I wouldn't get enough use out of an electric mitre saw to justify the cost but this has been absolutely spot on for skirting board cutting for the new room. No negative points, happy with the purchase and results are good.
---
kým: Chris M
2019-07-27T00:00:00
I thought mitres would be easy on this but I can safely say USE A MITRE block instead. Its awful. Lots of drifting angles with the saw. The claps are poor also. So when you are cutting 150mm high skirting dont use this. Probaby ok for 50mm skirting only.
---
kým: Andrew
2019-06-08T00:00:00
Self-assembly, but with the screws already in place. These have turned out to be cross-threaded, meaning the thread became stripped on first tightening, hence the blade "wobbles" and needs continual adjustment. And the pointer screw doesn''t line up with its hole at all, meaning it too doesn''t thread properly. The rest works as intended.
---
kým: JEM
2019-05-31T00:00:00
A perfectly functional tool (with an excellent guarantee) - but would definitely benefit from better assembly/setup/usage documentation, especially for first-time users.
---
kým: karl.shaw
2019-03-18T00:00:00
good accurate saw and lifetime guarantee too. But seriously if you cant put this together without needing instructions and need instructions on how to use it, you really shouldn''t be using tools of any kind.
---
kým: Sean
2019-01-26T00:00:00
Performs its function, no issues. Assembly instructions are very poor, but straightforward to put together with a bit of thought. Couple of spare blades with saw would have been nice.
---
kým: Jacob C
2017-12-29T00:00:00
The SW05 Mitre saw is a brilliant beginner saw the saw is basic yet does exactly what it should I would recommend this saw to any beginner woodworker however for those more experienced then I would recommend a slightly more substantial saw. The lifetime guarantee is a brilliant edition.
---
kým: Mike L
2017-04-23T00:00:00
Although still a good saw I think it it not as good as its predecessor which had a longer blade and graduations and measuring scale on the back fence. I also think the wooden base is a waste as the saw needs to fixed down onto a bench which I have done. Still awaiting response to my letter regarding spares for previous broken saw.
---
kým: John p
2017-04-10T00:00:00
---
kým: Hassina S
2017-03-28T00:00:00
---
kým: GILL K
2017-03-20T00:00:00
FOUND THIS SAW VERY FIDDLY TO PUT TOGETHER, THE INSTRUCTIONS WEREN''T VERY CLEAR AT ALL. AND NO INSTRUCTIONS ON HOW TO USE IT. ONE SMALL PLASTIC PART WAS BROKEN INTO 3 BITS. HOWEVER ONCE WE GOT THE HANG OF IT, IT PROVED TO BE A GOOD LITTLE TOOL, REASONABLY PRICED AND EASY TO USE.
---
kým: Thomas C
2017-02-23T00:00:00
Replacement blades for Jorgensen miter saws are no longer available. This was a perfect fit for my Jorgensen miter saw.
---
kým: Paul G
2017-02-16T00:00:00
I purchased this to cut the mitres (45 and 90 degree only) on the scotia for my new laminate floor. This mitre saw performed flawlessly! I have painful memories of poor cuts using traditional wooden or plastic mitre blocks. I did not use the other angles but for me it is a DIYers dream and sensational value for money. P.S requires assembling and not particular intuitive. The instructions are totally rubbish!
---
kým: richard l
2017-02-01T00:00:00
---
kým: Kmn
2016-12-31T00:00:00
Good saw good quality very sturdy cuts well all and all a really good tool
---
kým: Mr D
2016-12-13T00:00:00
The Saw cuts well and accurately and is very good value for the money paid. However the guide has a plastic stopper on it which breaks very easily.
---
kým: Kelvin S
2016-11-16T00:00:00
I was very pleasantly surprised at the quality, sturdiness, and robustness of this product. It performs exceptionally well for a near perfect mitre joint every time ! Value for money is second to none !
---
kým: Peter M
2016-10-30T00:00:00
Obscure assembly instructions, enclosed instructions badly damaged, staff telling me to look at manual that did not exist. Do not waste your money.
---
kým: Neil
2016-10-11T00:00:00
Excellent product except the quality of the saw blade. Blade supplied was defective (teeth misformed/not hardened). Fortunately bought several spare blades, though had to return 2 out of the 5 for same defect as original. Subsequent replacements have been OK.
---
Doživotní záruka
Teto Silverline Přesná pokosnice je během 30 dní od nákupu chráněn před vadami z důvodu použití špatného materiálu při výrobě nebo použitím nesprávného výrobního postupu. Tuto záruku můžete prodloužit tím, že svůj Doživotní registrujete během 30 dní od nákupu. Jakékoliv vadné výrobky budou opraveny nebo vyměněny zdarma.