123456
Akku-Handstrahler, 2 Mio. cd
300 lm
---
---
Robustes, schlagfestes Gehäuse
Schwenkgriff für Nutzung mit Pistolen- oder üblichem Handgriff
Halogenlampe und wiederaufladbarer 6-V-/4-Ah-Akku
300 lm Lichtstärke
Netz- und Pkw-Ladegerät im Lieferumfang enthalten
---
Online kaufen
Fachhändlersuche
Dieses Produkt bewerten
18 Bewertungen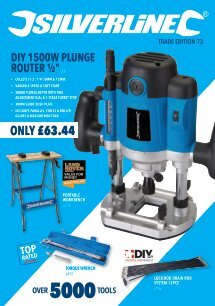 ---
Technische Daten
| | |
| --- | --- |
| Anzahl der Akkus | 1 |
| Akkutyp | Ventilgesteuerte, wiederaufladbare Blei-Säure-Batterie, 6 V, 3 Ah |
| Netzkabellänge | Netzladekabel: 1 m; 12-V-Ladekabel: 90 cm |
| Funktion 01 | Flutlicht |
| Lichtstärke/Lumen | 2 Mio./300 Lm |
| Leistung | 5,5 W |
| Ausführung | Glatt |
| Gewicht | 0,395 kg |
---
Ausstattungsmerkmale
Starke Akku-Taschenlampe mit ca. 2 Mio. cd und eingebautem, versiegeltem 6-V-/4-Ah-Akku. Mit verstellbarem Handgriff für freie Wahl zwischen Trage- und Pistolengriff. Standfuß hält bei Bedarf die Hände frei. Robustes, schlagfestes Gehäuse mit abnehmbarem Trageriemen. Halogenlampe und Linse aus gehärtetem Glas. Netzladegerät und internationales Kfz-Ladegerät im Lieferumfang enthalten. 220 mm Länge.
---
Lieferumfang
1 Akku-Handstrahler, 2 Mio. cd
1 Trageriemen
1 12-V-Ladegerät
1 EU-/GB-Ladegerät
1 Bedienungsanleitung
---
Kundenbewertungen
von: Steve Baker
2016-09-05T00:00:00
I actively look for the Silverline make now due to the quality, price and guarantee. This torch is typical of things I have bought recently and has all the attributes above.
---
von: M Hunter
2019-01-07T00:00:00
Silverline say this will last for an hours use when fully charged. Wrong. Mine lasts 19 minutes and then goes out.
---
von: Rob Jones
2017-12-15T00:00:00
---
von: maurice gaston
2017-10-10T00:00:00
maurice GREAT ITEM. BIT ON THE LARGE SIDE BUT SMASHING FOR LARGE AREAS.
---
von: robert morgan
2017-04-20T00:00:00
very satisfied with my silverline rechargeable torch 2millioncandle power. good product , well made ,Good value, nice price
---
von: Peter Croft
2017-03-30T00:00:00
Excellent quality. So bright. Good handles. Comes with carrying strap and connection to charge in car lighter socket.
---
von: Nitesprite
2017-03-14T00:00:00
Robust, heavy duty torch with excellent light output. Positive on/off switch unlike others I have tried, comes with adjustable handle + stand. Great value for money in my opinion. Not had the torch long enough to weigh up battery life but good instructions for prolonging the life of the battery.
---
von: ALEXANDER McCOLM
2017-03-04T00:00:00
This is a really handy torch to have handy around the house , as we are subject to power cuts over the winter months,also handy to carry in the car.
---
von: Lorna van Zyl
2017-02-04T00:00:00
Good beam, but not maybe the best on market. I like the stand. The downside is its weight, it is heavy to carry when out walking.
---
von: Patricia joslin
2017-01-13T00:00:00
This is a great purchase and saw we experience a lot of power cuts where we live ''''''''''''''''tis torch enables to be able to find our away around.
---
von: Claire
2017-01-13T00:00:00
Excellent product, very powerful light! Very useful handle/stand. Easy to recharge. Great product and service.
---
von: Jeremy J Lassen
2016-12-13T00:00:00
The Silverline rechargeable torch is a very useful and well designed unit, I bought mine via H Tech one of their resellers. The torch''''s hanging strap means that it can be located anywhere on a wall in the garage/shed etc, also, the carrying handle and the sit-up stand are perfect for setting the torch to illuminate a specific area.Unfortunately, my first unit failed during the warranty period, but I contacted Silverline via Amazon''''s ''''contact the vendor link'''' and I received a free replacement unit within a few days. Very good service and I am a satisfied customer.
---
von: Diane Froggett
2016-12-03T00:00:00
This torch is much better than it looks on-line, it is heavy duty and has a brilliant beam, I am sure my brother-in-law will be pleased with his Christmas gift this year.
---
von: joe
2016-11-28T00:00:00
easy to use, several charging options,
---
von: Anthony Ball
2016-11-22T00:00:00
Product arrived quickly and was exactly what I needed, to use as a portable spotlight for an amateur dramatic production. You could even mention this idea in your promotional litriture.
---
von: Mark Gunn
2016-11-16T00:00:00
Good torch, comes in handy for walkin dog in these dark nights, can''''t wait to take it camping with us next week and see if full potential, only downside is I had to make a bigger strap to loop it over my shoulder.
---
von: Sheila Broadfoot
2016-10-20T00:00:00
Fantastic so easy to use. Bright as a million candles
---
von: Ed Turner
2016-10-10T00:00:00
The torch works well and appears to have a reasonably long life after charge. It would benefit from the on off switch being close to the handle on the torch
---
Drei Jahre Garantie
Dieser Silverline-Artikel Akku-Handstrahler, 2 Mio. cd verfügt über eine 30-tägige Garantie ab Kaufdatum, die ihn gegen Mängel infolge von Material- oder Verarbeitungsfehlern absichert. Um Ihre Drei Jahre Garantie wirksam werden zu lassen, registrieren Sie Ihren Artikel bitte auf der Silverline-Webseite. Mangelhafte Artikel werden kostenlos ersetzt oder repariert.