124799
Oberfräse, 2050 W, 1/2 Zoll
2050 W (GB)
---
---
Spannzangen: 1/2 Zoll, 1/4 Zoll, 8 mm, 10 mm und 12 mm
Drehzahlregelung und Sanftanlauf
Frästiefe von bis zu 50 mm mit Feineinstellung und 7-stufiger Revolveranschlag
Kopierringe (21 mm und 30 mm)
Inkl. Parallelanschlag, Rollen- und Kreisführungen und Messleiste
---
Online kaufen
Fachhändlersuche
Dieses Produkt bewerten
38 Bewertungen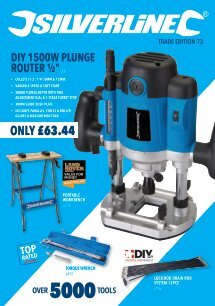 ---
Technische Daten
| | |
| --- | --- |
| Schutzart | IPX 49 |
| Drehzahlregelung | Vorhanden |
| Leistung | 2050 W |
| Fräsergröße | 1/2 Zoll |
| Leerlaufdrehzahl | 6.000–24.000 min-1 |
| Eintauchtiefe | 50 mm |
| Anzahl Spannzangen | 5 |
| Spannzangengröße | 1/2 Zoll, 1/4 Zoll, 8 mm, 10 mm und 12 mm |
| Staubabsaugung | Vorhanden |
| Gewicht | 5,7 kg |
---
Ausstattungsmerkmale
Mit ihrem kraftvollen 2050-W-Motor zeigt diese Oberfräse große Wirkung bei der Holzbearbeitung, im Möbelbau und beim Einbau von Küchen. Dank der fünf im Lieferumfang enthaltenen Spannzangen steht Ihnen für diverse Anwendungen immer das passende Einsatzwerkzeug zur Auswahl.
Dank der praktischen Sanftanlauffunktion steht die Leistung sofort bereit, die bei anderen Fräsen auftretenden unvorhersehbaren, unbeabsichtigten Bewegungen werden jedoch minimiert. Die Geschwindigkeit dieses Gerätes ist über den Regler stufenlos einstellbar. Diese Funktion macht sich bezahlt, wenn die Oberfräse für diverse Arbeiten und verschiedene Anwendungen eingesetzt werden soll, bei denen für das jeweilige Einsatzwerkzeug oder den zu erzielenden Oberflächeneffekt eine ganz bestimmte Leistung benötigt wird.
Die mühelose Anpassbarkeit der Oberfräse zeigt sich auch darin, dass sich die Eintauchtiefe dank eines exakten Feinjustierrades ebenfalls stufenlos einstellen lässt und so eine Bandbreite an Frästiefen zwischen 0 mm und 50 mm ermöglicht. Fräserwechsel sind aufgrund der Spindelarretierung sicher und unkompliziert, denn auf diese Weise werden sowohl Spiel und ein Verdrehen des Gerätes als auch ein versehentliches Einschalten verhindert.
Ein versehentliches Einschalten und somit Aktivieren der 6.000–24.000 min-1 Leerlaufdrehzahl ist darüber hinaus nicht zuletzt dank der Sicherheitstaste höchst unwahrscheinlich, denn diese muss gleichzeitig mit dem Netzschalter betätigt werden. Dadurch werden Schäden am Werkstück oder gar Verletzungen des Bedieners verhindert.
Im Lieferumfang enthalten sind Parallelanschlag, Rollenführung, Kreis- und Frässchablonen, 5-teiliger Fräsersatz, zwei Kopierringe (21 und 30 mm) und ein Spannzangenschlüssel.
---
Lieferumfang
1 Oberfräse
5 Spannzangen: 1/2 Zoll, 1/4 Zoll, 8 mm, 10 mm und 12 mm
1 Parallelanschlag
5 Fräser
1 Paar Kohlebürsten
1 Gabelschlüssel
1 Bedienungsanleitung
---
Kundenbewertungen
von: Vito
2020-06-07T00:00:00
La fresatrice lavora bene, la uso da poco e non in modo molto continuativo, rapport qualità prezzo buono per uso hobbistico. Un difetto è che nella valigetta erano presenti solo 2 mandrini invece di 5, fortunatamente il venditore ha rimborsato una parte.
---
von: Vito
2020-05-31T00:00:00
La fresatrice è potente e funziona bene, è un po'' pesante ma gestibile, l''asta per la regolazione dell''altezza è in plastica. Fresatrice di buona fattura per un uso hobbistico. Unica pecca è che la valigetta conteneva solo due mandrino e non 5,ma per rimediare il venditore mi ha scontato il prodotto del 20%.
---
von: Darran
2020-05-17T00:00:00
Sturdy tool and great customer service
---
von: Gordon D
2020-05-13T00:00:00
I did a lot of research before buying this router and have now used it for several projects. It comes with a selection of bits and a circle cutting attachment which I have used three times so far and cut a perfect circle every time. It comes with features which are normally only found on more expensive routers such as, variable speed and soft start. Although a little heavy, it is very well built with a smooth action and very little vibration. I would not hesitate in recommending this router.
---
von: Peter
2020-03-20T00:00:00
Unfortunately the quality is not as expected. The engine is great but the router is useless. There is an amount of 3-4mm play on the router rods and the motor. This makes it impossible to make a straight grove. I had 2 brand new router and they all had the same issue. I think this is a production error.
---
von: V P
2020-02-02T00:00:00
I've had this for about a month now, it's a heavy duty router which, with the correct router bit, slices through oak very nicely. Component parts seem decent, no breakages or complains just yet
---
von: Andrea R
2020-01-14T00:00:00
Il prodotto è valido, con il suo potente motore di 2050 W, riesce a lavorare anche il legno più duro senza problemi. Il rapporto qualità prezzo è veramente eccellente.
---
von: Rob
2020-01-04T00:00:00
Fait le Job, un très bon rapport qualité prix.
---
von: Vincenzo
2019-12-15T00:00:00
Metto 2 stelle solo per il foro rettangolare e della piastra base. Il rettangolo risulta stretto e non è possibile usare frese con diametro di 45 mm o più. Per una fresatrice da 3 hp circa è un limite grave. Nel mio caso l''ho installata in un banco fresa e ho dovuto interporre una piastra da 50 mm di spessore con foro "circolare" da 80 mm. Ho dovuto comprare una prolunga. Così posso usare frese fino a 75 mm di diametro senza alcuna modifica alla fresatrice. Forse per questo modello da 2000 Watt la Silverline potrebbe prendere in considerazione la possibilità di cambiare la piastra di base con una con foro circolare da 80 mm. Diventerebbe una signora fresa antagonista ai più blasonati (?) e certamente più costosi brand. Per il resto, anche se finora l''ho usata pochissimo, la fresatrice fa egregiamente il suo lavoro. Soft start ottimo, funzionamento fluido e aspirazione trucioli efficiente. Forse un pochino troppo rumosa.
---
von: Didier s
2019-12-01T00:00:00
Excellent pour le travail que je fais
---
von: Faleyc
2019-10-07T00:00:00
Cette défonceuse est très maniable, malgré son poids. La puissance est bien là et le travail du bois est agréable, les fraises mangent le bois sans hésitation. Les coulisses n''accrochent pas. J''aurais aimé un système pour la régler sous table pour qu''elle soit parfaite.
---
von: Le C
2019-08-07T00:00:00
Very well, does a good job for a best price. Sorry for my english.
---
von: Richard C
2019-06-30T00:00:00
Excellent tool One thing could be better : make a wider window for thé cutter tool to be installed
---
von: Richard M
2019-06-07T00:00:00
---
von: Steve S
2019-06-04T00:00:00
Fantastic Value for money. Bought this especially to cut kitchen worktop mitres for a home project. Worked perfectly used in conjunction with the Silverline jig and good quality router bits. Would highly recommend this router to achieve great results.
---
von: Jerzy
2019-04-21T00:00:00
---
von: Jean-Marie S
2018-09-26T00:00:00
Sans aucun problème, le matériel est parfaitement conforme à mes attentes.
---
von: Ievgenii
2018-07-18T00:00:00
The plunge router works fine so far. Great that it has several adapters for different diameter of drills. One drawback is that it changes the frequency sometimes without rolling the speed roller.
---
von: Jan T
2018-06-23T00:00:00
I have been using a low power (500W) German router for several years. Results not always good, specially with tough wood (oak). An experienced hobbyist advised me to switch to a more powerful model. So I bought this one. First run was oak wood 22 mm wide cut 8 mm deep. Beautiful result, machine had no problem at all, very precise and smooth cut. Boy, am I happy with this one!
---
von: Walther L
2017-11-18T00:00:00
This Router ist very powerfull, when using it for preparing Kitchenette worktop.
---
von: COUVELARD E
2017-11-09T00:00:00
Hello, I''m happy to have bought this router. For now everything I want to do is good. I have only a remark ... the ruler ... (sorry I''m French) The "steps" don''t match enough with the "clockwork" ... I am working in Metal industry, so I can find some tips to resolve the problem. More "steps" will be better to set the level of the scalltop height. Thx. Bye
---
von: Brimant
2017-04-02T00:00:00
After some tries of handling, I am satisfied by my purchase. The router is a little bit heavy but it assure the stability during the use. All the accessories delivered with are welcome.
---
von: Pat
2017-03-29T00:00:00
Très bon produit au rapport qualité prix imbattable.
---
von: Simone m
2017-02-15T00:00:00
It works, i used it under a table.
---
von: Simone M
2017-02-14T00:00:00
I bought this router for my table and it works very good! Only bearings are a little noisy and i hope they work a lot of time but thanks to the 3 years warranty it is a minor problem.
---
von: Chris h
2017-01-13T00:00:00
Cracking piece of kit.does jobs effortlesy and smooth to handle.have recommended to friends.who also diy.
---
von: Franco T
2016-12-07T00:00:00
Ottimo prodotto con alta potenza del motore senza però avere forti vibrazioni, anche la rumorosità è accettabile. Le frese in dotazione sono di buona fattura. Utensile valido sia per hobby che per professione.
---
von: Rafel M
2016-12-03T00:00:00
Very good tool. It works great. Relación calidad precio insuperable. Me ha sorprendido gratamente lo bien que va la herramienta
---
von: Ian
2016-11-12T00:00:00
Bought this to do a few jobs around the house. I looked around at a few other makes but decided to buy the Silverline.as i have bought a few hand and power tools from Silverline and they have always been well made and this is no exception a great router and a bargan at the price, it is as good as some other makes at twice the price.
---
von: Keith R
2016-09-13T00:00:00
Excellent router copes with worktops easlisy
---
von: Roger E
2016-09-13T00:00:00
Substantial, powerfull and above all accurate and easily controlable thanks to the soft start feature. Whether used as a hand held tool or fixed to a router table this is an excellent router. With the 3 year warranty this router represents outstanding value for money.
---
von: Aurelian L
2016-09-12T00:00:00
I''m happy with this tool , good price-quality relation.
---
von: David B
2016-09-12T00:00:00
THE SILVERSTORM ROUTER IS AN AFFORDABLE POWERTOOL THAT MAKES ALL THE DIFFERENCE TO DIY PROJECTS. IT IS SOLIDLY BUILT AND PERFORMS WELL ; IT IS EASY TO USE AND HANDLES LIKE A MORE EXPENSIVE ROUTER.
---
von: Tim H
2016-09-12T00:00:00
A powerful router for a great price invaluable sturdy carry box....great all round. Bought this to do worktop joints.....Did the job well.
---
von: Darren
2016-09-12T00:00:00
Good router does everything I want it to can''t complain
---
von: Ian
2016-08-16T00:00:00
This is my first router and having read about them on line decided to get the Silverstorm. I have used it a few times now and have to say i am really pleased with with the results, you can''t go wrong with the price and quality of the router. you also get a case with 5 collets,5 router cutters, parallel guide bar, template guide and a roller circle guide. I have bought a few Silverline tool in the past and have never had any complaints so if you are looking to buy a router look no further, i would recommend this one
---
von: rolland
2016-08-15T00:00:00
nice tool, good price, what else ?
---
von: Paulo B
2015-04-04T00:00:00
What is the voltage of the router?
Hi Paulo. Thanks for your comment. The voltage of this product is 220V / 240V.
---
Häufig gestellte Fragen und Antworten
Can the power switch be locked on?
No, this is a safety feature. If using with a compatible router table, an additional strap will be required to maintain power
What size collets does this come with?
1/4", 1/2", 8mm, 10mm & 12mm
What size guide bush is included?
Includes 21mm & 30mm outside diameter guide bush plates
What size is the base?
The base plate for this router is 195mm
---
Drei Jahre Garantie
Dieser Silverline-Artikel Oberfräse, 2050 W, 1/2 Zoll verfügt über eine 30-tägige Garantie ab Kaufdatum, die ihn gegen Mängel infolge von Material- oder Verarbeitungsfehlern absichert. Um Ihre Drei Jahre Garantie wirksam werden zu lassen, registrieren Sie Ihren Artikel bitte auf der Silverline-Webseite. Mangelhafte Artikel werden kostenlos ersetzt oder repariert.