263572
Lötkolben, 40 W
---
---
Für allgemeine Lötarbeiten
Ideal zum Löten von elektrischen und elektronischen Bauteilen
Temperaturbereich: 420–480 °C
Mit Präzisionslötspitze ausgestattet
---
Online kaufen
Fachhändlersuche
Dieses Produkt bewerten
51 Bewertungen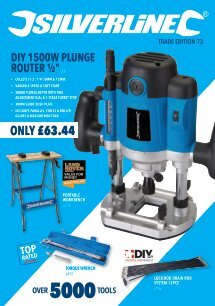 ---
Technische Daten
| | |
| --- | --- |
| AC-Geräte | 220–250 V |
| Netzkabellänge | 1200 mm |
| Temperaturbereich | 420–480 °C |
| Bereich | 420–480 °C |
| Spitzenmaterial | Spitzenmaterial: rotes Kupfer, Eisenbeschichtung: 0,2 mm Stärke |
| Gewicht | 0,192 kg |
---
Ausstattungsmerkmale
Vielseitig einsetzbarer Lötkolben für alle Arten von Arbeiten an elektrischen und elektronischen Bauteilen, Drähten und Leitungen. Mit Präzisions-Lötspitze. Temperaturbereich: 420–480 °C.
---
Lieferumfang
Sicherheitsdatenblatt
1 Lötkolben, 40 W
---
Kundenbewertungen
von: Barry L
2020-06-02T00:00:00
Competitively priced soldering iron which is easy to use and comes with precision tip. Fast heating and accurate positioning of solder.
---
von: Paige
2020-05-31T00:00:00
I previously spent a lot more money on a soldering iron funnily enough this one is way more sturdy. Excellent value!!!!!
---
von: Philip
2020-05-06T00:00:00
Good bit of kit, great price.
---
von: Jamie
2020-03-12T00:00:00
Basic soldering iron that does the job it is meant to
---
von: Ben
2020-02-18T00:00:00
Have gone through two Soldering Irons from Screwfix. Always stopped working after a year. Used this Soldering Iron last night and seems to work fine. Do miss a longer power lead & stand. Good value for money. Registered for the 3 year guarantee so hope to get a replacement should it fail within three years.
---
von: William A
2020-02-16T00:00:00
I did a quick bit (not of the solder-type) of research for a solid value soldering iron that would not fall to bits (another bit) or be rickety in use. I soldiered on (almost a ''solder'' there}, and chose the Silverline one and have found it to be effective and powerful enough for automotive use. That is all I have tried so far, but I am happy, not ''bitter'' with my choice.
---
von: Shaun D
2020-02-06T00:00:00
Excellent product at a very good price I also bought the stand that goes with it
---
von: John R
2020-01-30T00:00:00
Simple and easy to use at a price that you just cannot beat.
---
von: Isaac
2020-01-20T00:00:00
Very good soldering iron, good power and heats up quickly. Easy to use and great quality. Very happy with my purchase.
---
von: Simon M
2020-01-18T00:00:00
Needed a new soldering iron to tackle a few little jobs I had, excellent value for money, did the job silver line tools are great
---
von: Graham P
2020-01-17T00:00:00
Very good robust iron, much better than my old 25w model, would fully reccomend
---
von: Mick g
2019-12-06T00:00:00
Really good soldering iron keeps very hot which is what you should expect ,lts cheap to buy so good for the pocket
---
von: Derek H
2019-11-18T00:00:00
Ideal piece of kit for the job in hand
---
von: Derek H
2019-11-11T00:00:00
Great little piece of kit. A replacement for a very old iron.
---
von: richard g
2019-10-02T00:00:00
Silverline tools are great, not expensive and seem to be very good.
---
von: David K
2019-06-19T00:00:00
Soldering iron gets too hot and cannot tin the bolt. Sent issue to Tech Dept no reply
---
von: stewart j
2019-05-24T00:00:00
---
von: Aliza
2019-05-07T00:00:00
Good quality, good price, & gets the job done. Definitely worth buying.
---
von: Nigel K
2019-02-10T00:00:00
Heats up quick. No Problems. Longer power lead would have been better.
---
von: michael
2019-01-29T00:00:00
very relyabel soldering iron very quick warm up ! but not enuff very fine tips for it !
---
von: David M
2019-01-06T00:00:00
Very cheap but good quality piece of kit. I also bought the stand which makes a lot of sense a they do get very hot. Fixed my loose connection on a head torch that otherwise I''d have had to throw away. The torch was twice the price of the iron so I''m happy as Larry and it''s really easy to use.
---
von: Colin W
2019-01-01T00:00:00
A very good value soldering iron. Works perfectly
---
von: John
2018-09-29T00:00:00
---
von: George C
2018-09-25T00:00:00
Really pleased with the 40 watt soldering iron that I have purchased, little bit of smoke when it first got hot, but that''s to be expected.
---
von: Edward M
2018-09-14T00:00:00
Anyone looking for a general day to day soldering iron for light soldering and electronic applications should buy it at once, extremely.competitibe price with excellent build quality, a must have.
---
von: Racash P
2018-03-14T00:00:00
This is a great soldering iron for general purpose soldering and solder repairing, it comes at a nice price and backed up with a free 3-year Silverline guarantee so can''t go wrong. I purchased it to fix one of the solder joints on my cooker hood switch board and it did the job well.
---
von: Mr S
2018-02-19T00:00:00
Absolutely Brilliant piece of kit and excellenent value for money too, backed up by a 3 Year Guarantee to boot ! This Soldering Iron was ready to go seconds after i flicked the power on ! Absolute Scorcher ! So happy i found this one...it''s done wonders already ! -Thankyou Silverline, Nice Work ! I will definitely be ordering more from you very soon :-)
---
von: Mike F
2017-12-31T00:00:00
Good value,seems acceptable quality,decent length power-cable..only criticism,a lack of hanging hook.
---
von: steven p
2017-10-09T00:00:00
Great value for money, recommended. Heats up quickly and works fine.
---
von: Roger n
2017-07-21T00:00:00
Great value tool that does the job perfectly.
---
von: Jo
2017-05-18T00:00:00
---
von: Miklos D
2017-05-05T00:00:00
Strong heating ergonomic handle. I cannot tell more after a month. Seems to be good but get beck after a year.
---
von: Bryan
2017-04-10T00:00:00
Good for the price. Would recommend to anyone.
---
von: B.Mistrty
2017-03-29T00:00:00
I found the product reasonably good, but there no stand available for safety and no sponge to wet for cleaning. Also I couldn''t find any spare tips available with this product. I am sure the consumer may be looking for tips of soldering iron in future.
---
von: john m
2017-03-24T00:00:00
just the job work''s well good value for the price i paid would recommend
---
von: Steve C
2017-03-10T00:00:00
Very good looking soldering iron and works very quickly. Hope to have for a long time
---
von: Imran
2017-02-28T00:00:00
Great product and comfortable to hold. Heats up really quick Would recommend.
---
von: Vic. B
2017-02-09T00:00:00
Quite good performance for a 40w rating but tip very small so probably tool probably only suitable for small jobs. Tip also bends easily when hot. Would have been nice if tool came with an extra flat bit.
---
von: David A
2017-02-02T00:00:00
The iron gets hot quickly and the fine tip is a great for soldering smaller items on circuit boards. The only think to watch is that the two screws that hold in the tip make it quite wide at that point meaning it does not quite fit into my current soldering iron holder. Saying that it is working fine and allowed me to finish my project.
---
von: Jason L
2017-01-31T00:00:00
Works well and great value
---
von: mark
2017-01-23T00:00:00
Good soldering iron, seemed to heat up quicker than my previous one and did get very hot but packed up after 4 weeks (used it 5 times).
---
von: mick
2016-11-24T00:00:00
cheap, practical tool that seems to work well. can''''t comment on reliability/longevity as only used it once. i only use a soldering iron very occasionally.
---
von: David w
2016-10-16T00:00:00
does not take long to get hot, and with the tip being pointed you can solder very small circuit boards. which is what I used it for. I do highly recomend this product
---
von: William M
2016-10-10T00:00:00
---
von: Peter J
2016-10-10T00:00:00
it was delivered well on time. quality was as described and it does what I want it to do very well I am very pleased with both the service and the quality of the product I will use them both again
---
von: Steve
2016-10-10T00:00:00
Simple and basic soldering iron that does everything it should and only costs a few pounds. Excellent value for money.
---
von: B e
2016-09-26T00:00:00
Good soldering iron, heats up quick.
---
von: David
2016-09-26T00:00:00
A low cost tool that works well. What more can I say?
---
von: Julian D
2016-09-26T00:00:00
Good quality ,ideal for small delicate repairs have found it easy to work with
---
von: Stewart S
2016-08-30T00:00:00
Very good value for money. Simple light and works well.
---
von: paddy
2016-08-19T00:00:00
worked for about 15 minutes then stopped working not very impressed with this brand of product so far shop exchanged it for another one hoping to be proved wrong
---
Drei Jahre Garantie
Dieser Silverline-Artikel Lötkolben, 40 W verfügt über eine 30-tägige Garantie ab Kaufdatum, die ihn gegen Mängel infolge von Material- oder Verarbeitungsfehlern absichert. Um Ihre Drei Jahre Garantie wirksam werden zu lassen, registrieren Sie Ihren Artikel bitte auf der Silverline-Webseite. Mangelhafte Artikel werden kostenlos ersetzt oder repariert.