265897
Schlagbohrmaschine, 500 W
500 W GB
---
---
Stufenlose Drehzahlsteuerung mit Rechts-/Linkslauf und Einschaltarretierung
13-mm-Zahnkranzbohrfutter
Verstellbarer Zusatzgriff und Tiefenanschlag
Max. Bohrleistung: 30 mm in Holz, 13 mm in Mauerwerk und 10 mm in Stahl
Bohrfutterschlüssel im Lieferumfang enthalten
---
Online kaufen
Fachhändlersuche
Dieses Produkt bewerten
55 Bewertungen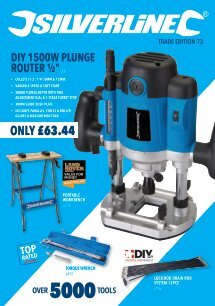 ---
Technische Daten
| | |
| --- | --- |
| Schutzart | IPX 0 |
| Leistung | 500 W |
| Leerlaufdrehzahl | 0–3.000 min-1 |
| Spannfuttergröße | 1,5–13 mm |
| Spannfuttertyp | Zahnkranzbohrfutter |
| Drehzahlregelung | Ja |
| Drehmomentregelung | Ja |
| Bohrleistung in Holz | 30 mm |
| Bohrleistung in Mauerwerk | 13 mm |
| Bohrleistung in Stahl | 10 mm |
| Gewicht | 1,58 kg |
---
Ausstattungsmerkmale
Kompakte, vielseitige Bohrmaschine mit 1,5–13-mm-Zahnkranzbohrfutter, komplett verstellbarem Zusatzgriff und Tiefenanschlag, Rechts-/Linkslauf, Einschaltarretierung und stufenloser Drehzahlregelung. Max. Bohrleistung: 30 mm in Holz; 13 mm in Mauerwerk und 10 mm in Stahl. Leerlaufdrehzahl: 0–3.000 min-1. Max. Schlagzahl: 0–48.000 Schläge/Min. Gewicht: 1,58 kg. Bohrfutterschlüssel im Lieferumfang enthalten.
---
Lieferumfang
1 Schlagbohrmaschine, 500 W
1 Seitengriff
1 Tiefenanschlag
1 Bohrfutterschlüssel
1 Bedienungsanleitung
---
Kundenbewertungen
von: Symon S
2020-06-04T00:00:00
Got this drill as my Black&Decker gave up after many years of use. I have other tools from silverline. So I purchased the 500w hammer drill. Great drill better that my old B&D as it has speed control and forward and reverse. It''s has a plenty of punch for drilling into walls and the slow control start is perfect for drilling into tiles os they don''t crack. Although a DIY drill it feels substantial enough to withstand quite a bit of abuse. Not week or cheap feeling like some budget drills costing much more. So if you are after a great DIY drill I don''t think you could do any better than this.
---
von: Liam W
2020-06-01T00:00:00
Great Value for the money. Well build
---
von: Terry
2020-05-27T00:00:00
I have lost or lent out my 30 year old hammer drill and wanted another so checked out drills for DIY use. I''ve bought a Silverline hammer drill which seems powerful enough for what I want with a decent warranty, at a very good price, so what else does a diyer want or need? So I''m recommending it!
---
von: Uggy
2020-05-18T00:00:00
Had to return first one faulty switch. Replacement ok though and used it quite a bit lately. For the price excellent!
---
von: Gary M
2020-05-15T00:00:00
This drill is fab best thing I have bought for ages
---
von: Terry G
2020-05-11T00:00:00
the only problem I have found with the drill is the chuck key. It does not fit into the chuck too well (the two gears were not engaging effectively) as a consequence I have had to machine a little bit of metal off the spigot length and immediately below the key gear teeth to ensure that the two gears mesh properly and dont slip when you are tightening the chuck
---
von: mark l
2020-04-08T00:00:00
---
von: Stuart D
2020-02-12T00:00:00
Could not believe that you can buy a hammer drill for next to nothing. Such a good product. I have only done drilling in house brick but it's doing the job.
---
von: Isaac A
2019-11-14T00:00:00
Purchase only two weeks ago. Used it to drill masonry holes of 10mm diameter and in a thin steel plate. Works well and the speed can easily be governed by the trigger or button. On the downside, the chuck key does not fit well as if it belongs to a different chuck which is a bit of a let down.
---
von: Issac A
2019-11-07T00:00:00
Purchased a week ago so too early to evaluate. I have drilled masonry with a 10mm bit and small holes in steel without a problem. It has the power on various speeds and comfortable to use. On the downside, chuck key doesn''t fit chuck properly and feels like it belongs to another drill.. Chuck holder is a flimsy bit of plastic which will not last long. However, good value for money, especially with a 3 year warranty. Time will tell. Isaac.
---
von: Robert T
2019-09-01T00:00:00
Excellent Drill better than my old one
---
von: Robert T
2019-08-25T00:00:00
Excellent drill by far better than my original one
---
von: Trevor B
2019-07-16T00:00:00
A very nice drill ideal for the DYS jobs I do.
---
von: Gary T
2019-05-31T00:00:00
Good drill for price does the job
---
von: Dawn C
2019-05-31T00:00:00
I purchased this drill to do some jobs at home. Excellent quality for the price. Would recommend if you don''t want to spend a huge amount.
---
von: Phil
2019-05-24T00:00:00
Very good so far Used for wood, concrete and fix screws
---
von: Charles O
2019-04-25T00:00:00
Arrived well packed and quickly, as we all like. Plugged it in and it felt more powerful than its 500W claim. It even has a reverse on it this surprised me pleasantly of course. Up until now I thought it only battery drills had a reverse, I am that very happy buyer.
---
von: Charles O
2019-04-18T00:00:00
The drill arrived I could not open it fast enough, bought it use the new attachments I purchased and this drill fits the bill perfectly. I am that happy buyer you always wondered who it was.
---
von: Robert h
2018-12-20T00:00:00
Use this drill on different jobs with a selection of drills steel, wood and brick and has done them all very powerful little drill and well worth the money
---
von: R
2018-12-16T00:00:00
Bought this drill to replace my broken drill,am very pleased with it for the bargain price i paid, would recommend it for general diy jobs.
---
von: NOEL M
2018-11-21T00:00:00
Works well under pressure, for size and price excellent value, and with 3 year warranty...What more could you ask for....
---
von: Gerald D
2018-11-19T00:00:00
Good solid piece of kit that will last and always be ready - mains power
---
von: David B
2018-10-26T00:00:00
Excellent drill at a great price. Can't fault it.
---
von: Mike C
2018-09-28T00:00:00
Does everything you expect in a drill three times the price. Cannot be faulted &amp highly recommended. !!!!!
---
von: Bhagubhai J
2018-09-17T00:00:00
I bought this and used on two occasion and found very good performer. I have used Stanley and Bosch before but have to say i like this one more as it is much cheaper and good design.
---
von: Chris G
2018-09-13T00:00:00
I was very pleasantly surprised when I came to use my new "Silverline" drill for the first time, it performed every bit as good as a much more expensive drill. The "feel" quality was excellent, feeling robust and sturdy. I bought it because of the price but will certainly be thinking of "reasonable price" and yet "quality" when I think of "Silverline" in future
---
von: william r
2018-05-11T00:00:00
A great quality drill at a reasonable price.Great functions.i.e.reverse and variable speed (that actually works).Highly recommended
---
von: anthony t
2018-03-23T00:00:00
the drill is great , and such a good value price, and the back up from simon in customer services was 100%
---
von: Anna I
2018-01-06T00:00:00
---
von: Fahed Z
2017-09-13T00:00:00
I was looking for a cheap but durable drill for home use and I came across silverline drill on ebay. It was cheap but was offfering 3 years guarantee which not even big brands offer so without thinking twice I went for it. And happy with its quality with it ever since. Will highly reccomend to friends and family.
---
von: Rhona
2017-09-02T00:00:00
Was really impressed - enjoyed working with it. Happy with results. Would buy Silverline again even though it''s not a big well known brand. Reasonably prices too.
---
von: john c
2017-06-24T00:00:00
have used my new drill quite a few times now excellent drill, have used on variable speed, hammer action and normal drill an excellent very well priced piece of kit
---
von: Mark H
2017-06-09T00:00:00
Good Product, Excellent Service/support
---
von: Michael R
2017-05-20T00:00:00
I bought this drill as I wanted a cheap mains drill for the workshop, as I seemed to be forever re-charging my battery drill. It''s good. and real value for money.
---
von: Gary w
2017-04-24T00:00:00
This drill is very good value for the money.
---
von: Ray C
2017-04-15T00:00:00
Excellent product Very good price Quick delivery
---
von: les h
2017-02-20T00:00:00
A very good drill for the price. Does all that more expensive, equivalent drills do. Plus. Comes with spare brushes for the motor!
---
von: W. M
2017-02-19T00:00:00
---
von: Mr L
2017-02-13T00:00:00
Very effective and can't say a lot against it for the price. There is also the added touch of providing a second set of brushes, for when required. Don''t get that with British products!
---
von: Andrew H
2017-01-26T00:00:00
I purchased this drill to polish engine casings on a classic bike. It is the perfect balance of power, weight and size. It performed the task with ease😊
---
von: Alun R
2016-12-09T00:00:00
Was looking for a corded drill with a keyed chuck for occasional use on the type of jobs that the battery drills struggle with for power. Also I didn''''t want a keyless chuck because the drill bits can be more probe to slipping and working lose. This one fitted the bill nicely at a very cheap price. Amazing that it comes with a 3 year warranty too, as long as you register it within 30 days with Silverline.So I hope it lives up to my expectations. Well done Silverline
---
von: Jayson
2016-12-08T00:00:00
No complaints, does what it says on the tin and good value for money. I was under the impression it came with a couple of drill bits as per the ebay description, but this doesn''''t seem to be the case.
---
von: stephen c
2016-10-30T00:00:00
Excellent product. Already used it successfully and a great feel to it. Tremendous value for money
---
von: D. M
2016-09-12T00:00:00
Cheap and Cheerful ....... NOT Heavy Duty , but handy for doing light , simple jobs . Rather flimsy , and basic spare parts are not readily available . I wont be buying another one .
---
von: Chris S
2016-09-12T00:00:00
---
von: Simon W
2016-09-12T00:00:00
Delighted with my hammer drill. I didn''t want to pay much as it is not something I will need to use very often. I am amazed at what good value this drill is - it has done everything asked of it faultlessly. I will look at Silverline tools first from now on. Why pay more?
---
von: John W
2016-09-12T00:00:00
Very surprised at the quality of build, and the overall performance. Things I would have expected to pay a great deal more for.
---
von: David G
2016-09-12T00:00:00
Bought solely to do one installation ! This drill has amazed me with its power and ease of use . I am keeping it near at hand as it will get used frequently . Nice kit !
---
von: james m
2016-09-12T00:00:00
bought this as a house moving present for my son . he is delighted with it and it has proved invaluable . A good tool and 100% reliable
---
von: John W
2016-09-12T00:00:00
As is always the case with silverline tools value and hard wearing tools go hand in hand.
---
von: David
2016-08-20T00:00:00
I bought two of these very cheap drills because they had a chuck with a chuck key as my experience with self locking hand tightening chucks is that they fall apart. However the chucks on these vibrate loose and are not good enough quality. The consolation is that they are guaranteed for 3 years
---
von: Kevin R
2016-08-15T00:00:00
Normal drilling good ,but hammer masonry not that good . No actual Hammer motion
---
von: Karen R
2016-08-08T00:00:00
i have found this drill light and useful for me to use as I have weak and arthrtic wrist it''''''''s very powerful and goes through bricks easily I would definitely buy another if it should break down in the future.
---
von: Max G
2016-08-08T00:00:00
I picked this drill up at my local Toolstation for a bargain price. It is absolutely bulletproof, i have used it for drilling masonry, wood and even with a polishing wheel to restore the aluminium on motorcycle wheels. Definitely recommend it, the 3 year guarantee is a bonus!
---
von: Julian M
2015-11-27T00:00:00
I saw the 3 year warranty and thought it must mean it''d be reliable or they''d only cover it for a year. Sadly with mine, this was not the case... After a few weeks it just stopped working! I''m disappointed! :(
---
Drei Jahre Garantie
Dieser Silverline-Artikel Schlagbohrmaschine, 500 W verfügt über eine 30-tägige Garantie ab Kaufdatum, die ihn gegen Mängel infolge von Material- oder Verarbeitungsfehlern absichert. Um Ihre Drei Jahre Garantie wirksam werden zu lassen, registrieren Sie Ihren Artikel bitte auf der Silverline-Webseite. Mangelhafte Artikel werden kostenlos ersetzt oder repariert.