630070
Drucksprühgerät, 10 l
10 l
---
---
Edelstahl-Sprühlanze mit großer Reichweite und verstellbarer Sprühdüse
Sicherheitsventil zur Druckentlastung
Breite, trichterartige Befüllöffnung erlaubt einfaches Einfüllen
Mit Tragegurt und Abzugsverriegelung zum Dauersprühen
Zum mühelosen Ausbringen von Düngemitteln, Unkrautvernichtungsmitteln, Insektiziden u.ä.
---
Online kaufen
Fachhändlersuche
Dieses Produkt bewerten
10 Bewertungen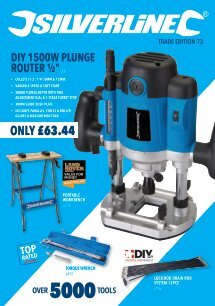 ---
Technische Daten
| | |
| --- | --- |
| Ausführung | Kunststoff |
| psi/bar | 40 BAR |
| Gewicht | 1,420 kg |
| Fassungsvermögen | 10 Ltr |
| Graduierung | Liter |
---
Ausstattungsmerkmale
Zum mühelosen Ausbringen von Flüssigkeiten auf Wasserbasis wie z.B. Rasen- und anderen Düngemitteln oder Unkrautvernichtungsmitteln. Sprühlanze aus Edelstahl mit großer Reichweite, verstellbarer Sprühdüse und arretierbarem Auslöser. Bequemer, verstellbarer Schultergurt. Kombi-Trage- und Pumpgriff. Verstärkter, halbtransparenter Druckbehälter mit Sicherheitsventil. Unkomplizierte Befüllung dank breiter, trichterartiger Öffnung. Farben können abweichen.
---
Lieferumfang
Verstellbarer Schultergurt
Edelstahl-Sprühlanze mit Kunststoffauslöser
Sprühdüse
Pckg. Ersatzdichtungen
Bedienungsanleitung
Drucksprühgerät
---
Kundenbewertungen
von: Peter h
2021-02-18T00:00:00
Spare pack of rubber washers but no instruction as to where each one fits. "Manual" instruction could be more comprehensive.
---
von: Sarah L
2020-06-11T00:00:00
I have just moved to a terrace house and yet to sort out a hosepipe (front or back). This thing is great, I got the 10 litre one and it's perfect for watering all my sunflowers and pansys in the border and potted plants under the windows. I use the hose settings to fire water into the pots the other side of border (don't have to trample around plants like I was doing before) and twist it to spray setting for seedlings and delicate plants. Neither require bending over/backache It comes with a LIFETIME guarantee so registered when I bought it and will get another I can keep mixed plant feed that I use once a week.
---
von: Richard M
2020-06-03T00:00:00
Extremely well made product.
---
von: Harrywilson
2020-05-22T00:00:00
Ok up to now like the 10ltr because less refills.i
---
von: HarryWilson
2020-05-14T00:00:00
Looks good. 10litre is a good option saves many refills very sceptical about the pressure so far so go.
---
von: Peter L
2020-04-24T00:00:00
I purchased this pressure sprayer for controlling the weeds in my drive. 10ltr means I can do one mix and do the whole drive in one go saving me time. My first impression when opening the box was no flimsy plastic wand a nice robust stainless steel one - Quality. I assembled it (two minutes) and put it to work. Wonderful no leaks unlike others I''ve had. I was also impressed that the sprayer comes with a spare set of seals which I have filed for when needed. At the price, this is an excellent purchase.
---
von: Dominique V
2019-08-13T00:00:00
Large volume Simple operation
---
von: James D
2019-06-17T00:00:00
Great product and even better value for money, used in a vehicle valeting bay daily and is excellent.
---
von: Mike P
2016-08-30T00:00:00
This is a nice quality sprayer that I actually used for spraying creosote with really nice results - you would never think it could pump something so thick as liquid goes - but very nicely surprised and it made a really nice job !! Totally recommended !
---
von: Smudger444
2016-06-24T00:00:00
This was a surprise, its a 10Ltr quality sprayer, that workes well, has spare washers and seals, and wont rust. Ive managed to lift this sprayer by the locking handle, or the affixed strap as you require. The spray was adjusted by the twisting of the jet letting you have a fine mist or a heavy droplets. I could also adjust the flow at the trigger, with the ability to lock closed or ooen as desired. You should be aware its not an expencive sprayer. But having used a sprayer at double the price, fail by blocking jet caused by rusting springs and plungers, I am totally pleased with this fully guaranteed Silverline 10Ltr sprayer.
---
Lebenslang Garantie
Dieser Silverline-Artikel Drucksprühgerät, 10 l verfügt über eine 30-tägige Garantie ab Kaufdatum, die ihn gegen Mängel infolge von Material- oder Verarbeitungsfehlern absichert. Um Ihre Lebenslang Garantie wirksam werden zu lassen, registrieren Sie Ihren Artikel bitte auf der Silverline-Webseite. Mangelhafte Artikel werden kostenlos ersetzt oder repariert.