868593
Drucksprühgerät, 8 l
8 l
---
---
Edelstahl-Sprühlanze mit großer Reichweite und verstellbarer Sprühdüse
Sicherheitsventil zur Druckentlastung
Breite, trichterartige Befüllöffnung erlaubt einfaches Einfüllen
Mit Tragegurt und Abzugsverriegelung zum Dauersprühen
Zum mühelosen Ausbringen von Düngemitteln, Unkrautvernichtungsmitteln, Insektiziden u.ä.
---
Online kaufen
Fachhändlersuche
Dieses Produkt bewerten
12 Bewertungen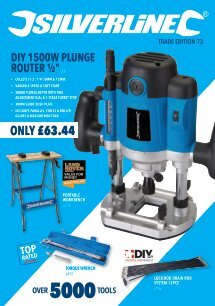 ---
Technische Daten
| | |
| --- | --- |
| Ausführung | Kunststoff |
| psi/bar | 2,8 bar |
| Gewicht | 1,258 kg |
| Fassungsvermögen | 8 l |
| Graduierung | Vorhanden |
---
Ausstattungsmerkmale
Zum mühelosen Ausbringen von Flüssigkeiten auf Wasserbasis wie z.B. Rasen- und anderen Düngemitteln oder Unkrautvernichtungsmitteln. Sprühlanze aus Edelstahl mit großer Reichweite, verstellbarer Sprühdüse und arretierbarem Auslöser. Bequemer, verstellbarer Schultergurt. Kombi-Trage- und Pumpgriff. Verstärkter, halbtransparenter Druckbehälter mit Sicherheitsventil. Unkomplizierte Befüllung dank breiter, trichterartiger Öffnung. Farben können abweichen.
---
Lieferumfang
Schultergurt
Edelstahl-Sprühlanze und Auslöser aus Kunststoff
Sprühdüse
Pckg. Ersatzdichtungen
Bedienungsanleitung
Drucksprühgerät
---
Kundenbewertungen
von: Peter J
2020-06-01T00:00:00
Big trouble with Mare''s Tail weeds! I needed something that held more than a litre or two which I have tried previously. The Silverline 8 Litre Pressure Sprayer is just what I needed. Great 8 Litre capacity, easy to operate and carry using the shoulder strap. adjustable nozzle is just right for the coverage I need. Came with spare ''O'' ring seals. Thoroughly recommended.
---
von: Tony H
2020-04-29T00:00:00
Well pleased with this sprayer made eay work of killing the weeds from my block paving without waisting expensive path clear. I have also used with plant feeder for my garden plants and I am loking forward to a good display of colour this year.
---
von: Bersilver M
2020-04-02T00:00:00
the lance mechanism is prone to leak and requires constant attention. The shoulder strap is slightly awkward and could be a little longer. But overall a reasonable product.
---
von: w p
2020-03-16T00:00:00
having just received the sprayer i could not wait to use it so within the hour i was spraying away all the unwanted things growing after a winter of rain ,i found the sprayer very light and easy to use would recommend to friends and family
---
von: steve
2020-01-17T00:00:00
Good quality, versatile pressure sprayer with large capacity. Good strap to take the weight and sprays for ages without refilling and excessive pumping. Pump lock a bit fiddly and would benefit from a pouring lip for cleaner emptying.
---
von: Richard W
2019-07-10T00:00:00
This works well for spraying weeds and is light enough to carry while doing this.
---
von: Roy D
2019-06-12T00:00:00
Very good product for the money
---
von: R w
2019-05-30T00:00:00
Rubbish two years old when putting pressure in all the fluids come out of the top
---
von: Alan
2019-05-21T00:00:00
Well made product that works perfectly. Big plus for the spare seals and the spray pipe made from stainless steel.
---
von: Alan W
2019-05-13T00:00:00
Well made and sturdy product which is easy to use and reliable. Big bonus is that the lance is made from stainless steel for longevity. Superb piece of kit. Value for money.
---
von: Darren
2018-12-16T00:00:00
This unit seems will built and works perfectly. I have a fair few silverline tools from ratchet spanners to routers and all work great
---
von: Ken B
2016-11-22T00:00:00
Brilliant - used it to spray patio, simple &amp efficient.
---
Lebenslang Garantie
Dieser Silverline-Artikel Drucksprühgerät, 8 l verfügt über eine 30-tägige Garantie ab Kaufdatum, die ihn gegen Mängel infolge von Material- oder Verarbeitungsfehlern absichert. Um Ihre Lebenslang Garantie wirksam werden zu lassen, registrieren Sie Ihren Artikel bitte auf der Silverline-Webseite. Mangelhafte Artikel werden kostenlos ersetzt oder repariert.