972660
Band- und Tellerschleifer, 350 W, 390 mm
350 W (GB)
---
---
Zweifach positionierbarer Winkeltisch mit Gehrungsführung, 390 x 125 mm
Neigungswinkel der Schleifoberfläche zwischen 0 und 90°
Induktionsmotor mit abgedichtetem Lager für lange Standzeit
Schleifbandlänge: 390 mm und Scheifscheibe: Ø 150 mm
Mit Schleifband in 80er-Körnung, Schleifscheibe in 80er-Körnung, Winkeltisch und Gehrungsführung
---
Online kaufen
Fachhändlersuche
Dieses Produkt bewerten
17 Bewertungen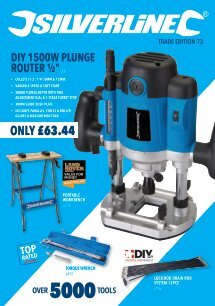 ---
Technische Daten
| | |
| --- | --- |
| Ausführung | Lackiertes Metall |
| Leistung | 350 W |
| Nennwert | IP20 |
| Abmessungen | 914 x 100 mm, 915 x 100 mm |
| Schleifblattabmessungen | 150 mm |
| Leerlaufdrehzahl | 1.450 min-1 |
| Gewicht | 14,6 kg |
| Tischabmessungen | 390 x 125 mm |
| Schleifscheibendurchmesser | 914 mm |
| Max. Arbeitszeit | 30 Min. |
| Einschaltdauer | S2 30 Minuten (Kurze Betriebszeit) |
---
Ausstattungsmerkmale
Kombischleifmaschine, bestehend aus Bandschleifer und 150-mm-Tellerschleifer. Langlebiger Induktionsmotor mit abgedichtetem Lager. Doppelte Staubabsauganschlüsse. Zweifach positionierbarer Tisch bietet vielfache Winkeleinstellungen und eine Gehrungsführung. Neigungswinkel des Bandschleifers zwischen 0–90°. Staubgeschützter Ein-/Ausschalter und gummierte Montagefüße. Zum Abschleifen verschiedener Werkstoffe wie Metall, Holz und Kunststoff. 915 x 100 mm messendes Schleifband mit 390 mm langer Bandoberfäche. Leerlaufdrehzahl: 1.450 min-1 (Tellerschleifer), 292 m/s (Bandschleifer). Inklusive Schleifband in 80er-Körnung, Klettschleifscheibe in 80er-Körnung, verstellbarem Winkeltisch und Gehrungsführung.
---
Lieferumfang
1 Band-und Tellerschleifer
---
Kundenbewertungen
von: Derek A
2019-08-23T00:00:00
This product is ideal for the many DIY projects that i am doing. Having only used it for the last week or so it is turning out to be a great bench top product for my workshop. I would recommend this item to all DIY''ers.
---
von: Ron M
2019-08-13T00:00:00
It''s everything I hoped it would be, it does the job it is paid to do very well.
---
von: renauld
2019-07-20T00:00:00
the product is good for the price I use it on wood / metal and i gave me good results. The only negative part are the support for the things to sand which are not really well donne. i will put to this tool a 7.5/10
---
von: Richard J
2019-06-14T00:00:00
Bought table sander had to send first one back as not put together right, but amazon dealt with this very quickly and received new one next day this sander is perfect so very pleased with the outcome.
---
von: John t
2019-06-03T00:00:00
Built to a price, not the best quality but does the job perfectly for a fraction of the price of the best quality. Very good value for home use. Recommended.
---
von: David R
2019-04-13T00:00:00
After opening box, albeit 3 months after purchase, I find that almost all the screws are missing. After emailing the Company, I was told that it could be resolved by claiming on the Guarantee. To claim, the product had to be returned to the Company....at my cost. Cost over £10 to get 5 screws which should have been supplied with the product. Poor show!
---
von: James o
2019-01-01T00:00:00
Its exactly what i was looking well worth the price would recomend this
---
von: Andre S
2018-03-13T00:00:00
Very solid and enough power for DIY use.
---
von: Van L
2017-08-02T00:00:00
A. dd to my previous review. The disc guard proved to be too flimsy it cracked in two places when fitting and the holes did not seem to be correct. To get the disc to run true was a major headache and it was impossible to fasten it securely with the guard in place. In the end I threw the guard in the bin. Again only minus stars
---
von: Van L
2017-08-02T00:00:00
Who designed this junk? To change a belt. like a major overhaul requiring three sizes of screwdrivers and a 10mm spanner? My previous machine needed one Allen key and three minutes of my time, this one has taken me ten minutes without replacing the covers!!!! The switch unit is very conveniently placed on the left end where you have to reach around a spinning disc to operate it or have the belt spinning toward you and throwing muck in your face! I seriously hope it blows up soon so that I can throw it away in cold blood. Star rating? Minus six.
---
von: brian e
2017-03-08T00:00:00
simple pictorial assembly instructions are clear and easy to follow to get the machine up and running. The belt sander work/rest stop needed a bit of manual '' adjustment'' to get it straight and in line , apart from that a good, well made semi-pro machine.
---
von: Simon C
2017-03-03T00:00:00
I was initially impressed by the product but during setup It became apparent that one of the plastic guards didn''t fit correctly at factory and had been re drilled to force it. This evidently cracked the part in two places. Not wanting to send the whole unit back for a small plastic part, I contacted Silverline through the website to request a part. More than a week later, no reply. Worse still I cant find any phone numbers to chase it up. Having used the machine for two minutes, a loud clunking noise was heard that physically made the machine jump once per rotation. Having investigated it, either the motor is misaligned for the whole cast iron chassis is bent. This is probably the root cause of why the plastic spark guard didn''t fit in the first place. Either way completely unusable. Its going back for a refund.
---
von: Owen H
2017-03-01T00:00:00
Very good tool that is good for the finishing touches on the fabrication work of my projects. A low affordable price that makes it a very competitive machine.
---
von: Ian H
2017-02-13T00:00:00
I found the assembly instructions were not easy to follow. I am an engineer and following drawings is my business so it should have been easy. The fitting of the disc to the shaft is poor as the disc runs out of true because the bore is oversize and maybe not even at 90 deg to the face. In general the disc is a very poor fit. The remainder of the machine seems to be good.
---
von: nigel c
2017-02-10T00:00:00
It does exactly what it says on the box. My only criticism is that the extraction connection is a bit awkward to fit in to a standard extraction flexible pipe.
---
von: John H
2017-01-31T00:00:00
Not very good! Poor fitting parts, inaccurate table tilt / angle guide.
---
von: Walter R
2016-11-30T00:00:00
Very pleasing and efficient piece of equipment
---
Drei Jahre Garantie
Dieser Silverline-Artikel Band- und Tellerschleifer, 350 W, 390 mm verfügt über eine 30-tägige Garantie ab Kaufdatum, die ihn gegen Mängel infolge von Material- oder Verarbeitungsfehlern absichert. Um Ihre Drei Jahre Garantie wirksam werden zu lassen, registrieren Sie Ihren Artikel bitte auf der Silverline-Webseite. Mangelhafte Artikel werden kostenlos ersetzt oder repariert.