102377
Pressure Washer 1800W
165bar Max
---
---
Air-cooled induction motor
Auto stop/start feature
Lance features pressure, spray pattern & detergent dispensing adjustment
Integral lance holder & power cord holder
Includes 6m hose on reel & variable spray lance
---
Buy Online
Find a Dealer
Review this Product
29 review(s)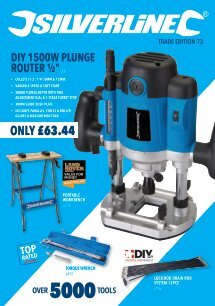 ---
Product Specification
| | |
| --- | --- |
| Flow Rate | 7.2Ltr/min |
| Maximum Pressure | 165bar / 2390PSI |
| No Load Speed | 2985rpm |
| Power | 1800W |
| Product Weight | 15.98kg |
| Working Pressure | 110bar |
---
Videos
---
Key Features
The big daddy of Silverline's smart-looking pressure washer range, the 102377 model, with 165bar maximum pressure and 110bar working pressure, literally blasts away dirt, grime and debris from all manner of surfaces. An impressive power-to-size ratio is sure to whet your appetite for outdoor maintenance, quickly cleaning cars, vans and bikes with ease, rejuvenating them with a forecourt-like shine that the neighbours will be jealous of.
The automatic stop/start feature saves water and maintains pressure for effective cleaning, while the traditional trigger operation and variable spray pattern afford excellent user control. Setting the 102377 aside from the rest is an air-cooled motor which offers excellent reliability and extended working life.
A 6m long hose, 5m power cord and fitted, rugged wheels enable cleaning all around vehicles and stationery objects, as well as giving access to large outdoor spaces like paths and patios, restoring them to an 'as-new' condition by removing moss, algae and general dirt or grime.
Pressure washers are a clean, green way of cleaning, offering the ability for excellent performance using water alone (up to 7.2Ltr per minute in this case), meaning no chemicals need to be used if you are conscious of your surroundings and the environment in general.
Silverline's 102377, 1800W Pressure Washer is supplied with a variable spray lance, 5m hose and detergent dispenser for the most stubborn of cleaning tasks.
---
Box Contents
1 x Spray gun
1 x Water outlet hose 6m
1 x BS converter
1 x Male connector (black)
1 x Built in soap bottle
---
Customer Ratings
By: Ian Gorse
2017-10-28T00:00:00
I bought this Silverline 1800W pressure washer to replace an old hobby washer I had. I recently got into using a Snow-foaming bottle lance attachment for washing my car &amp this Silverline is a great piece of kit for this job, This machine is a huge step up from the base (hobby) models with lots of pressure on hand, The induction motor is very quiet &amp gets on with the job effortlessly. I would definitely recommend this pressure washer to anyone who are after a very well priced powerful pressure washer.
---
By: Roderick Titley
2017-10-05T00:00:00
Good well built machine. Water pressure a lot higher than my previous Nilfisk machine. Useful adjustable nozzle for both pressure and water jet pattern. Excellent value for money, it will be interesting to see how long it lasts, but with it''s 3 year guarantee you can''t go wrong.
---
By: Les Gorton
2017-05-01T00:00:00
I researched lots of power washers before buying from Silverline. I just wish I''d picked this product straight away it would of saved me a lot of time. I live near a Karcher dealers which I visited before I purchased from Silverline. Karcher nearly twice the price for a inferior product.
---
By: Ryan McKenzie
2017-04-19T00:00:00
Considering the cost of this washer its an excellent bit of kit - something equivilant from another manufacturer would be twice as much and do the same job !!
---
By: corrine allward
2017-04-10T00:00:00
This is a seriously strong piece of machinery. so so much better than the usual branded make (yellow in colour) It just has an overall strong feel to it.
---
By: DAVID ELLIOTT
2017-04-10T00:00:00
---
By: Richard Gill
2017-03-31T00:00:00
Excellent machine. One small improvement I would make is the plastic connector for the water hose inlet should be in metal to improve the strength when moving the unit.
---
By: Chris Edwards
2017-03-27T00:00:00
Only used pressure washer twice since I''ve bought it, did car and patio made a good job of both very pleased with product
---
By: g.hodgson
2017-03-18T00:00:00
excellent product and value for money.easy to use very powerful for all jobs around home and workshop and packs away neatly fpr easy storage
---
By: John Gaskin
2017-03-18T00:00:00
After many years of continually having to replace the popular yellow brand of pressure washer, I took the plunge and took the risk of purchasing a much lower priced Silverline 1800W 165BAR machine. What a pleasant surprise when it arrived. The build quality is immediately apparent as soon as you start to handle the machine. It is robust and well engineered. However, performance is everything and the machine does not disappoint is this area. It is quiet and powerful, making short work of cleaning the dirtiest of patio areas in record time. With a 3 year warranty, forget yellow, blue is my new favourite colour.
---
By: jayne croft
2017-03-14T00:00:00
Fabulous pressure washer, does the job well Very handy to have the capacity to take detergent
---
By: king
2017-03-01T00:00:00
very powerful power washer, cleaned patio 10/10 service
---
By: colin beech
2017-02-25T00:00:00
this is the best pressure washer i have had having 3 cars in the house it has paid for its self over and over best price best washer GO AND BUY ONE AND SMILE EVERY TIME YOU USE IT
---
By: George Kotlewski
2017-02-25T00:00:00
Purchased this powerful pressure washer to clean slab patio. The washer came very well packaged complete with instructions. Easy to assemble and use. The washer is robust and well constructed and I feel that the quality build will enable use for many years, In use the washer is powerful and the variable lance can be used for a number of uses. The pressure can also be adjusted for more delicate work. All in all a great tool.
---
By: Mike
2017-02-14T00:00:00
great piece of kit easy to use, quality product, so far it does what it said it would and then there''s 3 year warranty would recommend this powerful jet cleaner
---
By: John
2017-02-12T00:00:00
Excellent washer especially for the price. Used it almost non stop for 3 hours no overheating or tripping out.
---
By: Darren Davies
2017-01-13T00:00:00
I didn''''t know what to expect buying a washer a 3rd of the cost of a well known yellow one, but WOW I am so impressed it made light work of my patio which has been down for 20 years I didn''''t even know that half the slabs were yellow lol. The washer looks great, it works great and it''''s a great price. I couldn''''t recommend it enough. Great product.
---
By: Mark vernon
2016-09-26T00:00:00
These days I do my homework on products and check out reviews far more than I used to. I don''t want a cheep nasty product that goes wrong and have all the trouble of sending it back with postage costs and all the hassle that is associated with it. When I bought my Silverline Jet washer I was as happy I could be that it was the best for power quality and warranty you could buy for the budget I had. I am going to be using it today to wash 3 motocross bikes used at the weekend, and I''m convinced it will be good for years to come. In short, If it got stolen would I buy another ? Yes without question.
---
By: Stuart Hallett
2016-09-25T00:00:00
I have had a few pressure washers in my time but this item ticks all the correct boxes for me, a great package and faultless, just wind back the hose when your done and wheel it away. Overall a neat package!
---
By: Martin higgins
2016-09-12T00:00:00
The only problem I have with this product is that the hose Outer layer has cracked in several places . which will lead to leaks So this hose is to soft.
---
By: jeff ewray
2016-09-12T00:00:00
THIS IS ONE OF THE BEST PRESSURE WASHERS I HAVE OWNED,BETTER THAN THE EQUIVALENT KARCHER !. WOULD RECOMMEND IT TO ANYBODY .
---
By: Terry White
2016-09-12T00:00:00
Makes my patio look like new,easy to move all the pipes and wires neatly pack away
---
By: adrian
2016-09-12T00:00:00
packed up on the 2nd time of use
---
By: John elphick
2016-08-15T00:00:00
Although the washer performs reasonably well the back up is absolutely rubbish, the pressure hose cracked in several places and silverlinevdo not do a replacement hose , the customer care is vertically non existent , with all this in mind I would not buy silverlinevdo products again and that''s a shame because there are some items I would like.
contacted by customer services and resolved
---
By: Mr Wayne Smith
2016-08-08T00:00:00
Very good so far does the job a good product easy to set up and use.
---
By: Victoria
2016-08-08T00:00:00
We have previously paid for someone to clean our patio, car port and fascias/soffits, but decided to buy the pressure washer instead. We are so pleased we did. It saved us a significant amount of money this year (and will do so again year after year) as we are no longer paying someone else. The washer is easy to use, powerful and really does get things clean, it romped through our carport (28 feet long) in no time. It is fairly quiet and so easy to use on patio flags, they are clean in minutes. My husband likes Silverline products anyway, but this is one of the best buys we have made in a long time.
---
By: Andrew Cater
2016-08-08T00:00:00
I have had a couple of pressure washers, one being a leading brand, but they have never had the power of this unit or been as quiet! The power allows you to blast the dirt and grim away with ease, and you can adjust the lance to tone it down if needed, but lets face it every wants POWER! The noise level when running is so quiet you have a conversation whilst using it, unheard off with my older units (pun intended). And to top it off everything is built into a design that has a wind up pipe, no more hassle in the garage trying to store it with the pipe and lance seperatly, 100% rating all the way!
---
By: Stu
2015-04-21T00:00:00
Great product, however would like some kind of patio cleaning attachment and it would be perfect, does any one know where I can get one?
---
By: Steve
2015-01-30T00:00:00
A great product really shifts the dirt and grime fast. Variable pressure and fan shape so you can get in just about anywhere. Whats not clear from the spec is that there is a great big container in the back to pour the detergent in. Then if you turn down the pressure it puts out the bubbles. Neat
---
Customer Faq's
Can I buy spare parts for this?
A selection of spare parts are available through http://www.toolsparesonline.com/category/907-search-silverline-spares.aspx
Can it run from a water butt?
No, this machine requires mains water
Is this compatible with your average garden tap?
Yes, you might need a quick-connector set and hose. Here is a link http://preview.silverlinetools.com/en-GB/Products/Gardening/Watering
Is there a built-in detergent tank?
Yes, there is a 900ml detergent dispenser built in to the back of the machine
---
3 Year Guarantee
This Silverline Pressure Washer 1800W is guaranteed for a period of 30 days from date of purchase against a fault developing in either the materials or the workmanship during manufacture. You can register for your 3 Year guarantee by registering your product online. Any faulty goods will be repaired or replaced free of charge.