102580
Pressure Washer 1650W
105bar Max
---
---
Air-cooled motor
Auto stop/start feature
Lance features variable high-low pressure nozzle
Integral lance holder & power cord holder
Includes lance, detergent dispenser, 5m hose & variable spray lance
---
Buy Online
Find a Dealer
Review this Product
51 review(s)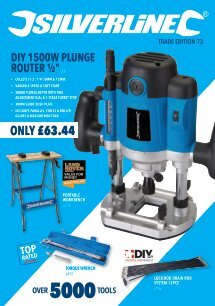 ---
Product Specification
| | |
| --- | --- |
| Flow Rate | 7.1Ltr/min |
| Max Temperature | 50°C |
| Maximum Pressure | 105bar |
| No Load Speed | 26,500rpm |
| Product Weight | 6kg |
| Working Pressure | 70bar |
---
Videos
---
Key Features
Part of Silverline's smart-looking pressure washer range, the 102580 model, with 105bar maximum pressure and 70bar working pressure, literally blasts away dirt, grime and debris from all manner of surfaces.
An impressive power-to-size ratio is sure to whet your appetite for outdoor maintenance, quickly cleaning cars, vans and bikes with ease, rejuvenating them with a forecourt-like shine that the neighbours will be jealous of. The automatic stop/start feature saves water and maintains pressure for effective cleaning, while the traditional trigger operation and variable spray pattern afford excellent user control.
A 5m long power cord, 5m hose and fitted rugged wheels enable cleaning all around vehicles and stationery objects, as well as giving access to large outdoor spaces like paths and patios, restoring them to an 'as-new' condition by removing moss, algae and general dirt or grime.
Pressure washers are a clean, green way of cleaning, offering the ability for excellent performance using water alone (up to 7.1Ltr per minute in this case), meaning no chemicals need to be used if you are conscious of your surroundings and the environment in general.
Silverline's 102580, 1650W Pressure Washer is supplied with a variable spray lance, 5m hose and detergent dispenser for the most stubborn of cleaning tasks.
---
Box Contents
1 x Spray gun
1 x Soap bottle
1 x Water outlet hose 5m
1 x BS converter plug
1 x Male connector (black)
---
Customer Ratings
By: Steven capenhurst
2019-01-04T00:00:00
---
By: Stephen birch
2017-03-18T00:00:00
Great little jet wash, used it for my decking and patio to clean away the winter. Pressure was great and easy to use.
---
By: brian bayston
2017-03-18T00:00:00
dose what it says it should do very satisfied would recommend it to anyone.
---
By: Tim cantwell
2017-03-17T00:00:00
Great compact design. Plenty of pressure 4 patio cleaning. Leads long enough to enable easy unrestricted movement.
---
By: Paul Harper
2017-03-16T00:00:00
Pleasantly surprised. I purchased the pressure washer as it was low in price and had same pressure output as washers about £25 more. This washer was about the cheapest I could find. It is very light but worked immediately and did the job as good as my old Karcher. I like the fact the motor fires up only when pressure is required.
---
By: neil morris
2017-03-14T00:00:00
I bought a silverline pressure washer from Amazon, it was the price i wanted to pay,assembly was very easy,and the pressure of the washer is first class for the size of the unit. I am very impressed with my new washer.
---
By: Trudy Geal
2017-03-13T00:00:00
I was fed up with scrubbing my patio with the age old brush and hosepipe. So being a novice I thought I would invest in a pressure washer , I''m so glad I did, it''s an amazing product and I think I have found my vocation in cleaning with it .. with a different nozzle set to spray or jet , it cleaned my patio slabs with ease.. very impressed and didn''t take very long . And believe it or not I had a very enjoyable time cleaning a dull dark mouldy patio to a patio looking brand new again .. well worth the money and I''m sure I will have Many a happy years with this pressure washer ..
---
By: Rod powell
2017-03-12T00:00:00
Having just purchased my washer I found it to be of very good quality and up to the job of cleaning the decking in the garden and of course not to forget the car.
---
By: James
2017-03-12T00:00:00
---
By: Shaun Kelly
2017-03-11T00:00:00
For the money you can''t go wrong as it''s powerful light weight and easily transported due to the wheels everything stored away for convenient storage
---
By: Mike Frost
2017-03-09T00:00:00
Received the washer on time. it was easy to set up and use, really pleased.
---
By: Tim
2017-03-09T00:00:00
For the price I''m really surprised how good it actually is I''ve cleaned my quite large patio with no problems and the patio looks like new. I would highly recommend!.
---
By: john nowland
2017-03-08T00:00:00
I bought my pressure washer to clean my flags at the rear and side of my house, plus my car. So far I have only been able to partially clean a large part of my flag stones at the back of my home. As the weather has been terribly cold and wet. But after only a light going over they are looking really good. I am now waiting for some good weather so I can go out and finish where I left off. But my pressure washer seems to do what I was hoping for and more and what a great price.
---
By: Bill Brisco
2017-02-28T00:00:00
I have had a number of power washers and can honestly Say that this is the most compact, lightweight and Mobile I have had. The fact all the accessories can be attached onto the machine after use means they are all there when it get it out again 10/10
---
By: Anthony
2017-02-26T00:00:00
Used it now it''s good so far, lets see how it goes when I use it regularly
---
By: melvyn Williams
2017-02-19T00:00:00
Does exactly what i expect i cleaned my 2 greenhouses and car all sparked for a change
---
By: B Davidson
2017-02-16T00:00:00
Excellent product .I purchased this to replace my old one i would recommend this product also the company for their first class service and very fast delivery
---
By: James Royle
2017-02-08T00:00:00
Well package on arrival and quick delivery too. Upon opening there is a little putting together, wheels, hose clips and the hose itself. Washer is nice and light and easy to operate. It''s not the most powerful washer, however it''s good enough for the jobs I need to do, wash cars, bikes and clean patio which was done with ease. There is a chemical bottle which attaches separately, so spray your soap products first and then wash off, easy peasy. All in all I''m quite happy with it.
---
By: John Pittaway
2017-01-30T00:00:00
I brought my pressure washer based on the reviews and more importantly the price. I don''''t need an all singing all dancing washer, I just want something to clean my patios and our cars, being rural they do get covered in it and with 2 dogs so do the patios! The washer is compact, lightweight and very easy to use, it does whart it said it would and I think it is the best tool we have brought for the home.
---
By: Arthur Cox
2017-01-20T00:00:00
Excellent piece of kit for the money would recommend it to everyone.
---
By: Arthur Cox
2017-01-14T00:00:00
Brilliant little pressure washer just right for cleaning flags , cars in fact every thing, in the words of the well-known advert it does what it says on the tin, great price too.
---
By: Christine Ormrod
2016-11-23T00:00:00
I purchased this power washer as my old one had given up the ghost. I tried it out on my steps to my back door, it worked a treat at moving any algae and deposits from a pointing job a few days earlier. I was very impressed and have since done the entire back yard. the debris from my plant tubs has gone and it looks very good . I do this job every year but missed last year as my last machine broke ( it was a little old) so this year I thought would be a devil of a job , but it wasn''''t, this machine worked wonders and is so light and easy even an old codger like me can use it . Thanks for such a super machine glad I picked this one.
---
By: Christine Ormrod
2016-11-13T00:00:00
I had not done pressure washing on my back yard for about 2 years due to my other washer being broken. I tried it the day after receiving it and it did a wonderful job. My steps are free from algae and no longer a hazard now that winter is coming. I would rate this product very high as it does the job well.
---
By: mr s r derrett
2016-11-08T00:00:00
---
By: Gordon Robertson
2016-11-04T00:00:00
Purchased following the second failure of a pressure washer costing twice the cost made by a well known market brand competitor, this compact pressure washer has proved to be an excellent purchase, easy to use, good practical accessories, easily as powerful as my previous pressure washer and a 3 year warranty! Its a thumbs up for me.
---
By: Keith
2016-09-26T00:00:00
Bought one as it was a good price and have not been disappointed. Well made and seems robust.
---
By: lynette lock
2016-09-26T00:00:00
A very good little workhorse excellent value.
---
By: alan torres
2016-09-26T00:00:00
Very good value works well to wash my wife''s and my car and also the garden path, Very pleased.
---
By: John Stevens
2016-09-26T00:00:00
Excellent piece of kit easy to set up, had it up and running within 15 minutes of it being delivered. It has done a great job on removing the moss etc from the patio, and my other half cleaned both cars with it at the weekend.
---
By: Helen Hunt
2016-09-19T00:00:00
This is the best pressure washer I have bought ..... It has a good strong spray and cleans things fast.... It is easy to move around on it''s wheels..... Over all a fantastic bit of kit to add to anyone''s tool shed.
---
By: Rod Hampton
2016-09-14T00:00:00
The cable hook had to be glued on apart from that it works well and was cheaper then most others I looked at,as with other Silerline tools it does the job thanks Rod
---
By: David hay
2016-09-13T00:00:00
Superb pressure washer use it to do my mnonblock slabs etc without any problems 100% recommended
---
By: mr beeney
2016-09-12T00:00:00
Nice little pressure washer, does a great job and is good value for money.
---
By: Clive Greenslade
2016-09-12T00:00:00
Excellant pressure washer did all the jobs I needed at the time and will get good use on my new project
---
By: David Mercer
2016-09-12T00:00:00
Great power washer. Easy to put together.
---
By: Martin Steele
2016-09-12T00:00:00
What an excellent piece of machinery, really powerful &amp well made.I can highly recommend this power wash.No effort at all shifting weeks of grime off my car.
---
By: C Cretchley
2016-09-12T00:00:00
Very good machine, easy to set up and cleaned my patio very well
---
By: echtdampfer
2016-09-12T00:00:00
Works as well and is just as reliable and well made as products costing more than twice the price. This is a well designed, compact pressure washer that is easy to store and carry and has an impressive performance. Highly recomm
---
By: Robert S Wiles
2016-09-12T00:00:00
The spec was right the price was right the product reliability absolutely wasn''''''''t. It basically stopped working (motor issue) as soon as it ran out of warranty. Called the people I bought it from they gave me the manufacturers direct telephone saying they would definitely do some thing as the warranty had just expired and suggested that the motor should definitely not have failed. I then called the manufacturer and basically got fogged off as I was now out (just) of warranty - they were absolutely not interested in the fact that they are selling things that are lucky to last their 1 year manufacturers warranty period as in my case.
---
By: amanda dawson
2016-09-12T00:00:00
great item for the price work,s great well worth buying
---
By: r j middleton
2016-09-12T00:00:00
very compact piece of kit ,does everything I ask of it especially patio slabs.
---
By: Robert lane
2016-09-12T00:00:00
Excellent product and a great price
---
By: Robert Lewis
2016-09-12T00:00:00
I wanted a pressure washer that was compact . I have to say , this particular pressure washer is compact , light &amp reliable . It does a very good job considering it''s size . I was pretty impressed with the price . A great product .
---
By: peter
2016-09-12T00:00:00
---
By: mr allan galton
2016-08-15T00:00:00
this is a great bit of kit just the job for all those cleaning jobs around the home
---
By: Mr C Harrison
2016-08-15T00:00:00
Excellent product at very competitive price
---
By: Mr Richard Boote
2016-08-09T00:00:00
Light and easy to use. Plenty of Power and does a great job. I use it on my Conservatory, Driveway, all my Pathways, Caravan and Car. It should be called a Breeze Machine because that is what it is to use!
---
By: Steven langton
2016-08-08T00:00:00
What a great washer , all the fittings good quality , easy too use , great for cleaning patio and driveway , and car , very good buy
---
By: Mr J Tate
2016-08-08T00:00:00
I initially bought this pressure washer just to clean out the block paving on my drive, I thought that at the price the machine would probably good enough for the job but not for more extensive use,but to my surprise it proved to be a much sturdier and reliable product and is now used for many more tasks around the house,garden and even the car.I can honestly say that i am delighted with my purchase.
---
By: John Kelly
2016-08-08T00:00:00
I had a Ronseal m0oment with this unit. It does everything it says on the tin or box to be exact. The price was/is amazing and the performance of the unit was/is excellent. You really can''t get better than that. When anyone asks and there have been a few already I tell them exactly that. You''ll not get better for the money.
---
By: Steven langton
2016-08-08T00:00:00
Very good washer , reasonable price , all fitting easy too use. Cleaned up driveway a treat , handy for the car also , great product
---
3 Year Guarantee
This Silverline Pressure Washer 1650W is guaranteed for a period of 30 days from date of purchase against a fault developing in either the materials or the workmanship during manufacture. You can register for your 3 Year guarantee by registering your product online. Any faulty goods will be repaired or replaced free of charge.