262212
DIY 350W Drill Press
350W UK
---
---
5-speed belt drive
Sturdy cast base & machine table
13mm keyed chuck capacity
Spindle travel (drilling depth) 0 - 50mm with gauge
For drilling jobs where a high degree of accuracy is required
---
Buy Online
Find a Dealer
Review this Product
35 review(s)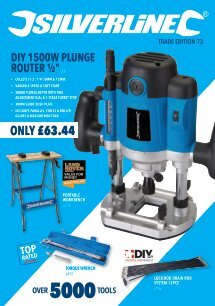 ---
Product Specification
| | |
| --- | --- |
| Chuck Type | Keyed |
| No Load Speed | 580 - 2650rpm |
| Product Weight | 14.5kg |
| Table Size | 160 x 160mm |
| Variable Speed | Yes |
| Chuck Size | 13mm |
---
Key Features
5-speed belt drive. Chuck/spindle travel 0-50mm with gauge for accurate drilling. Strong cast base and machine table. 13mm keyed chuck capacity.
---
Box Contents
1 x 350W Drill press
1 x Steel Central Support Column
1 x Adjustable Table
1 x Base Plate
1 x Safety Guard
1 x 13mm Chuck
1 x Chuck Key
3 x Bolts
3 x Washers
3 x Spring Washers
3 x 133mm Handles
1 x Hex Key (M4)
1 x Instruction Manual
---
Customer Ratings
By: Mark H
2019-03-30T00:00:00
A very reliable, accurate drill press with no noticeable run out. Definitely punches above it's weight price wise. I use mine mainly for wood and the speed range is perfect for me. I have mine bolted to my workbench and there's very little vibration and no noise to disturb the neighbours. I would recommend this drill press without reservation.
---
By: Harry
2018-12-28T00:00:00
Very good product and fast delivery
---
By: Peter N
2018-11-09T00:00:00
Excellent value for money. The drill comes well packed and is very easy to assemble. The operation of the motor is quiet and smooth. I have had no problem using this drill to date and can't fault it.
---
By: william a
2018-07-19T00:00:00
great value for such a useful tool
---
By: Cesar B
2018-06-10T00:00:00
Todo funciona perfectamente hasta ahora. Cumple mis espectativas
---
By: kb
2017-10-04T00:00:00
I originally bought a clarke drill, but took it back when i realized this was essentially the same but £30 cheaper, Very happy with my Silverline version, there is no play or wobble in the chuck spindle (like some early versions). i was actually expecting the motor/gear pulleys to be a black plastic as seen in some stock photos, but was pleased to find that like the more expensive brand they were also machined from aluminium. This model also has the 350w Induction motor not just the standard fan cooled motor found in some versions of this drill. The only weakness i found was the depth stop / guard - too flimsy, however i plan to replace this with a home made one.
---
By: Keith F
2017-05-09T00:00:00
Purchased as a replacement for a gigantic 60 year old drill press which took much of my work space. Easy to assemble with basic tools. For the limited DIY jobs I do it works just as well as the old one. Very good value for money an I wold recommend to any DIY''er.
---
By: M C
2017-02-16T00:00:00
Good all purpose bench drill.Value for money.
---
By: Ross D
2017-01-22T00:00:00
Has been a good choice in product, although I would suggest you don''''t don''''t use plastic for the depth gauge holder and the cut off switch as mine arrived smashed and had to make new metal parts.
---
By: Alfonso
2016-12-17T00:00:00
Tengo la correa muy gastada y no la encuentro por ningún lado en donde puedo comprarla
---
By: Steve
2016-11-28T00:00:00
So I have needed to get a drill press for ages as there is just no way to drill dead accurate by hand. I didnt want to spend loads or have the footprint for a massive floor standing unit. This compact bench top drill press is just the job. Yes its fairly basic in terms of variable speed you have to change the drive belt onto different ration pulleys but that is sound engineering that wont go wrong. The thing is straight level and stable and does what it needs to. For the price its an absolute bargain.
---
By: Milo S
2016-11-08T00:00:00
For most cases where a cordless drill can''''t do the job the drill press is more accurate. It''''s steady and I can use it for more purposes than I intended to. The rest plate can even be tilted, which is great for angle drilling. An affordable must have for the bench top. I use it for drilling holes in plates for amplifier chassis and wooden pin blocks of small instruments.
---
By: Allen M
2016-10-06T00:00:00
well pleased with this product
---
By: Richard M
2016-09-29T00:00:00
Wonderful machine for hobby work. Not had long enough to do any heavy work, but so far would recommend this drill to anyone.
---
By: Phillip c
2016-09-27T00:00:00
First class item would recommend this product to any one
---
By: Peter R
2016-09-13T00:00:00
For its price this drill has proved excellent for my usage.
---
By: Pat N
2016-09-13T00:00:00
Really pleased with drill press. Well worth the money, can''t fault it at all. An extremely good buy.
---
By: Geoge H
2016-09-13T00:00:00
---
By: Ian H
2016-09-12T00:00:00
A good value for money drill and easy to assemble. It is ideal for hobbyists who want a good quality machine for a very reasonable price,
---
By: Jay
2016-09-12T00:00:00
Easily assembled and worked well from day one. Bought two years ago and continues to work without issue. None of the faults recorded by others manifested themselves and I recommend this product. Great value.
---
By: Allen M
2016-09-12T00:00:00
Very good product needed a new drill as my old one was broken, this is just as good as the expensive drill I had before.
---
By: S J
2016-09-12T00:00:00
Fantastic equipment , does the job it made for.
---
By: Paul P
2016-09-12T00:00:00
The drill is all I expected to be, it''s quieter than the last one I had and is very easy to use. The drill has made my life a lot easyer. I would recommend it to to friends and family. Well wirth the money.
---
By: Johnny t
2016-09-12T00:00:00
I was told by a wise old machinist that the most important thing about a drill press is that there must be no lateral movement in the chuck, because if there is, it wont drill straight holes. I was concerned that this ''value'' item would not have been built well enough, but certainly My version of this has no play, and for that reason alone I would say this is a good drill and, given the price, I think it deserves five stars... Interestingly if you look around on the internet you can find this drill with at least three different manufacturers names on it. Most cost more than the Silverline - because you pay for the brand. Mine is a Silverline! I have had it for over a year and when accurate drilling is required - I use a centre drill, sharp drill bits, and hold the work piece firmly - and i have found I can drill very accurate holes in steel, brass, copper and aluminium. It''s not the quietest, and changing speed is a hassle - and I would also add that the depth ''stop'' is just two nuts on a threaded bar that tend to loosen themselves off.. which is a tad annoying- but I would have had to pay three to four times the price to see a significant jump in quality. Silverline tools in my experience are excellent value.
---
By: Stephen W
2016-09-12T00:00:00
Great value, robust, reliable drill. Will probably outlive me!
---
By: Oscar
2016-08-19T00:00:00
Good product at a great price. The assembly is simple and assembly instructions are very clear. The drill works perfectly. Thanks to Silverlinetools for its fantastic tools.
---
By: Paul S
2016-08-16T00:00:00
A truly wonderful product well worth the money, easy to setup and install runs very well ,smoothly every thing you would expect of a first class product,with excellent service including delivery.
---
By: terry
2016-08-15T00:00:00
very happy with the drill been using it to drill metal as i do welding very easy to set up and very easy to use no problems with it does the job very well. and great on price.
---
By: Jarvis F
2021-09-06T00:00:00
I really rate this drill press. It excellent value , worth more than the price charged. I have used the press almost everyday since I bought it and In have not had any problems. I would recommend the machine to anyone.
---
By: Trevor
2020-12-31T00:00:00
Before we moved to a new bungalow I sold my old floor standing heavy duty pillar drill thinking that I wouldn''t need it - the day after moving I was regretting that decision! I have a much smaller garage/workshop so wanted something that could do accurate work but not take up too much space and this has fitted the bill perfectly. I have read other reviews that stated the idrill arrived damaged, with this or that part crushed or broken. My unit arrived very well packed and with no damage at all. It went together well and seems well engineered for the price I paid. It ran straight and true, there was no lateral play in the chuck and for what I now need to do it has plenty of power...AND it came with a bench vice that also seems well made. All in all I cannot fault this drill and it certainly deserves the five stars I have given it. If you are a DIY''er and not into manufacturing then this will do you very well.
---
By: david f
2020-04-26T00:00:00
nice compact size for my small shed, all works as it should,this drill as 3 settings which will cover all mt projects, easily assembled, very pleased with this purchase.
---
By: Jamie J
2020-03-31T00:00:00
I bought this for a project and while putting it together I found that the,screw or bolt for holding in the chuck was missing. Also depth gauge was damaged, I phoned silver line and they didn''t help me at all. It''s now just sat in my garage and I''ve never used it. You get what you pay for and that goes for service as well. Very disappointed with this company.
---
By: Graeme G
2019-11-05T00:00:00
Previously iv''e purchased saw blades or sanding disks and various sized belts over the years and all have worked well . Iv''e wanted a drill press for a while and come across the Silverline 350w . I read the reviews and already trusting in the Silverline products i purchased my very first drill press . It has been a great little addition to my small workshop . Very quiet and the power is every thing i need from making wooden toys and various size furniture .
---
By: Mark H
2019-09-24T00:00:00
My brother is a time served engineer who went back into education and worked his way up to a PhD. He was very impressed with the accuracy of this drill press. It is phenomenal for the price. All the negative comments on the internet come from people who have either never been near the drill or they didn't set the drill up right as per very clear instructions. I have drilled everything from glass to 5mm steel with no problem at all. The drill is never underpowered and I''ve never found a need for more gears. I''ll be honest I didn't check whether the table was of the ratchet and handle variety, but now I'm glad it isn't. It seems those handles get in the way. When I was building my woodwork bench I was drilling 12mm holes through 90mm wood simply by raising and lowering my table whilst the drill was in situ after the first 50mm. I don't think this would have been possible with a ratchet style table. It's also much more difficult to build a woodworking jig for that style. My drill has had a significant amount of use over the last year, and I couldn't have been happier.
---
By: Artur
2019-04-12T00:00:00
For this price, like with all the other Silverline power tools, it''s perfect. Hard to tell how durable it is but it''s definitely balanced well between the cost and DIY user needs. Worth the money, no regrets.
---
3 Year Guarantee
This Silverline DIY 350W Drill Press is guaranteed for a period of 30 days from date of purchase against a fault developing in either the materials or the workmanship during manufacture. You can register for your 3 Year guarantee by registering your product online. Any faulty goods will be repaired or replaced free of charge.