262705
DIY 1400W Compound Mitre Saw 210mm
1400W
---
---
Precision 210mm 24T TCT blade
All-metal blade guards, arm, fence & mitre table
Dust extraction port & carrying handle
Folds down for compact storage
Includes clamp, dust bag, rear stabiliser & high performance blade
---
Buy Online
Find a Dealer
Review this Product
22 review(s)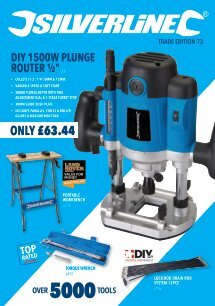 ---
Product Specification
| | |
| --- | --- |
| Blade Size | Maximum - Ø210mm |
| Max Cutting Depth | 50mm |
| Power | 1400W |
| Blade Diameter | 30mm |
| No Load Speed | 5000min-1 |
| Mitre Range - ° | 0° to 45° left and right |
| Product Weight | 6kg |
---
Videos
---
Key Features
Powerful 1400W motor and precision 210mm 24T TCT blade. All-metal blade guards, arm, fence and mitre table. Compound, 0-45° bevel and 0-45° L/R mitre cuts. Maximum cross cut capacity 120 x 50mm. Dust extraction port and carrying handle. Easy 0° calibration for bevel and mitre angle. Bench mountable base. Folds down for compact storage. Includes clamp, dust bag, rear stabiliser and high performance blade.
---
Box Contents
1 x Mitre Saw 210mm
1 x Manual
1 x Pair of Carbon Brushes
1 x Dust Bag
1 x Hex key
1 x Clamp
1 x Base Support
2 x Screw for tighting the base support
---
Customer Ratings
By: Craig
2017-03-26T00:00:00
This was a great little tool for my projects for the first couple of weeks, but after that it became faulty. Whenever I finished making a cut and released the trigger the motor would keep running with the blade spinning. I would have to lift the saw blade up in order to unplug it from my extension lead to switch it off with the blade spinning all the while. The problem persisted when I plugged the saw back in. The motor would start running immediately. It is a shame this tool became faulty as it was doing so well, but short-lived. I have had to return it to Amazon.
---
By: John Dawber
2017-03-25T00:00:00
A good user friendly, efficient Mitre Saw. Inexpensive tool which does the job. The instruction manual is an eyesight test and difficult to read. There were 2 Allen keys supplied, the smaller one does not seem to fit anything
---
By: Richard Harris
2017-03-10T00:00:00
Good Price, does the job The TCT blade is especially useful
---
By: Richard Harris
2017-03-03T00:00:00
Received in god time. I''m using it to chop up old purlins for firewood. It does the job well and does not mind the odd nail (unlike my chain saw).
---
By: craig wallace
2017-01-27T00:00:00
To sum this up in 5 words I''''d say "good, solid piece of kit". Had this a couple of months now and it has already paid for itself due to it being great value for money. Been building a new workshop and this has made my life so much easier after my old mitre saw gave up the ghost. Great cutting capabilities, ample power and folds down neatly for compact storage. Can''''t fault it.
---
By: Mark Cundall
2017-01-13T00:00:00
I only bought this mitre saw for cutting wood for our woodburner, i was that impressed that i went out and bought the circular saw too (just arrived from Amazon). When you compare this to other well known brands and the cost difference, it''''s a no brainer to buy a silverline product!
---
By: Dominic Cragoe
2016-09-26T00:00:00
Great saw until the on/off trigger jammed on and the plug casing came apart 4 weeks into purchase, but retailer excellent response shipping out a brand new one straight away. Many thanks.
---
By: richard culverhouse
2016-09-12T00:00:00
An inexpensive saw. That turned out to be a truly savage beast. I use it regularly due to its smaller size, for easy handling (and storage) The power is truly phenomenal. Word of advice : It has a fair "kick" when starting. Clamping advised or a firm grip needed when starting. If I damaged this one, I wouldn''t hesitate to buy another one !
---
By: Colin Clayton
2019-02-06T00:00:00
Very pleased with prompt delivery, well packaged including clear instructions for the set up and operation of this saw. It is fairly robust, needing several adjustments prior to operation. It operates well so far. My only negative comment is that the dust bag does not collect all the wood dust, just some of it. It is easy to operate. I noted the advice to secure the machine to the bench wiwhich I have done with large bolts. This makes for safe operation of the tool, avoiding the possibility of kick back in the event of a jammed blade. I recommend doing this. Overall very pleased.
---
By: Roger Clark
2019-01-26T00:00:00
Brilliant! Used it yesterday for the first time and it did all I wanted it to.
---
By: John Dawber
2019-01-23T00:00:00
Excellent product. A fair price and does the job. Unfortunately a fault developed with the on off switch, within its 3 year warranty. Product returned over the Xmas period and within days a new saw arrived. Outstanding service. Highly recommended.
---
By: Anthony Judd
2019-01-10T00:00:00
Great value both on price and quality, also excellent response from Customer Services. Highly recommended.
---
By: Terry knight
2019-01-04T00:00:00
Good priced accurate cutting saw... no problems since owning it. The 3 year warranty is a great bonus.
---
By: Mark jones
2018-12-29T00:00:00
A great saw with excellent safety features light weight so easy to carry around. A great all round work horse.
---
By: Ian
2018-12-26T00:00:00
Does not handle logs of certain size well,also the on off button has stuck permanently to the on position,you have to switch off at the power supply not good
---
By: Mat Owen
2018-10-25T00:00:00
Very happy with this Silverline mitre saw, does everything you need it to and at a very reasonable price with a 3 year warranty-bonus!
---
By: Fred Haenni
2018-04-03T00:00:00
Très bon rapport qualité-prix Je recommande ce produit
---
By: Bob Hebron
2017-05-26T00:00:00
Had to return first order due to a problem with the on/off switch but am really pleased with the performance of the replacement except for the setting for a 90 degree cut being a couple of degrees out.
---
By: Ian Overton
2017-05-04T00:00:00
Easy to use, very safe. Only thing I wish it had was a center line on the base showing where the blade was when cutting. Would be easy for srtaight cuts, not so easy for angled ones.
---
By: Bob Hebron
2017-04-20T00:00:00
After approximately 50 X 3inch cuts the on/off switch seized in the on position. The saw is on its way back to the seller !
---
By: robert layton
2017-04-13T00:00:00
a good saw to have around use it every day very
---
By: Tony Fisher
2017-04-11T00:00:00
For the low price, this is a good machine which will certainly suit the occasional DIY user. The print face in the user guide is far too small, the parts illustration cannot be seen a the same time as the parts number list, and the instructions are hard to follow.
---
3 Year Guarantee
This Silverline DIY 1400W Compound Mitre Saw 210mm is guaranteed for a period of 30 days from date of purchase against a fault developing in either the materials or the workmanship during manufacture. You can register for your 3 Year guarantee by registering your product online. Any faulty goods will be repaired or replaced free of charge.