285873
1400W Circular Saw with Laser Guide
185mm UK
---
---
0 - 45° bevel angle adjustment & laser guide
Dust extraction port
Vibration-reducing rubber-coated handles
Max cutting capacity: 90° - 65mm, 45° - 45mm
Includes 24T TCT blade, hex key & parallel fence
---
Buy Online
Find a Dealer
Review this Product
24 review(s)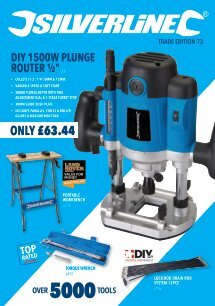 ---
Product Specification
| | |
| --- | --- |
| IP Rating | IPX21 |
| Power | 1400W |
| Blade Diameter | 185mm |
| Cut Capacity - Max | 61 - 65mm |
| No Load Speed | 4500rpm |
| Cut Capacity - 45° | 45mm |
| Cut Capacity - 90° | 65mm |
| Dust Extraction | Yes |
| Bevel Range | 0 - 45° |
| Type of Baseplate | Steel |
| Product Weight | 4.32kg |
---
Key Features
Looking for an affordable saw with the handy features of more expensive models? The Silverstorm 185mm Circular Saw, featuring a laser guide for improved cutting accuracy, ticks that box for cutting in hardwood, softwood and sheet materials. The on/off trigger allows simple control over engagement of the 1400W motor, which provides a no load speed up to 4500rpm. To prevent damage to workpieces and surroundings, a lock-off switch effectively disables the tool until it is switched back on.
A welcome, useful addition to what is already a good tool is the laser guide, which generates a straight line onto your workpiece which the blade will then follow, allowing you to line up your sketch to ensure accuracy. The general rule is 'measure twice, cut once' which means if you plan properly and make sure your calculations are correct, you are more likely to get the cut right first time.
The tool features rubber-coated handles for a secure grip, whilst also reducing vibration to ensure comfort. Maximum cutting capacity at 90° is 65mm, while at 45° it is 45mm. These cuts are possible at a number of angles, with the tool boasting range of 0-45°.
A blade guard prevents chippings and debris from causing damage or injury, while dust extraction is available via the integrated port when a vacuum is attached. This ensures that your workpiece and surrounding area stays clean and tidy to maximise performance and minimise clean-up time.
Compatible with a wide range of 185mm circular saw blades, like Silverline 801292 - an assorted 3pce set. The kit includes a parallel fence for accurate cuts in your chosen material and a 185 x 20 x 1.5mm blade with 24 teeth.
---
Box Contents
1 x Circular Saw
1 x Saw Blade
1 x Guide
2 x Spanner
1 x Instruction manaual
---
Customer Ratings
By: mike c
2016-09-26T00:00:00
a powerful saw that is well put together and easy to use. I would have liked a blade lock as fitted to the 1200 watt saw.
---
By: William c
2016-09-12T00:00:00
I bought this saw as a stopgap replacement when my more expensive one breathed its last,It did everything that I asked of it,so I will stick to Silverline tools for now on.many thanks Silverline.
---
By: Mr P
2016-09-12T00:00:00
Very good and surprisingly powerful. Accuracy is ok - the blade is out by about 2mm when you want an accurate cut, so just add another 2mm to your width.
---
By: Aurelian L
2016-09-12T00:00:00
I''ve been using this tool for quite a while now and I''m very pleased with how it works.
---
By: Justin
2016-09-12T00:00:00
The only circular saw I have ever owned. Used it for plenty of DIY jobs now - usually when needing to cut large sheet material. No complaints.
---
By: David G
2016-09-12T00:00:00
This item appears to be well constructed and very easy to use. It''s the first time I have used a tool like this so it was an experience and nice to see how cleanly it cut the timber. The laser guide is a good accessory and very useful.
---
By: Grzegorz K
2016-09-12T00:00:00
Ideal saw for home use, also to larger works. It has everything you need and low price. The only drawback is the hole for chip removal which is hard to permanently connect the pipe a vacuum cleaner.
---
By: R R
2016-09-12T00:00:00
The saw has proved very useful and is used regularly, the laser guide being particularly helpful.
---
By: JAMIESON S
2016-09-12T00:00:00
I have used this product to build a new roof for my shed, for the last four days cutting 6x2 frame work, cross cutting and ripping full lengths . brilliant piece of kit I would buy another with no second thought. cheers.
---
By: barry p
2019-07-15T00:00:00
Looks good. not used yet as i''ve been away.
---
By: barry p
2019-07-08T00:00:00
set it up but not used yet. looks ok
---
By: Allan M
2019-01-30T00:00:00
Excellent circular saw done a great job cutting my internal doors to doors to size.
---
By: Peter H
2018-05-04T00:00:00
Does a nice job of slicing up wood, don't see the point of getting an expensive saw when this does the job easily and at a reasonable price.
---
By: Oscar
2017-10-24T00:00:00
This saw is very powerful and works very well. The laser device is very useful and helps to follow the path to be cut. As a negative point, indicate that the iron base is not very solid and the saw is not completely rigid to the base but has a certain clearance that subtracts precision. As a point to improve, it would be interesting that the laser was fed directly from the electric current rather than batteries for its operation. ------------------------------------------------------------------------------------------------- Esta sierra es muy potente y funciona muy bien. El dispositivo laser es muy útil y ayuda a seguir el trazado a cortar. Como punto negativo, indicar que la base de hierro no es muy sólida y la sierra no queda totalmente rígida a la base sino que tiene una cierta holgura lo que le resta precisión. Como punto a mejorar, sería interesante que el láser se alimentase directamente de la corriente eléctrica en lugar de pilas para su funcionamiento.
---
By: Jesus m
2017-06-16T00:00:00
El disco se me quemó a los pocos días de uso. Con un disco de mas calidad muy bien
---
By: Aaron
2017-05-20T00:00:00
---
By: Bilal K
2017-05-10T00:00:00
Purchased this as an addition to my toolset, feels and looks sturdy, have used this for only a week now and I''m sure it will last me. Comes with a 3yr guarantee for peace of mind. Highly recommended.
---
By: Richard b
2017-02-12T00:00:00
Great lightweight saw, powerful enough for most jobs also a three year warranty should any thing go wrong.
---
By: Steve
2017-02-10T00:00:00
Brilliant, easy to use, compact, It weighs under 5K and feels very solid and comfortable to use. I am sure I will get good value out of something that is at such a remarhably low price. Good value for money.
---
By: Richard
2017-02-05T00:00:00
The silver storm saw is both light and powerful. With a three year guarantee. As long as you keep the blade in good nick these saws perform handsomely.
---
By: JAMES B
2016-12-18T00:00:00
Perfectly acceptable circular saw.
---
By: N.Baldwick
2016-12-08T00:00:00
My previous saw ( 20 years old was an expensive Swiss model) but failed recently when the worm drive on the end of the armature wore smooth.A replacement part was available but would cost well over £100 pounds. A non starter The new Silverstorm was an excellent buy at a fraction of the price and is almost identical. It works just as well and has more features that bring it right up to date tecnically.(ie, laser guide and pressed steel base plate etc, rather than die cast components. I reccomend this tool.
---
By: Paul H
2016-11-30T00:00:00
I have used the saw only a few times since purchasing it a couple of weeks ago, so far I am really impressed with how well it performs, its will made, easy and comfortable to use. I have no regrets in buying this saw .
---
By: Gary
2016-09-26T00:00:00
Great saw easy to handle with a great guide making trimming off set amount of wood. Useful laser light. Great value for money.
---
3 Year Guarantee
This Silverline 1400W Circular Saw with Laser Guide is guaranteed for a period of 30 days from date of purchase against a fault developing in either the materials or the workmanship during manufacture. You can register for your 3 Year guarantee by registering your product online. Any faulty goods will be repaired or replaced free of charge.