380197
Foot Pump Heavy Duty Double Barrel
470cc
---
---
High 470cc air output per stroke
Heavy duty rugged steel frame
550mm hose
Metal valve adaptor
Rubber feet for stability
---
Buy Online
Find a Dealer
Review this Product
24 review(s)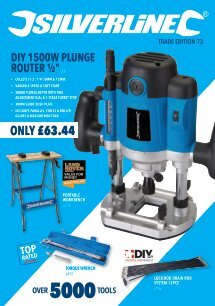 ---
Product Specification
| | |
| --- | --- |
| Hose Length | 550mm |
| Maximum Pressure | 100psi |
| Accuracy | +/- 5% |
| Finish | Painted |
| Graduation | 2psi / 0.2bar |
| Product Weight | 1.454kg |
| Range | 0 - 100psi |
| Resolution | 2psi / 0.2bar |
| Volume | 470cc / stroke |
| Material - Base | Steel |
| Material - Handle - Secondary | Footplate: Rubber overmould |
| Material - Secondary Construction | Hose - Virgin rubber |
---
Key Features
Heavy duty double-barrel pump for rapid inflation of tyres and inflatable boats. Rugged steel frame and 470cc air output with each stroke. Cylinders 50 x 120mm. 100psi (7bar) maximum pressure.
---
Box Contents
1 x Needle valve
1 x Brass valve adaptor
1 x Universal adaptor
1 x Foot pump
---
Customer Ratings
By: K H
2020-05-26T00:00:00
On first use the mechanisms collapsed removing existing air in my tyre. A engineer friend dismantled it and repaired the piston mechanism. It does now inflate but still some air leakage so is for emergency use only. The product is not as robust as stated.
---
By: Craig J
2020-05-15T00:00:00
Solve line double barrel foot pump does exactly as it says. It sturdy and well Made and comes with different Adaptors. The life time warranty is an amazing plus on this product. Highly recommend.
---
By: Alexis C
2020-05-09T00:00:00
Heavy duty are how my feet are described. At size 15 they''re hard to cater for. Foot pumps have tried and sadly died. They just couldn''t stand the pressure! Silverline have done it again though - their heavy duty pump not only works efficiently but it is what they describe it as - heavy duty! In a world of failed promises - choose Silverline. They work.
---
By: Pat
2020-05-08T00:00:00
Only lasted 3 months before all framework on foot pump buckled rendering unusable
---
By: PB
2020-04-30T00:00:00
Reads significantly higher than the one it's replacing. Which one is accurate? Looks a bit cheaply made but then it isn't expensive. The clip nozzle is very stiff. Probably should have stuck with a screw on.
---
By: Jonathan F
2020-04-25T00:00:00
I just wanted a cheap backup to carry around, so following the advice of the reviews I decided to go for the Silverline Heavy Duty Double Barrel Pump, now dont get me wrong here, I couldn''t make it for £12.00, and I wasn''t expecting great things from a £12.00 pump, but I was expecting it to pump up a tyre! after 250 pumps I managed to increase my tyre pressure by 0 psi. Obviously I have a faulty one, and this is purely down to the quality of the product. Yours may work, but i dont think it will be for that long. Silverline, does amazingly offer a lifetime guarentee, but I''m guessing you''d have to pay for return post to see if it can be repaired, plus p&p for the replacement which defeats the object of getting a free replacement WHEN, it fails, I say when and not if. Im not going to return mine as i think im going to dimantle it and see if i can repair it. I have no problem with the company on ebay that sold me the pump, It was cheap and was delivered quickly,
---
By: Roger W
2020-03-31T00:00:00
Good inflation capability but the pressure gauge didn't work from the start only used once☹️
---
By: Jon M
2019-09-16T00:00:00
I have used the footpump and found it easy to use and it did the job as expected. Worth the money.
---
By: Martyn M
2019-09-15T00:00:00
This foot pump appears well made and nicely finished. Inflates tyres quickly and easily. Good value!
---
By: Martyn M
2019-09-15T00:00:00
This footpump appears well made, nicely finished and pumps up tyres quickly and easily. Good value for money.
---
By: Martyn M
2019-09-15T00:00:00
This footpump appears well made, nicely finished and pumps up tyres quickly and easily. Good value for money.
---
By: david
2019-06-12T00:00:00
Can cope with higher pressures better than a single cylinder - I got to 70psi on a trailer OK. Structure is a bit shaky but OK for the price.
---
By: Anthony C
2018-06-09T00:00:00
---
By: Anthony C
2018-06-09T00:00:00
---
By: Andrés C
2017-03-17T00:00:00
The product works correctly and it''s very cheap. I recomend it.
---
By: Alan T
2017-02-04T00:00:00
This twin barrel pump is very powerful compared to my old single barrel it has replaced. Thoroughly recommend it.
---
By: Malcolm W
2016-10-10T00:00:00
As a pump it works great, far quicker that an electric 12v type plus you get aerobic exercise ! Only downsize is a rather flimsy clip fastener which has released itself whilst in the boot of the car several times.
---
By: Kel D
2016-10-10T00:00:00
Whilst not looking as strong as it''s predecessor, this pump is working well and has an accurate gauge as well. It replaced an AA model which had a rubbish gauge, and the rubber hose kept cracking resulting in this replacement.
---
By: Tony G
2016-10-10T00:00:00
Excellent pump suitable bike cars garden tractors you name it. The large capacity makes for easy work in reaching correct pressure as displayed on the integral gauge. Easy to operate with one foot and positive connection to the tyre valve. FIVE STAR PRODUCT.
---
By: Alan G
2016-09-26T00:00:00
Very well made compared to others that I have bought, I am very pleased with it indeed. I have one small problem and that is with the actual flexible connector it is badly perished I will need to purchase one separately.
---
By: colin b
2016-09-26T00:00:00
This is the 3rd foot pump I''ve purchased in almost as many years; this is the first from Silverline. Despite weekly use there hasn''t been the signs of wear previously experienced with products made by other manufacturers, one of which broke after 10 months.
---
By: Steve C
2016-09-26T00:00:00
First one I had wouldn''''t lock on to the tyre valve stem and let air out. Second one did the same thing. Waste if money for me...
---
By: Robert B
2016-09-04T00:00:00
Pleased with product; sturdy, easy to use, would recommend to others.
---
By: Robert B
2016-08-30T00:00:00
Sturdy, efficient and easy to use. Would certainly recommend
---
Lifetime Guarantee
This Silverline Foot Pump Heavy Duty Double Barrel is guaranteed for a period of 30 days from date of purchase against a fault developing in either the materials or the workmanship during manufacture. You can register for your Lifetime guarantee by registering your product online. Any faulty goods will be repaired or replaced free of charge.