441563
350W Bandsaw 190mm
350W
---
---
Max cutting depth 80mm x width 190mm
350W induction motor
Table size 300 x 300mm
Table tilts to 45°
Includes 1425mm 6tpi blade
---
Buy Online
Find a Dealer
Review this Product
17 review(s)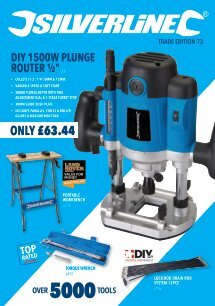 ---
Product Specification
| | |
| --- | --- |
| Power | 350W |
| Max Cutting Depth | 80mm |
| No Load Speed | 1450rpm |
| Product Weight | 15.3kg |
| Table Size | 300 x 300mm |
| Cut Capacity - Max | 80mm |
---
Videos
---
Key Features
Versatile and powerful bandsaw with 350W induction motor. Max cutting depth 80mm. Max cutting width 190mm. Table size 300 x 300mm. Table tilts to 45°. Supplied with 6tpi blade and converter plug.
---
Box Contents
1 x 350W Bandsaw
1 x Mitre gauge
1 x Metal hook
3 x Hex keys
1 x Table lock handle
1 x Work table
1 x Fence
1 x Push stick
1 x Flat washer
1 x Instruction manual
---
Customer Ratings
By: Franksy
2019-01-27T00:00:00
This is an excellent little saw and suits my need perfectly well. I make chopping boards and needed a band saw. For the money its worth every penny! I use 2" wood and this saw is ideal. Well done Silverline!!
---
By: Martin Knight
2019-01-12T00:00:00
I was pleasantly suprised at how good this little saw is for around £100. Once set up it produced nice straight cuts through hard wood 2" thick.. The fence is a bit fiddly and needs a a bit of time to set it up, but otherwise I''m very happy.
---
By: Helena Peake
2019-01-08T00:00:00
My Dad loves the Bandsaw that I bought him for Christmas. Hes already been to the woodyard and got lots of wood to practice. Hes also bought a book for ideas as to what he can make. The saw us very well made and comes with extensive instructions. Thank you!
---
By: Steve
2017-07-16T00:00:00
On the looks of it it seems to be a very sturdy and well built band-saw , but when you have a closer look there are lots of things that could have been more refined and made to be more sturdy , the band saw will not cut in a straight line and will cut banana shaped objects all day . Try to get the saw blade tension-ed tight enough to eliminate blade run out and either the tracking will not stay in place or as soon as you start cutting it jumps off the drive wheel, the bottom guide for the blade is only two hardened pins and nothing to stop the blade wandering if any weight is applied to the blade, This saw could have been a lot better and I''m thinking of returning mine and asking for my money back POOR !
---
By: Charles Patrick O'Brien
2017-06-28T00:00:00
Delivered,unpacked,pieces assembled wait stop,is that all,assembled so easily I was looking for more pieces.Good weight stands on work bench bolt holes ready for bolts to keep the bandsaw immovable and safe for use.A manual easy to read and understand follow the instructions to years of safe use.That''s it get your own now and enjoy like me.
---
By: Cameron Anderson
2017-05-19T00:00:00
I found the assembly and setup instructions not easy to follow. I emailed Silverline for help but got no reply. But this said, I am satisfied with the product.
---
By: Brian Warwick
2017-04-23T00:00:00
Such a shame.With a little more care this gem could have been just that, but, poor quality control lets this potential star down. 1. Top blade guides. The holes that take the pin guides are of different sizes and, out of alignment, so do not allow the guide to be set correctly. 2. Wheels and tyres. Out of true, so vibration, wobble, and poor cut result. I''m going to put a vid on you-tube soon just so you can see the points I mention. And I''ll probably be contacting Silverline too! This is such a shame as for the money it would be a steal. I have owned other Silverline tools in the past and have never come across such a situation, and so when looking for a bandsaw I had no hesitation in purchasing a Silverline product.
---
By: David Barlow
2017-03-27T00:00:00
Apart from a minor issue the bandsaw does what I require for light to medium-weight DIY uses. The issue was the securing knobs on the hinged cover which had a loose fit and fell off the spindles during use, and would not undo or re- tighten the threaded screws - resolved by using epoxy glue to secure them to the screws. There was a slot in the outer end of the screw (for using a screwdriver), but this was not mentioned in the instruction booklet and not really practical.
---
By: Ray Dennis
2017-02-09T00:00:00
Great machine, arrived with easy to set up instructions , but was virtually ready to go. Very versatile and cuts a range of soft and hard woods. Very pleased with my purchase
---
By: Alan Cartledge
2016-11-24T00:00:00
---
By: John Firth
2016-09-27T00:00:00
Nice little saw. My first band saw and I was looking forward to using it. Sadly no matter what I did I couldn''t get it to cut in a straight line unless I was cutting wood thinner than about 6mm. Anything thicker and you stood no chance. However, I bought a new 3/8 blade and it''s great. Not quite as manoeuvrable as a 1/4 blade but not too bad. An OK saw for a beginner but not for a serious user.
---
By: Mike H
2016-09-24T00:00:00
This is a great addition to a small workshop. It is very easy to set up and use. The maximum width of cut is quite sufficient for 99% of projects. It has served me well for over a year now. Very good value for the price. I would recommend it to anyone.
---
By: Robert Latham
2016-09-12T00:00:00
I bought this saw through a series of requirements. It was the right size, the dight sort of price, and as I''m a firm believer in using things to their fullest extent, I''d already made sure that I could get blades that would cut metal. basically, It works absolutely fine. I''ve broken one bladeintwelve months, and I''ve discovered that if you check the set up before you use it, it does exactly what it says on the box, and a bit more besides. all in all, well worth it, and highly recommended
---
By: Nic Quick
2016-09-12T00:00:00
The saw is excellent but the blades are rubbish. If you replace the blades with Draper blades it is a very good bandsaw
---
By: Patrick smith
2016-09-12T00:00:00
Excellent value. Does exactly what I need and very easy to use.
---
By: Douglas Cowne
2016-08-15T00:00:00
Well made,does the job, and should last a lifetime
---
By: Tony
2016-03-28T00:00:00
Great bandsaw for cutting circles in one direction or cutting bananas. Not much good for straight cuts though
---
Customer Faq's
What is the height and width of this product?
Product dimensions are height: 440mm; length: 355mm; and width: 225mm 
What is the chuck capacity?
This drill has a 13mm keyed chuck capacity and is compatible with mortice bits
Does this run off mains power?
Yes, the product runs off mains power.
What is the smallest drill bit this drill press can take?
the smallest is a 1.5mm drill bit
Can this be used to cut metal or glass?
This machine has been designed to cut wood, light and soft metals, and plastic. Cutting tough metal or glass is not recommended
Can the cutting speed be adjusted?
There is no variable speed on this model
How big is this product?
Height is 700mm. Table size is 300 x 300mm. Product 15.1kg
What is the guarantee on this product?
All Silverline power tools come with a three year guarantee. All you have to do is register your product here, https://www.silverlinetools.com/en-GB/Support/ProductRegistration
---
3 Year Guarantee
This Silverline 350W Bandsaw 190mm is guaranteed for a period of 30 days from date of purchase against a fault developing in either the materials or the workmanship during manufacture. You can register for your 3 Year guarantee by registering your product online. Any faulty goods will be repaired or replaced free of charge.