633488
Worktop Jig
900mm
---
---
12mm deep
Cuts standard left & right-handed joints, corner joints & peninsular joints
Includes guide pins & instructions
Requires 12.7mm router cutter & 30mm outer dia guide bush
For worktops up to 900mm
---
Buy Online
Find a Dealer
Review this Product
23 review(s)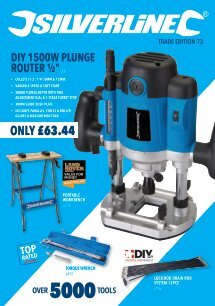 ---
Product Specification
| | |
| --- | --- |
| Product Weight | 3.67kg |
| Thickness | 12.5mm |
---
Key Features
Cuts standard left and right hand joints, corner joints and peninsular joints in worktops up to 900mm width. Enables recess to be cut for worktop joint clamps. Use with a router and guide bush with 30mm outer diameter. Made from hardwearing laminated fibre board. Includes aligning pins and instructions.
---
Box Contents
1 x Worktop jig
4 x Aligning pins
1 x Instruction manual
---
Customer Ratings
By: Brian K
2017-10-16T00:00:00
The jig works fine. Gives a professional finish to worktop joints. You do need to measure and mark accurately.
---
By: Simon R
2017-07-08T00:00:00
Ich habe die Frässchablone bei Amazon Deutschland gekauft und erfolgreich eingesetzt. Allerdings musste ich noch eine 30er Kopierhülse und einen Fräser mit 12,7mm Durchmesser kaufen. Wäre super, wenn es die Schablone auch für andere Durchmesser geben würde. Das Fräsergebnis wurde nur zu 99% perfekt. Der minimale Fehler fällt aber nicht auf und kann auch an der fehlenden Übung im Umgang mit der Schablone gelegen haben. Die Fixierstifte könnten aus Metall sein. Für den Preis aber absolut i.O., deshalb auch 5 Sterne.
---
By: P.Rodgers
2017-06-21T00:00:00
Very easy to use with quality instructions.Highly recommended.
---
By: lewis c
2017-04-18T00:00:00
I found the jig is great, nice and precise cut outs for the pegs to fit snugly in, nice detailed instruction manual....But as the jig is laminated mdf I do find it flexes quite easily on certain cuts meaning the cut isn''t perfectly 90 degrees to the worktop. Id suggest future versions following other manufacturer''s and using laminated ply for a stronger jig :)
---
By: Michael S
2017-03-30T00:00:00
Ich habe diese Schablone gekauft, da meine Frau eine neue Arbeitsplatte für die Küche wollte. Ich habe die Schablone mit der Oberfräse von Silverline benutzt. Natürlich habe ich erst an einem Probestück die Fräsungen geübt. Danach an der richtigen Arbeitsplatte kein Problem. Alles passt super. Genutzt habe ich den Originalfräser von Silverline (12,7mm/12mm Schaft)
---
By: Martin
2017-02-27T00:00:00
Got this cos it was more cost effective than the worktop people wanted for cutting one joint, which was £50, or £85 for cutting two joints. Did a couple of test cuts as I hadn''t used one of these before. Tests went okay and the "real" cuts went just as well. Every home should have one
---
By: Shaun R
2017-01-16T00:00:00
This is a geat tool...accurate joints and great quality
---
By: John
2016-11-29T00:00:00
A good piece of kit at the right price. It worked well and did exactly what I wanted. It is sometimes sold as as a "Single use / job tool" but I have cut three pairs of joints with it and it is as good as new. My only criticism is that the dog bone slots could be a little longer as you have to start your cut with a plunge.
---
By: Anuj M
2016-10-10T00:00:00
Loved it supper easy to use and easy to understand instruction booklet.
---
By: Tom D
2016-09-26T00:00:00
The quality of the jig is sturdy and the pegs supplied are a neet fit for positioning the jig. The instructions are helpful and OK following. There was one error in the booklet when cutting the bolt slots but once I spotted it I managed to sort the cut. The range of sizes of work tops able to be cut is impressive by moving a few pegs. The finished cut is excellent and a very clean cut. Completed a few cuts now and every one is excellent. I''ve not tried the curved cuts as yet but with the quality of the miter joints I don''t anticipate any issues. Well pleased with the finish and a worthwhile investment in a good product.
---
By: ACTIFS S
2016-09-26T00:00:00
The only one defect was the packaging, when I have open it the jig was cracked. Very sad.
---
By: John M
2016-09-26T00:00:00
Quality piece of kit, perhaps not so much for the professionals. What I mean by this is the jig is very accurate and very easy to use. A joy in fact to use but not robust enough for everyday stresses and strains the pro''s would subject it to. It was worth every penny for the smile it put on my face as I admired my corner joints, Pro finish from a DIYer. Biggest tip I can give to prolong it''s life is obvious really, let the router stop spinning before removing it. Job done.
---
By: Brian J
2016-08-15T00:00:00
this is an excellent piece of kit, and makes finishing worktops with perfect joints, a doddle. Just a shame you only use it once.
---
By: Paul R
2016-08-15T00:00:00
This item is very well made and easy to use. As a keen DIYer the instuctions are easy to follow even if never used before. Totaly recommend for anyone who likes DIY.
---
By: Nigel M
2020-05-24T00:00:00
I bought one of these a few years ago to do the kitchen worktops at home. That was really good and the pegs were a really tight fit in the holes. Due to Covid-19 I couldn't get hold of that jig as it was in France to complete a kitchen there. I needed to fit out my wife's sewing room using worktops in a U shape. So I had to buy another jig. I found that the pegs were a little sloppy in the holes which was rather a concern, but having used one before I was happy to work with that and make necessary allowances for that. Unfortunately my worktops were not standard width (one was 622mm, one was 522mm and one was in a bay window meaning I needed a 200mm joint where the side worktops met the window piece. (The window is wider than the gap between the two main worktops and we wanted to bring the worktop 200mm out from the window cill to form a small shelf) So I carefully measured where to drill a hole to put a peg 200mm from the one of the worktop (a 10mm hole with the required countersinking to take the peg head) and this was a really tight fit for the peg which was what I had expected for all the holes from my previous experience of the jig. I hadn't previously had to cut any Right Hand Female bolt slots as my previous kitchen didn't need any of those. I was very surprised to read the instructions saying to put the jig face down for this cut, when the picture showed it to be face up! Having thought deeply about the instructions I was convinced the picture was right and the wording was wrong, particularly as the Right Hand Male bolt slots used the jig face down (as in the text and the picture for that cut). This incorrect information for the Right Hand Female slots has been in the manual for some years and I guess it's just been lucky for other reviewers that they don't seem to have needed the RH Female bolt slots Or they went by the picture rather than the text instructions.! So please watch this point when doing your kitchen or you may end up wasting a worktop!!!!! Silverline, please can you correct the wrong information in the paper and online manuals, and add an addendum into existing stock?
---
By: Nic B
2020-05-19T00:00:00
Used this jig for last 7 days non stop, great bit of kit.
---
By: Hobline
2020-02-25T00:00:00
Mit ein bisschen Übung und Ruhe bekommt man super Ergebnisse mit der Schablone hin. Funktioniert auch bei Ikea APL. Man sollte unter die Schablone Antirutschstreifen kleben, da die Schablone zum rutschen neigt. Auf jeden Fall zu empfehlen zumal für den Preis top
---
By: Chris C
2019-10-03T00:00:00
Very easy to use , instructions where clear and the results where very good.
---
By: Russ
2019-07-16T00:00:00
A fab piece of kit. Made a daunting job very very easy. Great results as always from Silverline.
---
By: Jeremy
2019-01-28T00:00:00
Far too much flex especially once you get to do the cut on a female/male joint. Does not give you any confidence that you can produce good results.
---
By: Ian G
2018-11-26T00:00:00
Great piece of kit for the price, won''t last forever, but I don''t need it for ever, although it does come with a lifetime warranty. Recommend it for people who don''t regularly fit kitchen, as you could get fleased for something you might only use once. Bonus that it came with the appropriate router bits for the job.
---
By: trevor w
2017-11-27T00:00:00
arrived quickly,easy to use,will last for many more cuts if needed,many thanks.
---
By: William w
2017-11-27T00:00:00
Purchased the silverline 900 jig I was fitting a u shape worktops which involves 4 mitres in total every miter was spot on great jig at half the price
---
Lifetime Guarantee
This Silverline Worktop Jig is guaranteed for a period of 30 days from date of purchase against a fault developing in either the materials or the workmanship during manufacture. You can register for your Lifetime guarantee by registering your product online. Any faulty goods will be repaired or replaced free of charge.