633524
Air Nailer Stapler 50mm
18 Gauge
---
---
Lightweight aluminium body with soft-grip rubber handle
For upholstery, trim work, crafts, panelling & cabinet assembly
Safety trigger prevents accidental firing
Drives 18 gauge brad nails 10-50mm & 18 gauge staples 13-40mm
Includes 1/4" male quick connector
---
Buy Online
Find a Dealer
Review this Product
31 review(s)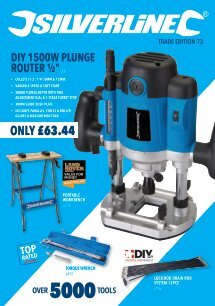 ---
Product Specification
| | |
| --- | --- |
| Air Consumption | 4 - 6cfm |
| Connector Size | 1/4" Quick connect |
| Gauge | 18 |
| Handle - Primary - Finish | Rubber |
| Material - Secondary Construction | Aluminium body |
| Maximum Pressure | 7.5bar / 108psi |
| Product Weight | 1.3kg |
| Working Pressure | 4 - 7.5bar |
---
Key Features
Lightweight aluminium body with soft-grip rubber handle. Ideal for upholstery, trim work, crafts, panelling, cabinet assembly etc. Safety trigger prevents accidental firing. Drives 18 gauge brad nails 10-50mm and 18 gauge staples 13-40mm. Working pressure 4 - 7.0bar (60-100psi). Includes 1/4" male quick connector.
---
Box Contents
1 x Air nailer stapler 50mm
1 x 1/4" quick connector
2 x Hex key
1 x Bottle air tool oil
1 x Instruction manual
---
Customer Ratings
By: Clive D
2019-06-25T00:00:00
Used to have an electric nailer which was rubbish. Bought this without expecting too much because of the price but very pleasantly surprised. Seems solid and well made and worked perfectly out of the box
---
By: Alan S
2019-06-13T00:00:00
Just 1 small drawback the safety slide which allows you to operate the gun is rounded works fine on flat surfaces but on uneven surfaces it is difficult to hold on the position you want
---
By: Keith
2019-05-31T00:00:00
Very nice product, good quality finish and very robust body, drives a 2" Brad nail right in to solid wood and countersinks its head beneath the surface, hard to beat this product at the price.
---
By: Geoff D
2019-05-24T00:00:00
I own a number of Silverline tools and have always found them well made and very good value for money, but by far my favourite of all is my Silverline Air Nailer. I had owned it for several years and it had given a lot of good trouble-free service in that time, so I was devastated when it finally failed a couple of weeks ago. I went straight online, and found a merchant that was selling the exact same model, and put in an orde. It arrived two days later, and was put immediately back into service. I am happy again now !
---
By: kenneth j
2019-05-12T00:00:00
I purchased the 50mm gun at £27, and find it a fair price, and am more than pleased with its performance......
---
By: Tony J
2019-05-04T00:00:00
I had a Tacwise electric nailer and had problems from the beginning so my wife bought me this nailer and a small hobby compressor for my birthday and the 2 work perfectly together. I thought Silverline tools were cheap because they were poor quality but this nailer is great. I have used 25, 38 and 50mm brads and get a great finish by simply adjusting air pressure.I''ve used this a lot in the short time I''ve had it and only wish I''d got one sooner. If you are on a tight budget give it a try, you''ll be glad you did.
---
By: Alan K
2018-09-10T00:00:00
I bought this to make up bird nesting boxes and feeders. It performs even better than I hoped it would. Great product and great quality. Great Job Silverline
---
By: Mick b
2018-05-23T00:00:00
Nicely weighted nail gun , sits well in the hand and does what it says on the tin with honours
---
By: Peter B
2017-07-30T00:00:00
Great bit of kit easy to use.
---
By: Tim H
2017-05-30T00:00:00
I bought this to go with my new Stanley 25 litre air compressor to make some trellis, I had already ordered a Stanley air nailer from another supplier but I thought I would take a chance on an inexpensive stapler. This is a very inexpensive nailer and stapler, the build quality is basic but it is mostly metal and surprisingly robust. It does not have a rubberised end so it does mark your wood, not a problem with trellis. The trigger is very crude but works and it has a bsp male connector, not a euro fitting, which I have simply swapped over with a less used tool as my compressor has a euro connection. I had a complete nightmare loading this with Silverline''s 90 staples as the minimal instructions assume you will magically know how to do this. For some reason I couldn''t get it to work hanging the staples over the bar and decided you needed to put them inside the loading mechanism. Do not do this as it will jam and you will learn how it is all put together when you have to dismantle it. This is surprisingly easy with the Allen keys provided and once dismantled and put back together and putting the staples exactly where I had initially, hanging over the bar, it worked perfectly. I have now extensively stapled some pine trellis, with out any jamming and I now know how to dismantle the firing mechanism if it does jam. Comparing this with the Stanley which is almost three times more expensive it is clearly more crudely made but it works well. I have not tried it with nails but suspect it will work fine. If you want something for fine woodworking, with rubberised handles and fancy triggers and a case this is not for you but if you want something for more rough and ready work you cannot go far wrong for the price. I would have given this five stars but the instructions are pretty poor and for some reason it did not work until I had taken the firing mechanism apart and put it back together. However I will give it four stars because of the satisfaction of taking it apart and putting it back together and it working and the fact it fires staples very effectively.
---
By: MITCH S
2017-03-05T00:00:00
Air Nailer Stapler 50mm 18 Gauge.. great little nailer works great and does a good job..no issues and for the price is a good tool for anyone''s tool box.
---
By: Mr a
2017-02-17T00:00:00
I have several silverline tools and none have let me down, the nail gun is light and easy to handle and use and a great price.
---
By: Grahame L
2017-02-14T00:00:00
Very well made product. Works very well better than some dearer makes.I used this for 4 hrs the other day and didn''t jam once. Really pleased. Would recommend to all.
---
By: Vidal D
2017-02-13T00:00:00
Perfecto para mis necesidades, peso ideal, relación precio calidad excelente, totalmente recomendable
---
By: DEMAILLY
2016-10-10T00:00:00
Matériel impeccable, correspond à besoin, je le conseille. très bon rapport qualité /prix
---
By: Craig g
2016-10-10T00:00:00
Good value for money and excellent on straight brads. Staples bit more difficult too use but if done slowly worked well. Overall good value
---
By: ROY S
2016-10-10T00:00:00
A well made item. Easy loading. Smooth operation. A good buy.
---
By: Nick T
2016-09-26T00:00:00
Only used a couple of times but works perfectly. Strong impact and has yet to misfire. Cannot complain. Simple to use.
---
By: Alain
2016-09-26T00:00:00
Good material and. Good price.
---
By: Michael R
2022-06-14T00:00:00
I used this on hardwood panels nailed on to a hardwood frame with 25mm brads, it completed the job with ease. This is a powerful tool to have and easy to use. Priced at the lower end of the market, it is hard to understand why you pay three or four times the price when this is a very professional tool to have.
---
By: Alan B
2022-03-26T00:00:00
I have had this a short time and have now used most of the staples and nail sizes. Even with a basic 24Litre compressor ican get 50mm nails in to painted woods! The staples require a little pressure on the handle or head to keep staples in flush with surface. Over all a very inexpensive tool with great power
---
By: Norman L
2022-03-22T00:00:00
This is a good stapler/nailer it's not heavy at all. It takes about hundred staples/ nails at a time easy to reload feels and works well.
---
By: Alan B
2022-03-21T00:00:00
I bought this because i already had a compressor and couldn''t justify buying a cordless basket at the prices they are. I won''t need anything for work away from home. It''s a powerful tool! I spent a couple of pounds extra for this model as it takes staples as well as nails. I expected quite some noise as many recommended use of ear defenders when using nailers.. I am surprised that it was not loud. Would buy again
---
By: Jacek P
2020-05-31T00:00:00
As in the title ... you do not need a super brand, expensive equipment - this always works and reliable. I recommend it to every professional and beginner !!!
---
By: Tim h
2020-05-20T00:00:00
So impressed with this , fires and burys 2" nails just right for fillering tried with 12mm 15mm 30mm and 50mm if the staples are as good it's spot on , would buy again and recommend , couldn't find one under £70 that matches this for speck and quality.
---
By: David
2020-05-12T00:00:00
So far, and I have only had it a few days, it is a really good piece of equipment. I have tried it with 50mm, 35mm and 25mm staples and brad nails and no jams, good penetration, even in oak. Solidly made, satisfying clunk of nail going into wood, good safety mechanism, thank goodness, as it scares me a little to think of an accidental discharge. Only thing, not a criticism as such, but it has a hair trigger, had a few ''double taps'' when only one nail required but two go in in very quick succession. Thats just a getting used to thing. So good, so far.
---
By: Barry P
2020-05-11T00:00:00
Great piece of kit, worth every penny.
---
By: Pleun v
2020-04-08T00:00:00
This air nailer just do what it must do ! It applies nailes or staples fast and easy. Maintanance is just a breas.
---
By: Neil A
2019-12-10T00:00:00
Absoultly over the moon with this nailer it does what it is supposed to do ..3 year warranty what more can you ask ..i would highly recommend this to anyone who wants a quality bit a kit that won''t break the bank ..
---
By: Neil
2019-12-03T00:00:00
Wow amazing quality.build is solid yet comfortably sits in your had .does the job with ease and you get a 3 year warranty wow ..this is my first ever silverline tool and folks please give them a try ..im an occasional tool user as my hobby is woodwork and yes I would highly recommend you try them .
---
By: Chris
2019-08-07T00:00:00
Reasonable price good product always like silverline tools
---
3 Year Guarantee
This Silverline Air Nailer Stapler 50mm is guaranteed for a period of 30 days from date of purchase against a fault developing in either the materials or the workmanship during manufacture. You can register for your 3 Year guarantee by registering your product online. Any faulty goods will be repaired or replaced free of charge.