763620
Axle Stand Set 2pce
---
---
Fast & easy ratchet height adjustment
Heavy duty cast iron support post
Steel base plate with broad feet
Height range 285mm - 420mm
Max capacity: 3 tonne per stand
---
Buy Online
Find a Dealer
Review this Product
36 review(s)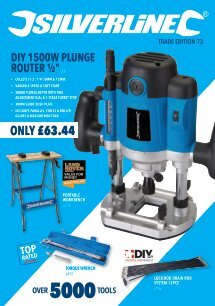 ---
Product Specification
| | |
| --- | --- |
| Capacity - Jaw | 70mm |
| Capacity - Lifting | 285 - 420mm |
| Capacity - Maximum Load | 3000kg |
| Clamping Method | Pawl and ratchet |
| Finish | Painted |
| Handle - Primary - Finish | Paint with rubber end cap |
| Hardened | Pawl, leg and rachet |
| Product Weight | 6.5kg |
| Safety - Rating | SWL 3000kg Per stand |
| Material - Handle - Secondary | Rubber end cap |
| Material - Secondary Construction | Cast iron - leg |
---
Key Features
Ratchet action for quick height adjustment. Rated and sold in pairs.
---
Box Contents
2 x 6 tonne increment bars
1 x instruction sheet
2 x Axle stands
---
Customer Ratings
By: Luke b
2018-09-08T00:00:00
Have had this product for 2 weeks now. I use these stands daily for work. They have a higher weight raighting compared with over stands for the price. I am happy with the quality of the product and totally trust using these stands as a safety device. Well done silverline
---
By: Jean-Loup L
2018-06-02T00:00:00
Precise manufacturing and clean finish!
---
By: Steve W
2018-05-16T00:00:00
These are by far the best value for money on the market, solidly built and sturdy. Don't know how you make them for the price
---
By: Jérôme L
2017-11-07T00:00:00
Très bon produit solide et résistant. Pas de comparaison possible avec les chandelles premiers prix. L''ajustement de la hauteur est facile, et le pied est bien stable.
---
By: Matt
2017-11-04T00:00:00
Extremely good product especially for the price I paid does the job and more very sturdy stands
---
By: Daniel j
2017-10-23T00:00:00
brilliant value for money
---
By: Vasyo V
2017-09-22T00:00:00
I''m highly satisfied with this product. It''s made of solid steel, making it withstand the weight of my vehicles. Will order again from silverlinetools.
---
By: Andy D
2017-08-05T00:00:00
These axle stands are great! They are really easy to use, compared to ones that have pins to change the height. These silverline ones are just a breeze to adjust! They look great and have an impressive 3 tonne capacity on each one. 6 tonnes with two! The axles stands are most definitely sturdy and stable with a good size footing. These have become a valued addition to my car maintenance equipment and I intend to use them for a long time to come. The added guarantee is great and give peace of mind. Would recommend.
---
By: Zsolt F
2017-07-11T00:00:00
I am really satisfied with this product. Good price for the quality.
---
By: Tony H
2017-05-25T00:00:00
Upon receiving the the axle stands I immediately opened them up and took them out. First glance taught me that these stands look amazing. I picked them up and to my expectations, they had a nice comfortable weight to them. The saddle fits nicely on parts of my car and the centre column with so many notches allows me to get that sweet spot to hold any vehicle of the ground with ease. The legs are nice and chunky which provide some well deserved ground coverage. The unit in whole has been welded together so beautifully that the structure is fantastically sound. My only concern is that there is only one locking mechanism, I feel there should be 2 just as an added measure. All in all, sweet as a nut. Couldn''t of asked for anything more.
---
By: 3ampfuse
2017-05-17T00:00:00
I use these axle stands at work, and they are well made, and very durable; would certainly buy them again
---
By: Darryl C
2017-04-18T00:00:00
As a DIY mechanic I have no need for really expensive jack stands, whilst looking for an upgrade from my basic pin ones I kept coming back to these. They have a solid feel to them that gives you confidence while the car is in the air, and honestly they look and feel like ones that cost double the price but they come with an added bonus of lifetime warranty. The only negative I can really think of is being used to the pin version of jack stands you have to raise your car alot higher to fit these under your car, but I think that''s the same across the board for ratchet type.
---
By: Nathan I
2017-02-16T00:00:00
Absolutely shocked with the quality of this product at such low price
---
By: Gavin r
2017-02-03T00:00:00
Works perfectly easy to set up great quality
---
By: Clive s
2016-11-13T00:00:00
I cannot recommend this product highly enough, very well made and sturdy, great price &ampdelivery too.
---
By: Chris S
2016-09-27T00:00:00
---
By: hiriart
2016-09-26T00:00:00
This tool is strong and robust. I can set them easily and i can work under my car safely.
---
By: Iain B
2016-09-26T00:00:00
I brought these axle stands over a year ago and have used them on a monthly basis and the work brilliantly! I have had some very heavy cars in them aswell with no problems and felt very safe. My friend has the same one and has had his track car on them for weeks with no problems too. In all great product and would most definitely recommend
---
By: Rory O
2016-09-05T00:00:00
Good quality axle stands, heavy steel construction and easy to use! Excellent value for money and a lifetime guarantee..
---
By: Andrew H
2016-08-30T00:00:00
Bought my axle stands off Amazon. The price was ridiculously cheap compared to other brands so I was not expecting much. However they have done an excellent job, holding up my car (2 tonnes) securely and safely. The stands are rated at 3 tonnes per stand, so theoretically 6 tonnes if both are used together (though i wouldnt really want to risk more than 4 or 5 tonnes, just in case) The height was suitable for use with my car (which sits very low to the ground) but the stands adjust to a height suitable for larger vehicles such as 7 seat people carriers. 4x4s would probably sit too high to make use of these however i have not tried it. The stands are well made, easy to use, easy to adjust and give you peace of mind while working under a vehicle. I am so impressed that i will be purchasing another set!
---
By: Mariano
2016-08-30T00:00:00
I was very impressed with the quality of this product. Very sturdy and quite simple to use. I totally recommend this product. Well done silverline!
---
By: N A
2021-06-12T00:00:00
These are very sturdy and easy to operate. They provide an immense sense of security when in a potentially dangerous position. They are quite tall so vehicle needs to be well jacked for them to fit underneath the support point
---
By: Ryan
2020-05-18T00:00:00
Great stuff. They''re rated for 3 tonnes per stand rather than 3 tonnes between the 2 of them, which most other axle stands seem to be. They''re well built and the ratchet mechanism seems solid. Only used once, so time will tell how reliable they are, but a lifetime guarantee boosts the confidence.
---
By: S
2019-12-19T00:00:00
Brilliant piece of kit great price couldn''t have done the repairs on my car without them. Felt totally safe working under my car, would highly recommend them.
---
By: Tobias
2019-12-05T00:00:00
A great product, these axle stands have a good action to them, they feel well made and I would actually trust the 3tn rating on them. Others I have seen with the same weight rating make me question their ability with a worse action and worryingly flimsy to hold 3tn. Ratchet style height adjustment allows for better height control over locking pin style. Very happy and would recommend.
---
By: Nigel W
2019-11-29T00:00:00
Having purchased a pair from Toolstation I discover that one of the weld''s on the inside ( two welds inside each stand ) is only partially done around three quarters of it is MISSING - SO IT IS IMPERATIVE that YOU CHECK FOR YOURSELF as their quality control is obviously poor or NON EXISTANT & I am still waiting for ANY response from the SELLER named above !
---
By: Shaukat A
2019-11-22T00:00:00
EXCELLENT PRODUCT WELL MADE BETTER THAN MY PREVIOUS STANDS THAT DID NOT LAST LONG WILL BUY SILVERLINE IN THE FUTURE IM CONVERTED.
---
By: Lee F
2019-11-08T00:00:00
An excellent set of stands, robust, strong, and well made. They feel solid in use and are easy to operate.
---
By: Paul
2019-08-06T00:00:00
Great stable and easy to adjust stands.
---
By: Anthony
2019-08-04T00:00:00
I''ve baught 2 set of 2 axles stands. Working perfectly. Locking system is quick and safe. Highlty recommanded.
---
By: Jake
2019-06-10T00:00:00
Perfect for securing my focus, the rachet mechanism makes life so much easier compared to he old pin style. Reccomened!!!
---
By: Calvin M
2019-06-05T00:00:00
Great quality, great product
---
By: Alan B
2019-05-05T00:00:00
Good axle stands well made and secure.
---
By: Alan B
2019-05-02T00:00:00
Great stands, well made and very secure at a good price. Can be handled easily as not excessively heavy.
---
By: Michael C
2019-04-22T00:00:00
Arrived on time. Well made and study. Easy to use, excellent product.
---
By: Dick P
2018-10-06T00:00:00
Thank you Silverline for putting on labels that come off easily, Silverline is thinking of the new owner from the outset. For my small car I needed to use the stands on the lowest setting for the front wheels. Even at this height the centre column was supported by the ratchet mechanism, which would not have been the case with a pin and chain stand. On the rear wheels the centre column needed to go up a couple of clicks, but after clicking onto place it did not drop back at all and I was able to get it close to the height I needed. The lifetime guarantee is superfluous, they are solid chunks of steel and they would last many lifetimes.
---
Lifetime Guarantee
This Silverline Axle Stand Set 2pce is guaranteed for a period of 30 days from date of purchase against a fault developing in either the materials or the workmanship during manufacture. You can register for your Lifetime guarantee by registering your product online. Any faulty goods will be repaired or replaced free of charge.