845135
DIY 1200W Circular Saw 185mm
185mm UK
---
---
0 - 45° bevel angle adjustment with scale
Dust extraction port
All metal base & guards
Max cutting capacity: 90° - 63mm, 45° - 43mm
Includes 24T TCT blade, blade spanners & parallel fence
---
Buy Online
Find a Dealer
Review this Product
41 review(s)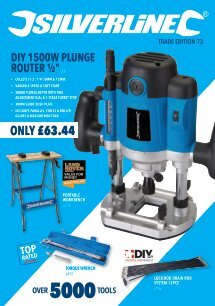 ---
Product Specification
| | |
| --- | --- |
| Bevel Adjustment | Single lock bevel angle adjustment |
| IP Rating | IP20 |
| Power | 1200W |
| No Load Speed | 5500rpm |
| Cut Capacity - 45° | 43mm |
| Cut Capacity - 90° | 63mm |
| Dust Extraction | Yes |
| Teeth / Segments Per Inch | 24tpi |
| Product Weight | 3.71kg |
---
Key Features
Circular saw with fast-cutting tungsten carbide-tipped 24T 185mm dia blade and 0 – 45° bevel angle adjustment with scale. All-metal base and guards with guard lever. Soft-grip main handle and safety lock-off button. Depth adjuster with scale. Dust extraction port. Easy access brush covers. Max cutting capacities: 63mm (90°) and 37mm (45°). Includes 24T TCT blade, blade hex key and parallel fence.
---
Box Contents
1 x 1200W Circular Saw
1 x 185mm 24T TCT Blade
1 x Hex Key
1 x Parallel Fence
1 x Spare Pair Carbon Brushes
1 x Instruction Manual
---
Customer Ratings
By: Melissa P
2018-03-19T00:00:00
Recently purchased the circular saw to cut 2x4s and chipboard panels when flooring my loft. When first unboxing can be daunting as quite heavy and bulky. The instructions are tiny and not very clear. Took me a while to figure out how to change cut depth. Just had to play about with it. Changing the blade is still a mystery . I''d recomend a YouTube video to help. When it came to cutting I am impressed . Cuts straight through the wood no issues. Feels very powerful so abit scary for a diyer at first. As long as your work is clamped it''s fine. Overall very happy and for the price, buy it!
---
By: Martin S
2018-03-10T00:00:00
I am not a professional tradesman but a part time DIY person and this saw has proved to be invaluable to myself, it is good quality and extremely good value and compares favourably with its more expensive counterparts. I would recommend this for any home DIY person or handyman.
---
By: William S
2017-06-15T00:00:00
What a fantastic machine , as good as much higher priced machines on the market and so easy to use, you cant go wrong if you purchase this Silverline saw , great !!!
---
By: Gary
2017-06-10T00:00:00
well made, easy to handle circular saw perfect for DiY carpentry tasks
---
By: Pete H
2017-05-16T00:00:00
Use a circular saw on a regular basis. Last one finally wore out and lost efficiency. Saw the Silverline 1200w 185mm in my local tool shop and to be fair, wondered if it was ''up for the job''. But I was part way through a job and needed a saw so bought it. Wow! Glad I did...great product. Well balanced & powerful. Glides through the wood. Recommend it to anyone. Pete
---
By: Peter
2017-05-01T00:00:00
I bought this saw to do some small DIY projects and so far it does the job well. It has a deep cut which is an obvious benefit for cutting large pieces and adjustable angle, which is a standard in these kind of tools. The blade it comes with is of good quality but you might find it unsuitable for work requiring clean cuts. For this reason I changed it for a finer one, which was an easy task. Overall I recommend it if you need a powerful yet economical tool for occasional use.
---
By: John S
2017-02-01T00:00:00
I Bought this relative cheap saw on the recommendation of previous reviews and although no diy enthusiast it was bought to saw soft wood for a log burner and I am very pleased with this product and would not hesitate to recommend it to anybody else, very pleased indeed.
---
By: PLICHOTA
2017-01-28T00:00:00
---
By: Steve
2017-01-18T00:00:00
At 1st I though I got a bargain with this. Powerful enough to do most jobs, great... until about 20 days after I bought it, which is use terms was about 3 Hours... it exploded on me. Blinding flash came out of the motor so strong that it melted my fleece that I was wearing! Anyway after discussions with Silverline custoemr care they suggested I send it back to the supplier. I did, and Amazon sent me a new one. This one seems OK so far, but use your head, if you want a quality product, you are not going to get one for £30.
---
By: Steve
2017-01-11T00:00:00
Although this product is deemed as a DIY product, I still would have expected it to last more than about 2 hours working time over a 3 week period. Mine exploded with a blinding flash out of the motor brushes. Amazon replaced as usual, so I hope my product was just a one off.When it worked, it was powerful enough to do all my work. I was cutting 60mm scaffolding planks both across the grain and with the grain, it coped very well. The metal plate ideally could do with a bit more metal, as cutting small pieces is a bit tricky, forced me really to get a table saw. Note they only come with a 30 day warranty as default, so if you dont register, its tough luck. However once you have registered, you get a full 3 year warranty!
---
By: william k
2016-12-13T00:00:00
great saw brilliant value would reccomend it highly
---
By: Andrew T
2016-09-13T00:00:00
i bought this item from Tool Station, brought it home opened the package read the instructions, checked the saw and away i went. piece of SOFT wood 36" x 24" x 1.5",. needed to cut 2.5" off the 24" length, no problem i thought, after doing only 1 cut i again checked the saw wipe off dust to find that i have already last 5 teeth off the blade, back to Tool Station within an hour of buying to find out all i could do was get in touch with the manufacturer" Silverline" , all i got was " put not just the blade but the whole saw in the post to ''SilverLine'' and they will take a look. this would have been at my own expense and would not guarantee that i would get it back. less than 2 hours of buying and using for only 1 cut the saw i am now left with a saw with no usable blade and the choice of spending my own money to only possibly getting the problem sorted, not even the choice of swapping for another nor could i get a refund i was not very happy to find i had wasted my own time and money buying and time over the phone trying to sort it with "Costumer Care" and not even been offered a certificate for a new blade, WHAT A JOKE IT WAS FROM START TO FINNISH
---
By: Kevin G
2016-09-13T00:00:00
Can''t be beaten for the price. Does everything it says on the box.
---
By: David K
2016-09-12T00:00:00
Purchased this product a few months ago and it has worked very well every time .delivery was good so I give it a thumbs up
---
By: Baz
2016-09-12T00:00:00
If it is an plain and simple circular saw you require then this fits the bill.Not sophisticated or complicated just good value for money .What more could we ask?
---
By: colin s
2016-09-12T00:00:00
I found this saw to be very quiet, light, fast cutting, &amp comfortable to hold, would definitely buy another if I needed to.
---
By: Victor h
2016-09-12T00:00:00
Very pleased with this item works very well and has done a lot of DIY with it
---
By: Arpad Z
2016-08-15T00:00:00
Excellent price / performance ratio! I recommend to everyone!
---
By: john
2016-08-08T00:00:00
the price does not reflect the quality of the saw, brilliant tool at a brilliant price
---
By: Brian P
2020-04-14T00:00:00
The sun came out yesterday and I got to use my new saw for the first time. I was very impressed with the quality of the build and the performance. Even at the full depth setting it went through the timber with comparative ease. Excellent value!
---
By: ralph t
2020-02-04T00:00:00
For the price I don''t think you could get a better product.
---
By: terry s
2020-01-29T00:00:00
good product sturdily built with good blade looks like it will last.
---
By: Graham P
2020-01-10T00:00:00
Excellent saw, smooth and easy grip. Easy to work with.
---
By: G S
2019-09-13T00:00:00
---
By: Martin
2019-08-28T00:00:00
I bought this just for a few simple jobs that i have been wanting to do and it has been perfect. It is nice and powerful and gives a nice clean edge on the cut. It also came with 3 blade''s as well as the one fitted. If you want something just for diy this is ideal and it comes with a 3 year warranty.
---
By: Gary g
2019-08-18T00:00:00
Works well does what most rip saws do but a fraction of price
---
By: Pete j
2019-08-12T00:00:00
Very happy with product .... I bought it for sawing logs/wood for open fire
---
By: peter s
2019-08-02T00:00:00
found it to be excellent value for money, it works fine, does the job it was designed for, and comes with a three year guarantee,
---
By: colin a
2019-08-01T00:00:00
great product made short work on a 40mm worktop and a 3year warranty came with a spare set of brushes aswell
---
By: Harold P
2019-07-29T00:00:00
Excellent value for money Easy to use a quality well built product
---
By: Graham S
2019-07-23T00:00:00
Good price, nice to handle, easy to alter angle and cutting depth
---
By: Gaz C
2019-06-24T00:00:00
Great product for the price. Used for diy projects without issue.
---
By: Adam m
2019-06-11T00:00:00
Ok for diy does what it says!!
---
By: iain p
2019-06-10T00:00:00
Bought a circular saw great product plenty of power easy to hold, fast arrival time
---
By: Pam B
2019-05-24T00:00:00
Bought for my partner to cut wood to fit shelves in shed. No hard work, shelves fitted in no time. Have always bought Silverline products for gifts. Never had a failure yet.
---
By: AndyB
2019-04-23T00:00:00
For me, an occasional use DIY person, this product seemed a sensible choice, and with a 3 year guarantee it must be reasonably robust. First job was producing fence gravel boards from old building scaffold planks. Very impressed - took less than a minute to travel through 6 foot of plank. Should be fine for all my future tasks.
---
By: Tony N
2018-07-02T00:00:00
Got this as a birthday present after having researched and added a UK product to my birthday list. Used it for the first time today and it is great.
---
By: Richard H
2018-06-05T00:00:00
For the price an excellent buy. Does all I have asked it to do.
---
By: Nicholes G
2018-05-12T00:00:00
this is a workhorse all day and very good value for the money
---
By: Nicholes G
2018-05-12T00:00:00
this da''s what is says it a very good product and essey to use
---
By: Jim E
2018-05-07T00:00:00
For the price a great saw, does exactly what it says on the box. Equal in performance to a tool costing umpteen times as much .Would recommend to anyone.
---
3 Year Guarantee
This Silverline DIY 1200W Circular Saw 185mm is guaranteed for a period of 30 days from date of purchase against a fault developing in either the materials or the workmanship during manufacture. You can register for your 3 Year guarantee by registering your product online. Any faulty goods will be repaired or replaced free of charge.