868693
Spiral Ratchet Screwdriver
300mm
---
---
Simple push-handle action drives in or removes screws
Robust handle for heavy use
3-position ratchet action
Includes 2 x slotted & 2 x Phillips bits
---
Buy Online
Find a Dealer
Review this Product
10 review(s)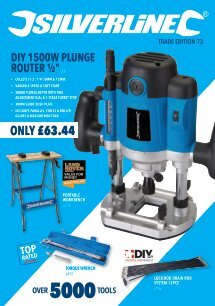 ---
Product Specification
| | |
| --- | --- |
| Product Weight | 0.350kg |
| Finish | Chrome plated |
| Hardened | Yes |
---
Key Features
Traditional Yankee-style screwdriver with lockable collar to retract spiral shaft, which extends to 430mm length. Ratchet operates clockwise/anti-clockwise and in a fixed position. Includes 4 bits (2 x slotted and 2 x Phillips).
---
Screwdrivers - OUR GUIDE
CABINET SCREWDRIVERS
---
Traditional cabinet pattern, flat oval-shaped handles for grip and comfort, colour-coded according t
GENERAL PURPOSE SCREWDRIVERS
---
Chrome vanadium steel blades with magnetic tips. Soft-grip, colour-coded handles provide excellent g
SOFT-GRIP SCREWDRIVERS
---
Moulded, textured handle with cushioned grip for comfort and firm twist action.
HAMMER-THROUGH SCREWDRIVERS
---
Handles capped with a metal striking plate.
MECHANICS SCREWDRIVERS
---
Chrome vanadium steel blades, blackened magnetic tips and square black matt handles.
ENGINEERS SCREWDRIVERS
---
Chrome vanadium steel blades, satin finish and blackened magnetic tips.
VDE EXPERT SCREWDRIVERS
---
Screwdrivers fully tested and certified to EN 60900: 2004 for live working up to 1000V AC or 1500V D
---
Box Contents
1 x Spiral ratchet screwdriver
2 x Slotted bits
2 x Phillips bits
---
Customer Ratings
By: Paul
2020-03-22T00:00:00
Fantastic bit of kit. Can''t go wrong with the life time warranty.
---
By: Steve H
2019-12-27T00:00:00
Bought this as I was fed up constantly switched from drill bit to driver bit when using the cordless drill and didn''t want to fork out the money for another cordless drill. I would say using this is probably just as quick as using the cordless drill without the need to rely on a charged battery :) Very good
---
By: Steve
2019-12-12T00:00:00
Very handy piece of kit. Makes putting together items with multiple screws easier than using traditional screwdrivers
---
By: Diane S
2019-11-02T00:00:00
I love the ease of use and the fact it takes hex bits for drilling and screwing. This means easy replacement if these break or wear out. Very versatile, and light to use. Will recommend.
---
By: David K
2019-10-27T00:00:00
Being of the older generation and doing D.I.Y when you have a bit of screwing ahead, the joints in the hands and wrists can''t manage like they used to. I found the yanky style screw driver a god send, things are now much, much easier.
---
By: mike l
2018-03-27T00:00:00
Used to own the Stanley classic more than 20 years ago. In the process of building a deck in the back garden. Screws have T20 or T25 heads. Trying to screw in quickly using a power tool leads to stripped heads and bits. Not with the Silverline Spiral Ratchet Screwdriver. Perfect control every time. I bought a second one so my daughter could help build her own deck.....
---
By: Eric C
2017-10-27T00:00:00
Perfect tool well made and makers the job sooo much easier .. why didn''t i get one sooner :-)
---
By: Trent R
2017-06-18T00:00:00
Best screwdriver ever. Have been after a replacement for my aging yankee screwdriver for some time, and not interested in things that need to be charged prior to use. This screwdriver does everything that an old school yankee does, with the huge benefit of taking modern 1/4" hex bits, rather than the old Stanley standard. Thoroughly recommended.
---
By: Derek S
2017-05-26T00:00:00
I bought the spiral ratchet screwdriver as a backup for when my cordless screwdriver was not charged and also as a sense of nostalgia as my father had one years ago. I was so impressed with it that I now use it all the time, my cordless screwdriver is now redundant! It is an excellent tool for DIY use and I''m so glad I bought it.
---
By: C.MAC D
2017-04-23T00:00:00
This was a replacement for one that was borrowed and never returned. It''s just as great as my old one with even better results. Its sturdy and does the job without complaint, unlike using blistered palms on conventional screwdrivers. I''d recommend this without hesitation as it gives lots of torque when required due to its length and durability.
---
Lifetime Guarantee
This Silverline Spiral Ratchet Screwdriver is guaranteed for a period of 30 days from date of purchase against a fault developing in either the materials or the workmanship during manufacture. You can register for your Lifetime guarantee by registering your product online. Any faulty goods will be repaired or replaced free of charge.