868818
Mechanics Tool Set 90pce
90pce
---
---
Hardened & tempered chrome vanadium steel with mirror-polished finish
Metric & imperial spanners & sockets
Includes spark-plug sockets, extension bars & 6 x spanners 10 – 19mm
Trx, slotted, Phillips & Pozidriv 3/8" socket screwdriver bits
Strong carry case
---
Buy Online
Find a Dealer
Review this Product
22 review(s)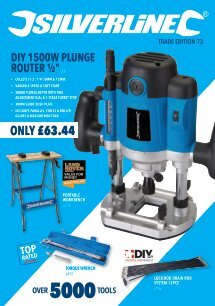 ---
Product Specification
| | |
| --- | --- |
| Drive Size | 1/4", 3/8", 1/2" |
| Drive Style | Square |
| Finish | Mirror polished |
| Hardened | Hardened and tempered |
| Product Weight | 6.438kg |
---
Key Features
Hardened and tempered chrome vanadium steel set of metric and imperial spanners and sockets. Mirror-polished finish. 6 x spanners 10-19mm; 8 x 1/4" deep sockets 6-13mm; 4 x 3/8" deep sockets 10-13mm; 17 3/8" socket Trx, slotted, Phillips and PZD screwdriver bits; 1/4"; 3/8" and 1/2" ratchet handles; 16 and 21mm spark plug sockets; 3 x extension bars 2" x ¼", 3" x 3/8", 6" x 3/8"; 1 x 3/8" universal joint; 10 x 1/4" metric sockets 4-13mm; 10 x 1/4" imperial sockets 5/32"-1/2"; 9 x 3/8" metric sockets 10-119mm; 7 x 3/8" imperial sockets 3/8"–3/4"; 5 x 1/2" metric sockets 20-27mm; 5 x 1/2" imperial sockets 25/32"–11/16". Strong carry case.
---
Box Contents
5 x 1/2" Drive sockets: 25/32", 13/16", 7/8", 15/16", 1-1/16" (50BV30. Mirror polished with knurling)
20 x 1/4'' Drive sockets 6 point, 4, 5, 6, 7, 8, 9, 10, 11, 12, 13mm. (50BV30 mirror polished with knurling)
1/4'' Drive sockets 6 point: 5/32, 3/16, 7/32, 1/4, 9/32, 5/16, 11/32, 3/8, 7/16, 1/2 (50BV30 mirror polished with knurling)
16 x 3/8'' Drive socket 6 point: 10, 11, 12, 13, 14, 15, 16, 17, 19mm. (50BV30 mirror polished with knurling)
7 x 3/8'' Drive socket 6 point: 3/8", 7/16", 1/2", 9/16", 5/8", 11/16", 3/4" (50BV30 mirror polisheded with knurling)
10 x 1/2" Drive sockets 6 point: 20, 21, 22, 24, 27mm (50BV30 mirror polished with knurling)
8 x 1/4'' Deep sockets, 6 point: 6, 7, 8, 9, 10, 11, 12, 13mm. (50BV30, mirror polished with knurling)
6 x Spanners, 10, 12, 13, 14, 17, 19mm (40CRV mirror polished)
4 x 3/8'' Deep socket, 6 point: 10, 11, 12, 13mm. (50BV30 mirror polished with knurling)
17 x 3/8'' Socket bits: Hex 3, 4, 5, 6mm. Trx T20, 30, 40, 45, 50, 55, 60. Phillips PH1, PH2. Pozidrive PZ1, PZ2. Slotted 5.5mm, 6.5mm. (Mirror polished with CR6150 tips)
3 x Quick release pear head rachets 1/4'', 3/8'', 1/2'' Drive. (40CRV mirror polished)
2 x 3/8'' Drive spark plug sockets. 16mm and 21mm. (50BV30 mirror polished with knurling)
1 x 1/4'' Square drive extension bar 50mm (50BV30 mirror polished with diamond knurling)
2 x 3/8'' Drive extension bar 75mm and 150mm. (50BV30 mirror polished with diamond knurling)
1 x 3/8" drive universal joint. (50BV30 Mirror polished)
---
Customer Ratings
By: Kevin H
2017-12-13T00:00:00
I know only too well how good Silverline tools are especially with there lifetime warranty, so what better gift to give my son for Christmas that the best. Although they are not for me and they have not been used yet just looking in the case before wrapping tells me they are quality and just in case there is a problem I have pre registered the tools for my son with Silverlines no quibble guarantee.
---
By: Thomas C
2017-03-12T00:00:00
Good tools at affordable price.
---
By: Tomasz
2017-01-21T00:00:00
This is my first set of tools and once it arrived they started to work while repairing my bicycle, my trainer, my car. I''''m so happy because it really speed my work and make my face smiling. The construction of tools is solid, bought because someone recommended me its durability Now collecting money for next tool
---
By: James F
2016-09-22T00:00:00
Quality of ratchets and sockets is very good. Carry case is a little on the cheap side and the tools don''t fit in properly. Lifetime Garuntee is a win!
---
By: Phil A
2016-09-19T00:00:00
Contains all that I need for normal DIY use. Quality seems fine but at this stage have not used all pieces. Excellent value for money.
---
By: gary c
2016-08-22T00:00:00
amazing quality budget socket set. very low price for superb quality.
---
By: Jose J
2016-08-22T00:00:00
Ideal for amateur reparations. Complet and resistent. I''m so happy with this purchase. Better quality/price relation.
---
By: Alan R
2016-08-11T00:00:00
First class product, the quality, strength precision of these spanners equal those many times the price. Highly recommended.
---
By: Scott B
2022-05-12T00:00:00
I''m a recovery driver, and this set is ideal to keep on the wrecker, has everything you need to hand. Not only is it practical, but the kit looks the part aswell! Love it!
---
By: Socket s
2022-04-11T00:00:00
---
By: Daniel W
2022-02-15T00:00:00
This kit has everything you need and probably more for the home mechanic. Used it several times already and no signs of wear. Love it silverline!
---
By: Pierre F
2020-05-10T00:00:00
I Cannot recommend this product ENOUGH, top quality product at exceptional value. Put the tools through the test on car repairs and they passed with flying colours.
---
By: Phil
2020-04-24T00:00:00
Great value high quality set, very happy with it, would recommend.
---
By: Richard B
2020-01-21T00:00:00
Fantastic set of tools. All I need for doing my motorbike. Much better than all the old tools I have. All in the bin now, silverline all the way!!
---
By: Wayne L
2019-12-12T00:00:00
It is a great set only problem is there is no 18m socket and could do with an extension bar to fit the big ratchet
---
By: Paul
2019-09-25T00:00:00
Bought this as it had metric and imperial sizes and came with all 3 sizes of ratchets which meant that I could work on my bike without repeatedly going back to my workshop to find tools, Very well made (for the price) and quite a comprehensive little kit, only thing I'd change is the 3/8ths ratchet doesn't accept sockets very readily, in fact it's quite tough to get them on, and even harder to get them off (but I think it's just this ratchet as the other two are fine) My only other gripe is that I'd possibly like a few imperial size spammers in there (the set does come with some spammers but they're metric) All in all, for the price and what you actually get in there, I'm pretty pleased. Well done Silverline
---
By: John
2019-09-08T00:00:00
Excellent Strong Tools Perfect for all jobs
---
By: Charlie u
2019-08-10T00:00:00
Very good set. A comfortable amount of eight to the ratchet and has prices to cut any job
---
By: Barrie S
2019-05-27T00:00:00
Very nice looking set of sockets with the feel of a set far more expensive, very pleased with my purchase.
---
By: Alan H
2019-01-14T00:00:00
I bought my Silverline socket set & have used it everyday since without any issues, I was particularly surprised at the quality of the product you would expect to pay a lot more for items of this quality. Keep up the good work Silverline
---
By: David B
2018-04-07T00:00:00
Great set of tools. Bought this set because it has both metric and imperial sockets. This was especially important as I have an old American engine to maintain and it''s all imperial! Quality of set feels good, ratchets are comfortable in the hand and sockets are easy to attach and remove thanks to the push button release on each ratchet. Would have been nice to have a selection of imperial spanners, but I guess you can''t have everything. All in all, a very good set that has most items for your average diy mechanic. Highly recommended.
---
By: Ivan S
2018-01-13T00:00:00
---
Reviews & Awards
BEST BUDGET BUY - Not the cheapest product in the group, but certainly the cheapest one that anybody would thank you for! Again, this kit is really an extended socket set. But the socketry supplied is very impressive: 1/4in, 3/8-1/1/16in AF; and even 12 deeps.
This set may be designed with DIY mechanics in mind but the actual quality can easily compete with big household names - even some of the high-end trade ones...
All the ratchets and sockets are very nicely finished and eminently usable. Much the same can be said for the six spanners supplied.
---
Lifetime Guarantee
This Silverline Mechanics Tool Set 90pce is guaranteed for a period of 30 days from date of purchase against a fault developing in either the materials or the workmanship during manufacture. You can register for your Lifetime guarantee by registering your product online. Any faulty goods will be repaired or replaced free of charge.