962219
Torque Wrench
---
---
Chrome vanadium steel with reversible ratchet head
Knurled adjustment handle & locking ring for precise torque settings
Manufactured in accordance with EN ISO 6789 & DIN 3121 - Accuracy +/- 4%
Range 8 - 105Nm & resolution 1Nm
Includes 75mm extension bar, 3/8" - 1/4" drive adaptor (62Nm max) & storage case
---
Buy Online
Find a Dealer
Review this Product
62 review(s)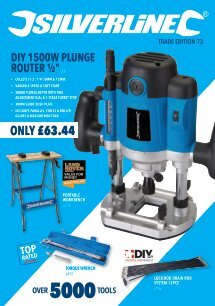 ---
Product Specification
| | |
| --- | --- |
| Drive Size | 3/8" / 1/4" Adaptor |
| Drive Style | Square |
| Finish | Chrome plated |
| Handle - Primary - Finish | Knurled / chrome plated |
| Method of Adjustment | Twist handle |
| Product Weight | 0.839kg |
| Range | 8 - 105Nm |
| Reversible | Yes |
| Variable Torque | Yes |
| Material - Handle - Secondary | Carbon Steel |
| Material - Secondary Construction | Carbon Steel |
---
Key Features
Chrome vanadium steel with reversible ratchet head. Knurled adjustment handle and locking ring for precise torque settings. Manufactured in accordance with EN ISO 6789 & DIN 3121. Accuracy +/- 4%. Range 8 - 105Nm and resolution 1Nm. Includes 75mm extension bar, 3/8" - 1/4" drive adaptor (62Nm max) and storage case.
---
Box Contents
1 x Torque Wrench 3/8" 7 -105Nm
1 x Extension bar 75mm
1 x Converter 3/8" to 1/4"
1 x Certificate of calibration
---
Customer Ratings
By: Mr m
2020-03-24T00:00:00
---
By: Cristian
2020-02-25T00:00:00
Ottimo prodotto, economico ma funziona benissimo. Acquistato per mtb
---
By: Zacharie L
2020-02-21T00:00:00
A very nice torque wrench, all is good ans works very well, no more words to say
---
By: Alex U
2020-02-20T00:00:00
Have many silverline tools at home and all are great quality and most importantly at a great price.
---
By: Bradley
2020-01-27T00:00:00
Great bit of kit! Good price, easy to set and read. Perfect
---
By: Bradley
2020-01-20T00:00:00
Just what I wanted from a torque wrench. Good range and easy to use. Strong and accurate piece of kit
---
By: Peter J
2020-01-19T00:00:00
The 962219 Silverline torque wrench is ideal for the home mechanic. It is accurate and easy to use and with the extension and adapter covers most eventualities.
---
By: Keith B
2020-01-17T00:00:00
I needed a Torque wrench to do a service on my motorbike. After looking at several types and prices this one suited all my needs due to wide range of Torque settings & complete with 3/8" adaptor. Easy to set and read - perfect for the home mechanic.
---
By: Nikolas K
2020-01-17T00:00:00
Just used my wrench. Great vfm, easy to use and thorough instructions. I already recommend silverline to a couple friends
---
By: Des m
2020-01-12T00:00:00
Very pleased with product the torque settings were just right for jobs on my motor bike and the price was very good.
---
By: Dave M
2020-01-10T00:00:00
A clear click when the required torque is reached.
---
By: Chris D
2020-01-10T00:00:00
Bought this to do some of the jobs on my car and tighten everything correctly. It is easy to use and includes instructions. Personally, I like having tools with cases so that they are protected when being stored, so this covered all requirements.
---
By: Graham R
2019-12-22T00:00:00
I tinker with Vespa scooters and this is perfect for torquing up the bolts correctly! 😄
---
By: Chris C
2019-11-29T00:00:00
The wrench is a perfect size and weight to both handle and fit in my tool box. The torque range is ideal for those small vehicle torque ranges which measure between 8 and 105 Nm. If you register through the Silverline website which took less than 5 mins, the wrench is upgraded with a lifetime guarantee. Quality and assurance for a very reasonable price, what else could you need. Thanks Silverline
---
By: CLIVE S
2019-11-07T00:00:00
Great quality, esay to setup, easy to use.
---
By: Anthony G
2019-09-27T00:00:00
I was gratefully surprised at the quality of my torque wrench when it arrived. Solid piece of kit. Great for doing some DIY on my car such as the brakes and spark plugs.
---
By: Emanuele
2019-09-03T00:00:00
Chiave veramente perfetta in ogni sua parte, di facile utilizzo, viene fornita in una costodia protettiva di materiale plastico che evita urti, ha 2 scale di coppie di serraggio. Per ora è stata usata per stringere i dadi dei motori delle moto e devo dire che ha fatto il suo lavoro egregiamente, la consiglio a tutti, la chiave è di materiale metallico che le da sia solidità che un aspetto molto solido e duraturo
---
By: Damien
2019-08-27T00:00:00
Outil de bonne qualité, et facile à utiliser.
---
By: Dubois C
2019-08-05T00:00:00
Très bon produit de bonne qualité, robuste et a prix abordable.
---
By: Len
2019-07-26T00:00:00
Just changed brake hoses on 24 yo Virago and this torque wrench was perfect for it. Compact size helps in tight spots and nice positive click lets you know when it''s done. Easy to adjust and use.
---
By: Carlos R
2019-07-20T00:00:00
the item is of a high quality, I found it easy to use and set up
---
By: Len
2019-07-19T00:00:00
Very good service, fast delivery. Good tool easy to set up and use. Went to work immediately upon arrival, performed very well.
---
By: Stuart
2019-06-27T00:00:00
What can i say I know, appearance wise shiny shiny give me chrome. Easy to read clear numbers easy to use and extremely nice firm click once torque setting is reached. Forget snap on get one of these great range of settings too.
---
By: Hans
2019-06-07T00:00:00
---
By: Bradford M
2019-06-05T00:00:00
This wrench is as good as one''s costing twice the price plus it''s made of vanadium steel.
---
By: john s
2019-05-09T00:00:00
Excellent quality at a very reasonable price. Ideal for the home user.
---
By: Anton
2019-01-31T00:00:00
good quality for good price, does it job, recommend!!!
---
By: Stoyko S
2019-01-28T00:00:00
I have been working on my motorbike with it and it''s been great
---
By: Stoyko S
2019-01-21T00:00:00
Tested the torque wrench twice already and it works like a dream.
---
By: craig g
2019-01-17T00:00:00
I''ve had the torque wrench for about 2 weeks now and used it several times. works well. and very simple to set. comes with a 2inch extension and a 3/8 to 1/4 adapter which is very handy. plus free lifetime warranty. very pleased for the price.
---
By: Andrew p
2019-01-07T00:00:00
Great tool to release those stubborn screws on my 40yr old motorcycle
---
By: Dave
2018-12-28T00:00:00
This tool has not yet been put to any hard work. But this tool feels and looks good quality. Looking forward to using this tool in anger
---
By: Peter W
2018-12-14T00:00:00
My Torque Wrench is brilliant for them smaller jobs
---
By: Dave T
2018-11-08T00:00:00
Having purchased many Silverline products in the past without any problems the decision on a manufacturer when needing a torque wrench was easy. It has not disappointed, the wrench works well and is easy to use.
---
By: Peter
2018-10-11T00:00:00
Car and caravan manuals always seem to quote a torque setting for nuts and bolts . For most of my life I just tightened then up as I felt fit which meant some were to tight and some not tight enough. This silver line product has taken out all the guess work and is guaranteed for life. What is there not to like.
---
By: David B
2018-09-19T00:00:00
Very pleased with both delivery and product, would certainly recommend.
---
By: Dennis
2018-07-29T00:00:00
Nice piece of kit. Spot on with the setting, compared it against my my other wrenches. Very good value, ideal for the occasional mechanic.
---
By: Dennis
2018-07-29T00:00:00
Nice piece of kit. Spot on with the setting, compared it against my my other wrenches. Very good value, ideal for the occasional mechanic.
---
By: Paul w
2018-07-16T00:00:00
Fantastic tool wrath every penny
---
By: Nicolas R
2018-05-30T00:00:00
Seems to be a good quality product, looks good, feels well made, comes in a good plastic case. Torque range stamped on the tool is 7 - 105 Nm so not sure why Silverline state 8 - 105 Nm in description and on packaging.
---
By: Mosser
2018-04-25T00:00:00
Had a cheap version a long time ago. i purchased this Siverline torque wrench easily from amazon.fr. Feels very solid device from building to my use. The wrench is also much more reliable than my old one. I felt so confident in it that I bought the 28-210Nm in addition.
---
By: Alex
2018-04-05T00:00:00
I am very happy with it. It's doing the job.
---
By: Richard C
2018-03-18T00:00:00
Once you work out how to use the torque setting, this wrench is brilliant, gives you peace of mind knowing your wheels won''t come off driving down the road, it''s long enough to allow enough pressure to unbolt, and short enough so it''s not awkward to store in vehicle.
---
By: Alan G
2018-03-09T00:00:00
Low torque wrench good for plugs, drop links and the like. ''Click'' is a little soft, you need to listen carefully to get the torque right.
---
By: Hooman N
2018-03-03T00:00:00
I bought this torque wrench for about £20 and use it to work on my motorbike. Torque adjustments are easy and the tool seems accurate enough - I cross-checked it with another digital wrench. Being a sensitive instrument, you need to take care not to drop it or expose it to any unnecessary shock. Time will tell how long this took is going to last without problem, but the fact that I get guaranteed with a UK company gives me extra confidence.
---
By: Vital M
2017-10-31T00:00:00
Material de muito boa qualidade! Estojo impecável! fácil de utilizar!
---
By: Simon L
2017-07-29T00:00:00
Well priced &amp well made item with a wide selection of torque setting values - Would recommend to the home mechanic
---
By: Mark N
2017-07-28T00:00:00
Very pleased, excellent value.
---
By: Adeel H
2017-07-21T00:00:00
Beautiful item I''m happy
---
By: Mark N
2017-07-21T00:00:00
Excellent value for money
---
By: Paul M
2017-05-18T00:00:00
Excellent product, robust and sturdy.
---
By: Joseph H
2017-04-17T00:00:00
Good solid tool, positive click and release when torque setting reached. Feels good to use, fingers crossed the calibration is right. All in all I like it.
---
By: Ollie
2017-04-10T00:00:00
Good quality wrench, extremely easy to use and built to last
---
By: Marcel C
2017-03-16T00:00:00
Nice feel, good quality & user friendly.
---
By: paul r
2017-03-16T00:00:00
Great quality and price. Excellent tool with a life time guarantee
---
By: Marcel
2017-03-13T00:00:00
Great torque wrench, it feels solid.
---
By: Muhammad d
2017-03-11T00:00:00
Bought this torque wrench for DIY car repairs on our three cars. Purchased the wrench for £20. Used for servicing our cars and auto gearboxes. Very well made tool at a bargain price. Time will tell how well the tool will fair. Very happy so far.
---
By: Wojciech L
2017-03-09T00:00:00
great product with a decent price tag perfect for a DIY mechanic
---
By: thom m
2017-03-08T00:00:00
This is a good value torque wrench. does the job, has a smooth ratcheting mechanism and is great for torqueing the smaller bolts to spec.
---
By: Chris
2017-02-23T00:00:00
---
By: Chris
2017-02-16T00:00:00
---
By: Ash
2017-02-08T00:00:00
works well, does it''s job without hassle, would be better if it could work in both directions, for bottom brackets, and pedals, but no real complaints.
---
Lifetime Guarantee
This Silverline Torque Wrench is guaranteed for a period of 30 days from date of purchase against a fault developing in either the materials or the workmanship during manufacture. You can register for your Lifetime guarantee by registering your product online. Any faulty goods will be repaired or replaced free of charge.