CB14
Silicon Carbide Combination Sharpening Stone
Fine / Medium Grade
---
---
Silicon carbide
Double-sided (fine & medium grade)
Sharpens all types of tools & knives
Ideal for bench-mounted sharpening
Can be used wet or dry
---
Buy Online
Find a Dealer
Review this Product
16 review(s)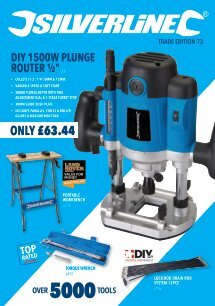 ---
Product Specification
| | |
| --- | --- |
| Grit | Fine and medium grades |
| Product Weight | 0.433kg |
---
Key Features
Double-sided silicon carbide stone for fine and medium grade sharpening. Sharpens all types of tools and knives. Ideal for bench-mounted sharpening. Can be used wet (water/oil) or dry. Supplied in box. Size 200 x 50 x 25mm.
---
Box Contents
1 x Case
1 x Impact resistant plastic storage container
---
Customer Ratings
By: BONIFFACY D
2017-03-29T00:00:00
Indispensable pour les ciseaux à bois. La mixité huile/eau est l''idéal pour aiguiser mes outils où que je sois. A compléter avec une pierre plus fine pour les puristes.
---
By: Geoff
2017-03-19T00:00:00
Good combi stones for the price. Why the base has to have two holes in it I don''t know especially if you use water. But that''s only minus.
---
By: Arjan V
2016-10-14T00:00:00
So many great sharpening stones are available on the market, but they all come at a premium price. Except the one from Silverline Tools. It costs a fraction but works just as well. I have used this on kitchen knifes and a pocket knife, worked like a charm. I would definitely recommend this sharpening stone.
---
By: Dave H
2016-10-10T00:00:00
It does what it needs to but it''''s a bit uneven in places?
---
By: Chris
2016-10-04T00:00:00
It''s an excellent product from Silverline that will help you keep your knifes, scissors etc in excellent condition. Its case is really convenient and it also provides you with a firm grip when sharpening.
---
By: BOCCARA
2016-09-26T00:00:00
Atloghether, this sharpening synthetic double side stone is a very very good tool at a very very fair price. You may use it dry or preferentially wet either with water or oil. The plastic hard case serve as a container to dip the stone. I think it''s the best artificial sharpening stone ; its indeniable for such cost.
---
By: Andrew N
2020-06-06T00:00:00
Never used a sharpening block before but after a quick online tutorial I soon got the hang of it. I know have wonderfully sharp knives to use in the kitchen and my garden shears work a lot better now there sharp.
---
By: andrea
2020-01-14T00:00:00
---
By: Roger B
2019-04-29T00:00:00
A very good tool, I am pleased that I bout it from you, it works very well, and is robust
---
By: Roger B
2019-04-22T00:00:00
A brilliant tool, don''t know how I managed without it.
---
By: Arnaud
2018-05-23T00:00:00
Pierre plutôt efficace pour l''affûtage de mes vieux ciseaux à bois qui ont rapidement retrouvé leur tranchant. Peu habitué à cet exercice, il ne me reste plus qu''à améliorer mon geste.
---
By: Nigel S
2018-04-07T00:00:00
Excellent stone has two sharpening grades and the facility to attach it to the bench. Good quality product
---
By: Carrie
2017-11-28T00:00:00
I noticed someone commented on the two holes in the case, and since there''s no way to reply/answer, I thought I''d tell you in this "review addendum". They are to nail (or screw) it to a board or bench to hold it in place. I didn''t know what they were for either until an online tutorial pointed it out. Since affixing it (w/ nails) to a piece of 2x4 - just a bit longer on either end than the case - with nails, my problems are solved! A work bench would''ve been ideal, but that'' belongs to hubby and that''s not somewhere I wanted to invade! Ha! Ha! I can''t believe the difference having it on the board makes! No more sliding around or awkward one handed sharpening! Hope this helps!
---
By: Carrie
2017-11-28T00:00:00
This is the first sharpening stone I''ve ever owned and used! My father kept his close at all times and made sure my brother and I knew the importance of keeping a sharp knife with us. While I don''t use my ''sharp objects'' in the same way as he did, a sharpening stone was LONG overdue!! My garden tools were in bad shape and all I had was a very old kitchen knife sharpener that seemed as if it only made things worse most of the time! So... enter this Silverline Carbide Shapening stone! It took me several lessons online to get the hang of it, but once I did, I feel as if I can''t live without it! Ha! Ha! With it, my tools (and my hubby''s) are ALWAYS sharp and much, MUCH easier to work with! I love that it has two sides - coarse and fine - so that no matter the [hand] tool, they are sure to be sharpened well!! The only draw back is that it''s a bit awkward when sharpening smaller [gardening] hand shears. However, I just use the corners, which works out pretty well. Despite the ONE drawback, YES!, I absolutely recommend this stone to beginners and pros. And, for the price (bought mine on Amazon on sale for $8 USD), you can''t beat it!
---
By: paul
2017-10-22T00:00:00
Says what''s in the box a combination Oil Stone I needed one quickly to sharpen both a plane iron and a few chisels for a project that I was working on. The stone works very well and also was the cheapest I could find, unfortunately the plastic box which comes with the stone is a bit naff but is ok to keep the stone clean but not really suitable to fix to a piece of wood whilst using the stone.
---
By: Alan C
2017-07-06T00:00:00
Used to sharpen new axe which was supposedly razor-sharp but actually wouldn''t cut butter. Box has holes for fitting to workbench to keep it stable when in use. Also used to sharpen my grandfather''s old budding knife. Overall faultless so far.
---
Lifetime Guarantee
This Silverline Silicon Carbide Combination Sharpening Stone is guaranteed for a period of 30 days from date of purchase against a fault developing in either the materials or the workmanship during manufacture. You can register for your Lifetime guarantee by registering your product online. Any faulty goods will be repaired or replaced free of charge.