TB05
Heavy Duty Flip-Top Workbench
150kg
---
---
Rigid, square section steel frame
Max load 150kg
Adjustable table tops 0°, 45° or 90°
605 x 120mm worktop sections x 2
---
Buy Online
Find a Dealer
Review this Product
13 review(s)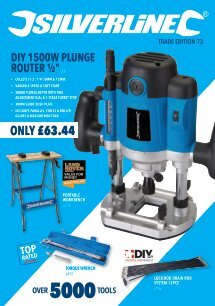 ---
Product Specification
| | |
| --- | --- |
| Capacity - Maximum Load | 150kg |
| Finish | Powder-coated steel |
| Handle - Primary - Finish | Plastic |
| Product Weight | 6.34kg |
---
Key Features
Heavy duty workbench with rigid, square section steel frame. Large work surface made from two 605 x 120mm sections. Adjustable table sections can be angled at 0°, 45° or 90°. Max load 150kg. Requires assembly.
---
Box Contents
1 x Heavy duty flip-top workbench
---
Customer Ratings
By: John T
2023-10-09T00:00:00
In order to give a completely honest review of this product,I have to say that since I have purchased it as a gift for someone,I have not assembled and used it.I did take all the components out of the packaging to check for damage or missing parts,and found them to be strong and well made.i cannot comment of the item in use ,however at this point in time. Sorry not to be able to say more,but I obviously am not going to falsify a review for the sake of convenience.
---
By: Philip w
2020-07-14T00:00:00
I purchased a TB05 heavy duty workmate, on receipt there were at least ,10 areas where the laminate was chipped,on removing the Dogs more laminate chipped off,the jaws bend or move apart when you lift your job off the metal base, you can''t put anything in the end as jaws won''t hold tight,very very disappointed in item
---
By: Paul M
2020-05-28T00:00:00
Very good value for money, would recommend
---
By: Paul M
2020-05-21T00:00:00
Good performance for the price quite lightweight
---
By: Shaun S
2020-05-11T00:00:00
The workbench I received is sub standard at best and potentially dangerous and not fit for purpose. One of the pre assembled adjusting screws (the devices which move the working surface) had a nut which was not fully tightened. This nut secures the screw device to the bracket which holds the working surface. Because this nut is not fully tightened the working surface lifts up and the work piece becomes uneven and loose. It is impossible to access the nut to tighten it further. I cannot use this workbench for the purpose it is designed
---
By: Shaun S
2020-04-26T00:00:00
When I used the workbench I discovered that one of the nuts on the screw bracket was not fully tightened. As part of a pre assembly it was impossible to access the nut to tighten properly. The consequence of this untightened nut is that the surface board on which you place the work piece raises up on one side when tightened. The outcome is as follows - the work piece is not level and also not secured tightly because it is at an angle and does not have a flat surface to sit on. I cannot effectively use this tool.
---
By: David
2019-12-17T00:00:00
Rock solid workbench Assembly instructions could have been a little clearer, but for the money no compliant
---
By: Oz P
2019-10-10T00:00:00
I''m very happy with this product. It went together extremely well - I have seen many reviews in various places saying that the instructions could be clearer but to be honest they were perfectly fine and no worse than anything you would get with a piece of IKEA furniture. It does everything I could ask of it, and the frame is certainly robust enough that I could see it lasting a long time. However the top is MDF and I imagine I''ll be replacing that pretty soon.
---
By: Martin W
2019-06-24T00:00:00
Workbench is an excellent product for the price
---
By: Owen
2019-05-13T00:00:00
There are a few choices out there but it came down the this one because the quality is good and value for money is spot on and its light to carry and it has 150 kg load rating to top if off.
---
By: B c
2019-01-03T00:00:00
Easy to assemble but should have nylon nuts on the m6 bolts to stop them vibrating off when using vibrating power tools
---
By: robin s
2017-09-20T00:00:00
---
By: Chauvet J
2017-01-20T00:00:00
Bon produit facile a monté et très simple d''''utilisation. Je le recommande sans réserve
---
Reviews & Awards
The flip-top design offers excellent support for work placed at angles or vertically, thanks to its pivoting bracket design. Silverline's flip-top design readily claims the value for money award. With 150kg capacity, it offers portability and plenty of options for an array of tasks.
---
Lifetime Guarantee
This Silverline Heavy Duty Flip-Top Workbench is guaranteed for a period of 30 days from date of purchase against a fault developing in either the materials or the workmanship during manufacture. You can register for your Lifetime guarantee by registering your product online. Any faulty goods will be repaired or replaced free of charge.