633524
Grapadora / clavadora neumática 50 mm
Calibre 18
---
---
Ligera, fabricada en aluminio con empuñadura engomada
Ideal para ensamblados, tapicería, manualidades, paneles, montaje de armarios,
Interruptor de seguridad para prevenir disparos accidentales
Compatible con clavos de calibre 18 (10-50 mm) y grapas de calibre 18 (10-40 mm)
Incluye conector rápido macho de 1/4"
---
Comprar online
Buscar un distribuidor
Comentar este producto
13 comentarios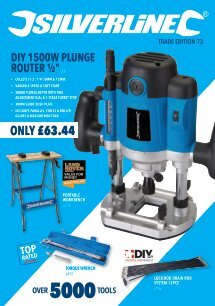 ---
Características técnicas
| | |
| --- | --- |
| Consumo de aire | 113 - 170 l/min |
| Tamaño del conector | BSP 1/4" |
| Calibre | 18 |
| Acabado - Empuñadura principal | Engomado |
| Material - Secundario | Aluminio |
| Presión máxima | 7,5 bar |
| Peso | 1,3 kg |
| Presión de trabajo | 4 - 7,5 bar |
---
Videos
---
Contenido en el embalaje
Grapadora / clavadora neumática 50 mm
Conector BSP 1/4"
2 llaves hexagonales
Botella de aceite para herramientas neumáticas
Manual de instrucciones
---
Comentarios realizados por nuestros clientes
Por: ROY SPENCER
2016-10-10T00:00:00
A well made item. Easy loading. Smooth operation. A good buy.
---
Por: Nick T
2016-09-26T00:00:00
Only used a couple of times but works perfectly. Strong impact and has yet to misfire. Cannot complain. Simple to use.
---
Por: Alain
2016-09-26T00:00:00
Good material and. Good price.
---
Por: Alan Kirk
2018-09-10T00:00:00
I bought this to make up bird nesting boxes and feeders. It performs even better than I hoped it would. Great product and great quality. Great Job Silverline
---
Por: Mick bryan
2018-05-23T00:00:00
Nicely weighted nail gun , sits well in the hand and does what it says on the tin with honours
---
Por: Peter Booker
2017-07-30T00:00:00
Great bit of kit easy to use.
---
Por: Tim Hunter
2017-05-30T00:00:00
I bought this to go with my new Stanley 25 litre air compressor to make some trellis, I had already ordered a Stanley air nailer from another supplier but I thought I would take a chance on an inexpensive stapler. This is a very inexpensive nailer and stapler, the build quality is basic but it is mostly metal and surprisingly robust. It does not have a rubberised end so it does mark your wood, not a problem with trellis. The trigger is very crude but works and it has a bsp male connector, not a euro fitting, which I have simply swapped over with a less used tool as my compressor has a euro connection. I had a complete nightmare loading this with Silverline''s 90 staples as the minimal instructions assume you will magically know how to do this. For some reason I couldn''t get it to work hanging the staples over the bar and decided you needed to put them inside the loading mechanism. Do not do this as it will jam and you will learn how it is all put together when you have to dismantle it. This is surprisingly easy with the Allen keys provided and once dismantled and put back together and putting the staples exactly where I had initially, hanging over the bar, it worked perfectly. I have now extensively stapled some pine trellis, with out any jamming and I now know how to dismantle the firing mechanism if it does jam. Comparing this with the Stanley which is almost three times more expensive it is clearly more crudely made but it works well. I have not tried it with nails but suspect it will work fine. If you want something for fine woodworking, with rubberised handles and fancy triggers and a case this is not for you but if you want something for more rough and ready work you cannot go far wrong for the price. I would have given this five stars but the instructions are pretty poor and for some reason it did not work until I had taken the firing mechanism apart and put it back together. However I will give it four stars because of the satisfaction of taking it apart and putting it back together and it working and the fact it fires staples very effectively.
---
Por: MITCH SEYMOUR
2017-03-05T00:00:00
Air Nailer Stapler 50mm 18 Gauge.. great little nailer works great and does a good job..no issues and for the price is a good tool for anyone''s tool box.
---
Por: Mr a ford
2017-02-17T00:00:00
I have several silverline tools and none have let me down, the nail gun is light and easy to handle and use and a great price.
---
Por: Grahame Lawrence
2017-02-14T00:00:00
Very well made product. Works very well better than some dearer makes.I used this for 4 hrs the other day and didn''t jam once. Really pleased. Would recommend to all.
---
Por: Vidal Diaz Diaz
2017-02-13T00:00:00
Perfecto para mis necesidades, peso ideal, relación precio calidad excelente, totalmente recomendable
---
Por: DEMAILLY
2016-10-10T00:00:00
Matériel impeccable, correspond à besoin, je le conseille. très bon rapport qualité /prix
---
Por: Craig garner
2016-10-10T00:00:00
Good value for money and excellent on straight brads. Staples bit more difficult too use but if done slowly worked well. Overall good value
---
Garantía 3 años
Este producto Silverline Grapadora / clavadora neumática 50 mm dispone de 30 días de garantía desde la fecha de compra contra defectos de fabricación y materiales defectuosos. Registre su producto online para extender el periodo de garantía 3 años. Todas las piezas defectuosas serán reparadas de forma gratuita.