234578
Arrancador de emergencia y compresor de aire
12 Ah
---
---
Arrancador de emergencia de 400 A - 900 A (pico)
Compresor con presión de salida de aire de 18 bar (260 psi)
Incluye batería interna en espiral de plomo y ácido de 12 Ah con alta capacidad de arranque
Toma de salida 12 V, CC y adaptador de 12 V para vehículos
Carcasa resistente
---
Comprar online
Buscar un distribuidor
Comentar este producto
72 comentarios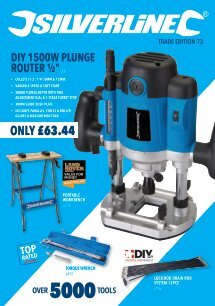 ---
Características técnicas
| | |
| --- | --- |
| Cantidad de pilas/baterías | 1 |
| Tipo de pila/batería | 12 Ah |
| Accionamiento de la mordaza | Pinzas de cocodrilo |
| Acabado | MDPE |
| Material - Secundario | Aluminio revestido con cobre / plástico PVC |
| Material - Punta | Acero / Revestimiento de cobre |
| Capacidad máxima Ah | 600 Ah |
| Capacidad mínima Ah | 0 Ah |
| Potección contra sobrecargas | Fusible |
| Peso | 4,03 kg |
---
Descripción del producto
Arrancador de emergencia con potencia de arranque de 400 A y pico máximo de 900 A. Compresor con presión de salida de aire hasta 18 bar (260 psi). Batería interna en espiral de plomo y ácido de 12 Ah con alta capacidad de arranque. Toma de salida 12 V, CC y adaptador de 12 V para vehículos. Incluye luz de emergencia y manómetro.
---
Contenido en el embalaje
Arrancador de emergencia y compresor de aire
Cargador de red
Cargador 12 V
---
Comentarios realizados por nuestros clientes
Por: Peter b
2021-03-04T00:00:00
Had this product used it would not chatge my car,would not hold charge,not worth 50p load of crap
---
Por: Richard
2020-06-02T00:00:00
Two units over three years. Both had crank shaft to piston rod Fracture and failure. Poor quality and design. A useful tool whilst it worked and before breaking.
---
Por: Si H
2018-05-17T00:00:00
Great product, does what it does very well. I charged mine up overnight and used it to start my very dead car battery the next morning. Second attempt to start and we were away, and that''s impressive as the Volvo C70 battery is a bit of a beast. The compressor works well too, boosted pressure from 16psi to 26psi in less than 4 minutes.
---
Por: Martin P
2018-03-12T00:00:00
An excellent jump starter that started my 2Litre Diesel first time with no problem. Easy to use and solid construction, very pleased.
---
Por: Gary m
2018-01-16T00:00:00
Arrived vary quickly and so far been very useful. It has started a jeep.
---
Por: k.bentley
2018-01-13T00:00:00
good product does what it says
---
Por: sarah f
2017-12-31T00:00:00
Great machine would definitely recomend
---
Por: Andrew G
2017-12-15T00:00:00
This is the second of these I have purchased. The new one is a lot lighter than the old one , have you changed the battery?
---
Por: Stephen M
2017-10-22T00:00:00
Silverline Jumpstart is a great tool, I managed to start and blow up two tyres on a car that have been sitting for 6 months. I then went on to start JCB loadall and blow up a tyre enough to move it. Well impressed
---
Por: Mon
2017-10-13T00:00:00
Does exactly what "it says on the tin".... great for many uses and it has a 3 years gurantee which is excellent!
---
Por: Paul G
2017-10-10T00:00:00
I have only needed to jump start once when I left the lights on on an old but still warm engined Corolla. Did not work. I have used it for two years as a portable battery/tyre pump but now the battery fails to hold charge and Silverline''s spares department cannot supply a replacement. Very poor.
---
Por: Phil H
2017-08-01T00:00:00
very happy with the product
---
Por: Ron H
2017-05-27T00:00:00
Into action straight away when Grandsons Birthday present arrived deflated (football).
---
Por: Peter S
2017-03-24T00:00:00
I found that this failed to work when I needed it and now note the following from the manual: - The jump starter works in parallel with the fitted battery to provide increased current capacity [so may not be enough if vehicle battery totally flat] - This jump starter will only be effective when ... the vehicle's battery is in a serviceable but partly discharged state [definitely no use when vehicle baterry is totally flat] Pity the advertising blurb doesn''t mention this. I guess need to go for something with higher power output
---
Por: Anthony
2017-03-09T00:00:00
I''ve used it as a portable air compressor to fill trailer tyres and it is handy for that (don''t have to get flat tyres to a compressor). Not used the jump starter yet. Like the idea of having mobile charging unit for phones etc. Bought it because it says it can jump engines up to 2500cc
---
Por: Ian L
2017-03-08T00:00:00
This product is great I have a 2.2 deisel 4x4 and there was no problems starting this I recommend this product to anyone for the extra boost.
---
Por: Mick
2017-02-25T00:00:00
Bought this for my girlfriends car. It''s a modern 1.6 petrol Renault but she drives a lot for work and on a couple of occasions she''s left her lights on etc and has had to mess about trying to get a jump start or worse , suffer what any independent professional woman hates - having to call the AA out to help her! So , she feels much more confident having this strapped in the boot. She even checks the charge level periodically. She likes the idea of having an emergency light and compressor too. Not had to use it in anger yet ( thankfully ) but having used similar spec models before, of course it''ll start it fine when needed. The plastic case has a definitely ''budget'' feel to it but that is just superficial and the business parts are what counts. Great price and a decent warranty. Happy days :)
---
Por: Martin K
2017-02-23T00:00:00
Whilst the price is very competative for this type of product, the compressor for tyres is not very good. After a few uses the air flow rate reduced so it took longer to pump up anything and in less than 6 months it failed to pump air at all, just making a noise from the motor. The jump start power still works though. The warranty service from the Silverline website has still not responded to my complaint after several weeks. Not a good product and poor backup service.
---
Por: Steve C
2017-02-23T00:00:00
Rubbish.. Sent your technical team two emails , Never got back to me. Charged the unit for 40 hours and a day later tried it DID NOT WORK
---
Por: J.watson
2017-01-31T00:00:00
Very easy to use gives great peace of mind you can always get home
---
Por: don c
2017-01-29T00:00:00
what more can i say it did exactly what it said on the box, and excellent price
---
Por: Gordon t
2017-01-28T00:00:00
Have used the jump start on several occasions and it has never let me down, was a little apprehensive at first but it is a good piece of kit. Also the compressor is very good much easier than a foot pump
---
Por: Steve B
2017-01-24T00:00:00
Good around product, strong, effective and essential tool
---
Por: Ray h
2017-01-23T00:00:00
The air compressor switch has stopped working!
---
Por: Richard L
2017-01-21T00:00:00
My 2.2 diesel car battery doesn''''t hold its charge if I don''''t use it for a few days, this jump starter works for me every time. The air compressor gauge is a bit unclear but it pumps your tyres no problem. All in all a good product and great value for money.
---
Por: Ian S
2017-01-20T00:00:00
I have only used the compressor part as yet on my bike tyres, so not really used all the facilities. I did have a problem with the charging but since had a partial answer from your tech side. The basic question was what voltage does the charger put out. There is something loose inside the charger and it was putting out 20volts open circuit on a multimetre, is that correct? So really it is not a comment on the product more a possible long term issue if the charging voltage is too high.
---
Por: Rod S
2017-01-14T00:00:00
I Purchased this product on line and was initially very happy with it as it fulfilled all functions satisfactorily however after charging it as per instructions I noticed that the retained charge was steadily reducing after each charge till eventually it would not respond at all on inspecting the battery terminals I found one of them to be loose unfortunately the battery had deep cycled so far that it would no longer retain a full charge I now cannot find a replacement battery to fit the equipment. Disappointed !
---
Por: arthur s
2017-01-12T00:00:00
I hade two from you. one for my son and for my self and we try both out v.v good
---
Por: Ian E
2016-12-14T00:00:00
After charging Jump Starter worked fine on my Ride On Mower Battery. Just a tip before using, top it up.
---
Por: Amy
2016-11-30T00:00:00
This is the worse thing Ive ever brought twice now Ive had to replace it and its failed again it doesn''''t even jump start my car
---
Por: Nigel R
2016-11-08T00:00:00
This product is rubbish. The compressor did not work from the start. It would cost probably close t a third of the value to send it back. Also when I went on your site to register the tool as faulty the only thing I could do was look at new products. Will not be buying Silverline again. I left one star as it is not possible to leave none.
---
Por: Vic S
2016-10-27T00:00:00
After one month went to use the Comprresor it fell apart ! After two months using the jump starter tried to charge the batteries the charger didn`t work ! And now in the process of trying to send it back, being told at my expense "which will not be cheap"
---
Por: Arun G
2016-10-26T00:00:00
I bought this in case of emergency, but have not needed to use it yet. However, it does seem to be excellent value for money.
---
Por: Ovidiu
2016-10-21T00:00:00
It''''s working perfectly,very good I start very quick my 2.2 Diesel engine,yes I recommend this jump starter.
---
Por: Robin W
2016-10-18T00:00:00
Works well. It needs charging monthly. Tyre inflator is good.
---
Por: Mrs C
2016-10-16T00:00:00
I''''ve used the jump starter a few times already even though I have full breakdown cover service with my car insurance, but it was going to take too long for the recovery service to come out to me &amp I was in a hurry to get to an appointment so used the jump start kit. As long as you charge up the unit after every time you it &amp once a month or so it will last ages. My teenager finds it useful too to pump his tyres up on his bike but the light is only useful for whilst your working/using the kit, you wouldn''''t use the kit for just the light/torch as its too bulky. So far I''''ve not needed to use the power point (car charger/cigarette lighter socket - don''''t know the official term for this type of power point - 12v socket), so can''''t comment on that but I''''d imagine it would be useful although I don''''t know how long it would last before draining battery too much.
---
Por: kenneth c
2016-10-15T00:00:00
one of the best products I have bought
---
Por: GUISEPPE C
2016-10-12T00:00:00
FIRST CLASS PRODUCT AND SELLER
---
Por: Chris G
2016-10-11T00:00:00
I highly recommend this charger, it''''s got me going on more than a few occasions. The compressor is good and quick but it is a little bit loud and the light is definitely bright enough. Keep it charged as recommended and it won''''t let you down.
---
Por: Andy
2016-10-11T00:00:00
I bought this as a backup for my 1600 petrol Rover 45 in the winter mornings and for this it did the job. I found it wouldn''''t start the car if the battery was completely discharged but I guess not even the top of the range items would be able to. The air compressor was very useful, beats a foot pump any day! The only slight downsides were I found the leads were mightily short to connect to a battery, I had to almost lay the unit down to get them to reach and when recharging the mains adaptor got very hot. Overall a good purchase and very good value for the price paid.
---
Por: Craig K
2016-10-10T00:00:00
Great piece of equipment. I got this as my father''''s car saw little use and frequently had a low battery. I have a classic that also will see limited use so will need this when it''''s restoration is finished and comes out of its annual hibernation. I use the compressor for my and my kid''''s bike tyres and their footballs.
---
Por: Len S
2016-10-10T00:00:00
Absolute Rubbish. You could not Jump Start a Moped with this.
---
Por: Jim
2016-10-10T00:00:00
Excellent don''''t know how I have done without it in the past
---
Por: Graham G
2016-10-10T00:00:00
The compressor''''s pressure gauge is around 20psi over the actual. The reason I did not return - to Tesco - was the fact I kept forgetting and I work around it. I always check pressures with a trusted gauge. The unit itself is very handy, if somewhat heavy, and does the job I wanted it to do which to inflate caravan and m/cycle tyres and purge water out of the c''''van system. The latter is pressure critical so I actually run another compressor off this one. A round about way I know but who''''s to say a replacement unit will have a better gauge and it really is a handy machine in isolated places nowhere near the car''''s 12v outlets. BUT if you depend on the unit''''s gauge make sure you check the accuracy.
---
Por: CABARAT A
2016-10-10T00:00:00
Très bon produit aussi bien en demarreur qu''''en gonfleur
---
Por: Roy A
2016-10-10T00:00:00
Works very well, the tyre infator is slow but sure but really bought as booster, good warranty should see that that''''s it''''s also great value , not let me down yet after 12 months,
---
Por: David M
2016-10-10T00:00:00
Does the job it says on the box a must for those cold winter mornings when the battery needs a boost
---
Por: Peter B
2016-10-10T00:00:00
What a brilliant piece of motoring Must Haves, this has saved my bacon, my neighbours and a motorist in a supermarket car park. You never know when a battery is going to fail but having one of these takes that worry from you. I charge mine and put it in the boot for all my long journeys...... Brilliant. A Must Have Standby
---
Por: Phil S
2016-10-02T00:00:00
I purchased this as my old one''s battery had failed and it was cheaper to a new one than to replace it.This has been a good buy and was in regular use until the compressor failed,however the three year guarantee was honoured and the unit was replaced!Thankfully the unit is in regular use again.........great
---
Por: Beezageoff
2016-09-29T00:00:00
Ive not had cause to use this ''in anger'', but I have used one in the past and it worked a treat, so I thought that I would get myself one just in case.
---
Por: Roy c
2016-09-28T00:00:00
Air pump very noisy, only any good for bicycle tyres, very disappointed feel it''s a poor cheaper version of something that was good. Would not of purchased it from a shop.
---
Por: Barry T
2016-09-27T00:00:00
A very smart and compact product. I used this item to jump start the battery on my camper van as soon as it was charged up. It started up straight away and i was able to get away for the weekend.
---
Por: Chris t
2016-09-26T00:00:00
Not powerfull enough starts smoking and gets very hot
---
Por: I R
2016-09-26T00:00:00
very pleased with the quality of the product for the price. and it works well
---
Por: dal
2016-09-26T00:00:00
does what it says ,but be careful as the compressor has a small metal arm thats connects piston to motor cog which is made of a soft metal and wears and breaks after using about 10 times ?design fault i guess but really expensive to return as it heavy and return postage has to be paid by yourself and nonrefundable
---
Por: Peter G
2016-09-26T00:00:00
Very useful and robust. Easy to use.
---
Por: Phil
2016-09-26T00:00:00
I have used this product many times, both on my own car and a friend''s. It works! Best to keep it fully charged.
---
Por: Ian
2016-09-26T00:00:00
The jump starter is a disappointment, it will not start a car with a completely flat battery. The compressor works ok though.
---
Por: Peter l
2016-09-26T00:00:00
Very good buy, works perfectly, very pleased with my purchase
---
Por: Nigel O
2016-09-26T00:00:00
Very pleased with the product, use it often with no problems
---
Por: g h
2016-09-26T00:00:00
---
Por: Raymond R
2016-09-26T00:00:00
A very hand tool I carry in car boot and also find it handy in my shed
---
Por: Jim O
2016-09-26T00:00:00
Very happy with this purchase good price as my wife has a happit of leaving lights on and flatting battery
---
Por: IAN L
2016-09-26T00:00:00
I followed the instructions exactly but the product would not start a small ride on mower we have and the charge dropped very quickly so I tried it again after charging still did not start the mower. I did use it to pump up a tyre but it seemed to take forever so I sent the product back. The returns procedure was very simple but I still have not received a credit even though it was returned within the 30 days. I am finding the e bay help line difficult to access also, so really not at all happy with my purchase or the refund procedure.
---
Por: Stan R
2016-09-05T00:00:00
Very handy, it started our BMW prior to replacing the battery. We use it for camping, powering for airpumps and portable tv, and use the light for illumination at night. No problems to date, we charge it once a month as per instructions.
---
Por: Colin S
2016-09-05T00:00:00
The compressor on this product only worked the first time it was used complained to company through the complaints process but was told as I purchased item more than 28 days after purchase it wasn''''t there problem so I''''m left with a product which is faulty!!
---
Por: Adrian Y
2016-09-05T00:00:00
Great multi-function starter however the cover for the air line is a tad awkward. All in all does what it said and I''ve used it a few times.
---
Por: Keith F
2016-09-05T00:00:00
All the parts work OK apart from the air pressure gauge. The gauge is very inaccurate and obviously cheap, and can''t be relied on. You need to use a separate tire pressure gauge. So not impressed.
---
Por: richard d
2016-08-30T00:00:00
would not start my mondeo diesel. just not man enough for the job
---
Por: R.Portier
2016-08-30T00:00:00
Fast delivery, doesn''t make a lot of noise. I recommend this product . Thanks
---
Por: R.Portier
2016-08-30T00:00:00
Good product, sound acceptable I recommend this product.
---
Por: john
2016-02-25T00:00:00
poor. wont start a flat car. silverline warranty not worth 2 shock offs
---
Garantía 3 años
Este producto Silverline Arrancador de emergencia y compresor de aire dispone de 30 días de garantía desde la fecha de compra contra defectos de fabricación y materiales defectuosos. Registre su producto online para extender el periodo de garantía 3 años. Todas las piezas defectuosas serán reparadas de forma gratuita.
Los clientes interesados en este producto, también han visto...
No se han visto otros productos