124799
Fresadora ½", 2050 W
2050 W
---
---
Pinzas de apriete de 1/2", 1/4", 8, 10 y 12 mm
Velocidad variable y encendido progresivo
Ajuste de profundidad de 0 - 50 mm, tope de torreta con 7 posiciones
Incluye casquillos copiadores de 21 y 30 mm
Plantilla y plantilla de fresado circular, 5 pinzas de apriete y llave de ajuste
---
Comprar online
Buscar un distribuidor
Comentar este producto
22 comentarios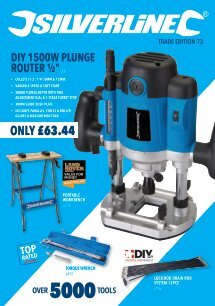 ---
Características técnicas
| | |
| --- | --- |
| Clasificación PPI | IPX49 |
| Velocidad variable | Sí |
| Potencia | 2050 W |
| Tamaño de la fresa | 1/2" |
| Velocidad sin carga | 6.000 - 24.000 min-1 |
| Profundidad | 50 mm |
| Número de pinzas de apriete | 5 |
| Tamaño de la pinza de apriete | 1/2", 1/4", 8, 10 y 12 mm |
| Salida de extracción de polvo | Sí |
| Peso | 5,7 kg |
---
Videos
---
Descripción del producto
Fresadora con potente motor de 2050 W indicada para trabajos de carpintería y ebanistería. Incluye 5 pinzas de apriete compatibles con gran variedad de fresas.
Función de encendido progresivo para evitar los movimientos abruptos al encender la fresadora. Control de velocidad variable para adaptarse a diferentes tareas. Esta fresadora le permitirá trabajar la madera de forma fácil y obtener siempre un acabado de alta calidad.
El mecanismo de ajuste de profundidad (0 - 50 mm) de esta fresadora y el microajustador le permitirá ajustar la herramienta fácilmente según el trabajo requerido. El bloqueo del husillo le permitirá sustituir las fresas de forma segura y evitar el encendido accidental.
Velocidad sin carga entre 6.000 - 24.000 min-1, interruptor de gatillo y botón de seguridad para evitar el encendido accidental y daños en la pieza de trabajo.
Incluye casquillos copiadores de 21 y 30 mm, guía paralela, guías deslizantes, plantilla y plantilla de fresado circular, 5 pinzas de apriete y llave de ajuste.
---
Contenido en el embalaje
Fresadora 1/2", 2050 W
5 pinzas de apriete (1/2", 1/4", 8, 10 y 12 mm)
Guía paralela
5 fresas
Escobillas de carbón
Llave de ajuste
Manual de instrucciones
---
Comentarios realizados por nuestros clientes
Por: David Brealey
2016-09-12T00:00:00
THE SILVERSTORM ROUTER IS AN AFFORDABLE POWERTOOL THAT MAKES ALL THE DIFFERENCE TO DIY PROJECTS. IT IS SOLIDLY BUILT AND PERFORMS WELL ; IT IS EASY TO USE AND HANDLES LIKE A MORE EXPENSIVE ROUTER.
---
Por: Tim Helyar
2016-09-12T00:00:00
A powerful router for a great price invaluable sturdy carry box....great all round. Bought this to do worktop joints.....Did the job well.
---
Por: Darren
2016-09-12T00:00:00
Good router does everything I want it to can''t complain
---
Por: Ian
2016-08-16T00:00:00
This is my first router and having read about them on line decided to get the Silverstorm. I have used it a few times now and have to say i am really pleased with with the results, you can''t go wrong with the price and quality of the router. you also get a case with 5 collets,5 router cutters, parallel guide bar, template guide and a roller circle guide. I have bought a few Silverline tool in the past and have never had any complaints so if you are looking to buy a router look no further, i would recommend this one
---
Por: rolland
2016-08-15T00:00:00
nice tool, good price, what else ?
---
Por: Paulo Bomfim
2015-04-04T00:00:00
What is the voltage of the router?
Hi Paulo. Thanks for your comment. The voltage of this product is 220V / 240V.
---
Por: Jean-Marie SIMON-PIAZZA
2018-09-26T00:00:00
Sans aucun problème, le matériel est parfaitement conforme à mes attentes.
---
Por: Ievgenii
2018-07-18T00:00:00
The plunge router works fine so far. Great that it has several adapters for different diameter of drills. One drawback is that it changes the frequency sometimes without rolling the speed roller.
---
Por: Jan Tuender
2018-06-23T00:00:00
I have been using a low power (500W) German router for several years. Results not always good, specially with tough wood (oak). An experienced hobbyist advised me to switch to a more powerful model. So I bought this one. First run was oak wood 22 mm wide cut 8 mm deep. Beautiful result, machine had no problem at all, very precise and smooth cut. Boy, am I happy with this one!
---
Por: Walther Lorenz
2017-11-18T00:00:00
This Router ist very powerfull, when using it for preparing Kitchenette worktop.
---
Por: COUVELARD Eddy
2017-11-09T00:00:00
Hello, I''m happy to have bought this router. For now everything I want to do is good. I have only a remark ... the ruler ... (sorry I''m French) The "steps" don''t match enough with the "clockwork" ... I am working in Metal industry, so I can find some tips to resolve the problem. More "steps" will be better to set the level of the scalltop height. Thx. Bye
---
Por: Brimant
2017-04-02T00:00:00
After some tries of handling, I am satisfied by my purchase. The router is a little bit heavy but it assure the stability during the use. All the accessories delivered with are welcome.
---
Por: Pat
2017-03-29T00:00:00
Très bon produit au rapport qualité prix imbattable.
---
Por: Simone mura
2017-02-15T00:00:00
It works, i used it under a table.
---
Por: Simone Mura
2017-02-14T00:00:00
I bought this router for my table and it works very good! Only bearings are a little noisy and i hope they work a lot of time but thanks to the 3 years warranty it is a minor problem.
---
Por: Chris hood
2017-01-13T00:00:00
Cracking piece of kit.does jobs effortlesy and smooth to handle.have recommended to friends.who also diy.
---
Por: Franco Tambornino
2016-12-07T00:00:00
Ottimo prodotto con alta potenza del motore senza però avere forti vibrazioni, anche la rumorosità è accettabile. Le frese in dotazione sono di buona fattura. Utensile valido sia per hobby che per professione.
---
Por: Rafel Martorell Cerdá
2016-12-03T00:00:00
Very good tool. It works great. Relación calidad precio insuperable. Me ha sorprendido gratamente lo bien que va la herramienta
---
Por: Ian
2016-11-12T00:00:00
Bought this to do a few jobs around the house. I looked around at a few other makes but decided to buy the Silverline.as i have bought a few hand and power tools from Silverline and they have always been well made and this is no exception a great router and a bargan at the price, it is as good as some other makes at twice the price.
---
Por: Keith Richardson
2016-09-13T00:00:00
Excellent router copes with worktops easlisy
---
Por: Roger English
2016-09-13T00:00:00
Substantial, powerfull and above all accurate and easily controlable thanks to the soft start feature. Whether used as a hand held tool or fixed to a router table this is an excellent router. With the 3 year warranty this router represents outstanding value for money.
---
Por: Aurelian Lupu
2016-09-12T00:00:00
I''m happy with this tool , good price-quality relation.
---
Preguntas más frecuentes (FAQ)
Can the power switch be locked on?
No, this is a safety feature. If using with a compatible router table, an additional strap will be required to maintain power
What size collets does this come with?
1/4", 1/2", 8mm, 10mm & 12mm
What size guide bush is included?
Includes 21mm & 30mm outside diameter guide bush plates
What size is the base?
The base plate for this router is 195mm
---
Garantía 3 años
Este producto Silverline Fresadora ½", 2050 W dispone de 30 días de garantía desde la fecha de compra contra defectos de fabricación y materiales defectuosos. Registre su producto online para extender el periodo de garantía 3 años. Todas las piezas defectuosas serán reparadas de forma gratuita.