126898
Taladro percutor 710 W
710 W (UK)
---
---
Velocidad variable y cambio de sentido de rotación
Portabrocas sin llave de 13 mm
Botón de bloqueo
Capacidad de perforación: madera 25 mm, mampostería 13 mm, acero 13 mm
Empuñadura auxiliar ajustable y tope de profundidad
---
Comprar online
Buscar un distribuidor
Comentar este producto
18 comentarios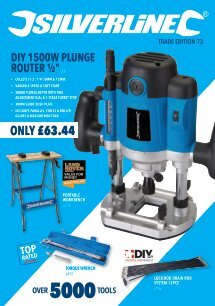 ---
Características técnicas
| | |
| --- | --- |
| Calibre | Plástico |
| Acabado - Empuñadura principal | PA6 y TPR |
| Clasificación PPI | IPX11 |
| Ajuste de profundidad | 100 mm |
| Potencia | 710 W |
| Velocidad sin carga | 0 - 3.200 min-1 |
| Tamaño del portabrocas | 13 mm |
| Tipo de portabrocas | Peacock, sin llave |
| Velocidad variable | Sí |
| Perforación en madera | 25 mm |
| Perforación en mampostería | 13 mm |
| Perforación en acero | 13 mm |
| Peso | 1,9 kg |
---
Descripción del producto
Taladro percutor Silverline con potente motor de 710 W indicado para utilizar en tareas de construcción, talleres de trabajo y también para uso doméstico. Función para desactivar el modo percutor y utilizar el taladro en modo atornillador.
Diseño ergonómico con empuñaduras engomadas para reducir las vibraciones y el cansancio durante usos prolongados. Capacidad de perforación en madera: 25 mm y acero, metal, hormigón: 13 mm.
Empuñadura auxiliar ajustable para adaptarse a diferentes posiciones y mejorar el control de la herramienta. Velocidad variable para mayor versatilidad y eficacia.
Engranajes metálicos para mayor rendimiento y durabilidad. Active siempre el modo percutor para perforar hormigón y materiales de mampostería. Desactive siempre el modo percutor cuando vaya a perforar en madera y acero.
Esta herramienta Silverline es compatible con gran variedad de accesorios. Se recomienda utilizar el juego de brocas HSS Titanio y brocas TCT para mampostería, 19 pzas (633805).
---
Contenido en el embalaje
Taladro percutor 710 W
Tope de profundidad
Empuñadura auxiliar
Escobillas de carbón
Manual de instrucciones
---
Comentarios realizados por nuestros clientes
Por: Jill
2020-01-01T00:00:00
Hubby is over the moon with this drill, its small and does the job he wants to do in tight spaces. Thank you.
---
Por: Diego
2019-11-16T00:00:00
Very good fully recommended
---
Por: Kevin o
2019-06-24T00:00:00
Great power with hammer control, variable speed and solid drill. Well worth buying.
---
Por: Phil W
2019-06-06T00:00:00
I''ve not used the drill a lot as yet but I have used it a couple of times to drill in wood and just as a test and out of curiosity I drilled a couple of holes in an old hard brick with no problem. So far I would definitely recommend this drill!
---
Por: Tony R
2018-12-14T00:00:00
Just brilliant, more or less same spec and just as good as the Bosch drill I''m replacing for half the price!
---
Por: Ms H
2017-10-11T00:00:00
Excellent product, great value for money, and a 3 year warranty! What''s not to like 😊
---
Por: Garry S
2017-04-25T00:00:00
Great hammer drill at a budget price. Well made, robust and good balance in the hand. Generous cable length, smooth speed shift and a hand-tighten chuck stand out at this level.
---
Por: Paul M
2017-04-08T00:00:00
Excellent value for money
---
Por: Tony N
2017-03-09T00:00:00
When looking at quality, one normally says, "You get what you pay for." BUT this gem of a hammer drill does not fit that adage. It performs as well as similar tools three or more times the cost. And although it is light for ease of use, it is no lightweight when it comes to doing the biz. Thoroughly recommend it.
---
Por: Tony N
2017-03-02T00:00:00
Comfortable to hold, packs a punch that is incredible for it''s comparatively low wattage, a really good all rounder drill, driver, hammer drill.
---
Por: Rich
2016-11-29T00:00:00
Recently purchased this drill for light DIY use, and so far it''''s been performing great. The hammer action is great for going through masonry with ease with good bits and its got plenty of torque for my requirements.
---
Por: Noel P
2016-09-21T00:00:00
I bought this Electric drill as a cheap replacement for my burnt out old Black and Decker when I needed to do some tough hammer drilling in some hard burnt brickwork and expected it to fail after a shorty while. I examined the product out of the box and was surprised how good the build quality is and after some very hard work the drill is still performing well with no sign of damage or wear and tear a year later. It was a bargain and I am very pleased with it.
---
Por: Martin H
2016-09-15T00:00:00
A great hammer action backed up by loads of power, this drill is a lovely addition to my power tool collection, smooth power delivery and a hammer action that isn''t much less than that of my SDS, It eats through brick and blocks with ease and is small enough for you to keep full control.
---
Por: Ken P
2016-09-12T00:00:00
This is probably the best drill I have owned. It is light in weight in comparison to most other drills and very powerful. It will undertake anything that is expected of a drill, whether drilling wood, brick or metal. Value for money certainly I would give 10 out of 10 for performance
---
Por: Kenneth C
2016-09-12T00:00:00
A good powerful drill - very satisfied.
---
Por: Steve P
2016-09-12T00:00:00
I use the drill for a few odd jobs around the house, and over the last year or so it has performed very well. It''s got more than enough power for the jobs I''ve done, (including drilling in to concrete, bricks and tiles). Armed with an extension cord and this drill, I''ve been able to abandon my battery drill, which never quite had enough oomph or enough life to complete more than a very easy job. The slowest slow speed isn''t really slow enough to use as a regular screw driver, but I have managed to use it that way. You just have to be careful to press lightly and be prepared to stop quick, as the drill is very quick.
---
Por: Keith S
2016-09-12T00:00:00
I have only used the drill a few times and the trigger switch mechanism has already fallen apart. In my opinion the price reflects the quality. Have now replaced with a more expensive but hopefully more robust make.
---
Por: Sue C
2016-08-09T00:00:00
very pleased with this product
---
Garantía 3 años
Este producto Silverline Taladro percutor 710 W dispone de 30 días de garantía desde la fecha de compra contra defectos de fabricación y materiales defectuosos. Registre su producto online para extender el periodo de garantía 3 años. Todas las piezas defectuosas serán reparadas de forma gratuita.