238104
Cepillo de carpintero nº 7
Cuchilla 60 x 2,4 mm
---
---
Cepillo de hierro con mangos de madera de palisandro
Tornillo de ajuste de latón
Cuchilla resistente de 2,4 mm
Anchura de la cuchilla: 60 mm
---
Comprar online
Buscar un distribuidor
Comentar este producto
5 comentarios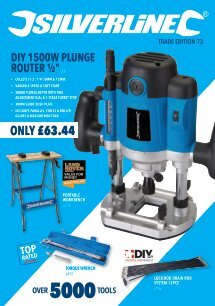 ---
Características técnicas
| | |
| --- | --- |
| Acabado - Empuñadura principal | Madera de palisandro |
| Diámetro - Empuñadura auxiliar | 40 mm |
| Diámetro - Empuñadura auxiliar | 40 mm |
| Anchura de la hoja | 60 mm |
| Anchura máxima de corte | 60 mm |
| Peso | 3,75 kg |
| Mecanismo de ajuste | Tornillos de latón |
| Endurecido | Sí |
---
Videos
---
Descripción del producto
Cepillo de hierro con mangos de madera de palisandro y 2 tornillos de latón. Caras moleteadas, tornillo de ajuste de latón y cuchilla resistente de 2,4 mm. Anchura de la cuchilla: 60 mm.
---
Contenido en el embalaje
Cepillo de carpintero nº 7
---
Comentarios realizados por nuestros clientes
Por: guillermo botas romero
2018-05-31T00:00:00
Nuy buena relación/ calidad precio, muy buena herramienta pero no son correctas las medidas de la cuchilla: grosor ofertado 3 mm. pero la cuchilla suministrada pasa justo de los 2 mm.
---
Por: Stephen Shortland
2017-02-05T00:00:00
Blade out of square and blunt, blade bolt not locking. Both fixed, but base of plane has a small chunk missing from it. I didn''t expect great quality, but had hoped for better than I got.. Silverline no help as I was expected to return it at my own expense under warranty.
---
Por: Stephen Shortland
2017-01-29T00:00:00
Seems to be a solid, well built Plane base but the blade was 4mm out of square and the Holding Screw thread is no good. Cleaned up the blade and changed the screw and (so far) all is ok. Can''t complain for the price, although when I notified Silverline, they wanted to inspect the product - at my expense!
---
Por: simon gill
2016-09-26T00:00:00
The base is square, the cast is heavy. Cant say how soft the blade is yet. I paid £30 delivered, this is a lot of tool for the money. its early days so it could fall apart, but if they honour thhe guarantee even thats not a problem. Being asked to review a tool within a week of buying it doesnt give much time for dissappoinment, based on what ive seen so far Im pleased.
---
Por: Bryan Smyth
2016-06-29T00:00:00
just arrived to day, checked to see how flat the surface was, just to be disappointed. set on a cast iron surfacing table l can get two pieces of A4 paper underneath with ease.
---
Garantía de por vida
Este producto Silverline Cepillo de carpintero nº 7 dispone de 30 días de garantía desde la fecha de compra contra defectos de fabricación y materiales defectuosos. Registre su producto online para extender el periodo de garantía de por vida. Todas las piezas defectuosas serán reparadas de forma gratuita.