273203
Brocas Forstner con revestimiento de titanio, 7 pzas
12 - 35 mm
---
---
Acero al carbono con revestimiento de titanio
Bordes de corte con forma radial
Extracción rápida de virutas
Indicdas para realizar agujeros superpuestos, ocultos, a ras y con fondo plano
Diámetros: 12, 16, 20, 22, 26, 30 y 35 mm
---
Comprar online
Buscar un distribuidor
Comentar este producto
12 comentarios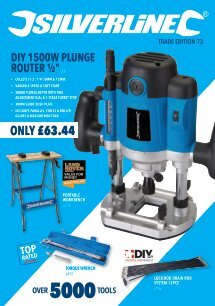 ---
Características técnicas
| | |
| --- | --- |
| Acabado | Revestimiento de titanio, pulido, revestimiento en seco resistente a la corrosión |
| Peso | 0,046 kg,0,047 kg, 0,050 kg, 0,066 kg, 0,0769 kg, 0,075 kg, 0,089 kg |
| Ángulo extremo | 4 - 2 Radial - 2 planas |
| Tipo de punta | 4 - 2 Radial - 2 planas |
---
Descripción del producto
Punta redonda para perforar formas circulares. Bordes de corte con forma radial revestidos en titanio para mayor durabilidad. Realiza agujeros con fondo totalmente plano. Extracción rápida de virutas. Tamaños: 12, 16, 20, 22, 26, 30, 35 mm.
---
Contenido en el embalaje
Broca Forstner de 12 mm
Broca Forstner de 16 mm
Broca Forstner de 20 mm
Broca Forstner de 22 mm
Broca Forstner de 26 mm
Broca Forstner de 30 mm
Broca Forstner de 35 mm
---
Comentarios realizados por nuestros clientes
Por: Jaap B
2020-01-25T00:00:00
Erg blij met deze aankoop! Het enigste minpunt wat mij betreft is het ontbreken van een opbergdoosje/kistje.
---
Por: Jan-Willem
2019-07-13T00:00:00
This set was cheaper than a single 35mm forstner bit. It ate through the wood just fine though. Don''t know how it will keep up in the long run, but so far so good.
---
Por: Jason v
2019-01-25T00:00:00
Have used my new set twice and they are fantastic! They slice through the wood easily leaving a perfectly clean circle behind! Should have bought this earlier... :)
---
Por: Peter R
2018-11-17T00:00:00
My wife bought the bits back to NZ for me. The bits look ok - I haven''t used them as yet, but I will let you know if they don''t perform.
---
Por: Keith V
2017-06-19T00:00:00
I purchased these after having brought another brand and after spending 15 minutes trying to put a hole in a bit of 50mm wood to stand a solar light in I gave up with them. I then went straight to a Silverline set of bits and purchased them.... (what a plonker Ii am for trying to save a bit of money ) I received them on Saturday and with 15 minutes I had drilled out 8 holes, and the solar lights really look good stand up in these holes on my raised Pond. Less time than 1/2 of one of the other set. I registered them straight away for their great lifetime guarantee as with all my other Silverline tools I have. If you want a tool, check out Silverline 1st and remember not many companies offer the guarantee in their own products like Silverline do !!!
---
Por: Mathew
2017-02-24T00:00:00
---
Por: cyril m
2016-12-11T00:00:00
set parfait pour s"équiper sans se ruiner
---
Por: cyril
2016-12-04T00:00:00
produit pas cher et lot de bonne taille idéal , l'affûtage mériterait d'être un peut plus pousser .
---
Por: WouterWS
2016-10-17T00:00:00
Forstnerboren zijn geschikt voor het boren van exacte gaten met grotere diameters en met name voor blinde gaten met een vlakke bodem. De titanium-coated forstnerborenset van Silverline is een zeer betaalbare set boren met veelgebruikte diameters die, zeker voor de veeleisende hobbyist, een prima bruikbaar resultaat leveren.
---
Por: Ken T
2016-10-10T00:00:00
Since I bought these drills I''''ve been using them almost daily. It is a joy to work with. They are very well made and very durable. They also don''''t have blowout at the back of the work piece. An A-class product.
---
Por: George H
2016-10-10T00:00:00
Purchased the set of seven to use with my wood lathe gives accurate and I would give it a 5 out of 5 for what I can use it for.
---
Por: Pat O
2016-09-26T00:00:00
These drill bits are sharp on arrival and feel sturdy and safe in use. I''ve not discovered any problems whilst using them.
---
Garantía de por vida
Este producto Silverline Brocas Forstner con revestimiento de titanio, 7 pzas dispone de 30 días de garantía desde la fecha de compra contra defectos de fabricación y materiales defectuosos. Registre su producto online para extender el periodo de garantía de por vida. Todas las piezas defectuosas serán reparadas de forma gratuita.