278373
Juego de varillas de drenaje Lock Rod, 12 pzas
---
---
Varillas de polipropileno robustas, flexibles y resistentes
El extremo doble del tornillo y la presión ejercida con la varilla desatascan los espacios obstruidos
Mecanismo Lock Rod para utilizar las varillas en ambas direcciones
Tornillos moleteados para mayor adherencia y facilidad de montaje
Incluye 10 varillas Lock Rod 920 mm, 1 desatascador 100 mm, 1 extremo con doble tornillo 50 mm
---
Comprar online
Buscar un distribuidor
Comentar este producto
3 comentarios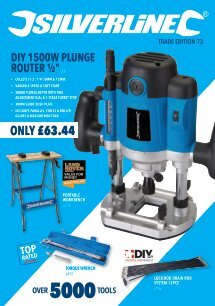 ---
Características técnicas
| | |
| --- | --- |
| Acabado | Varillas de polipropileno con fijaciones galvanizadas |
| Método de construcción | Varillas de polipropileno con extremos metálicos |
| Peso | 1,85 kg |
| Grosor | 2,4 mm |
---
Descripción del producto
Varillas de polipropileno robustas, flexibles y resistentes. El extremo doble del tornillo y la presión ejercida con la varilla desatascan los espacios obstruidos. Mecanismo Lock Rod (patente en trámite) para utilizar las varillas en ambas direcciones. Tornillos moleteados para mayor adherencia y facilidad de montaje. Incluye 10 varillas Lock Rod 920 mm, 1 desatascador 100 mm, 1 extremo con doble tornillo de 50 mm.
---
Contenido en el embalaje
Bolsa de transporte transparente
Extremo con doble tornillo
10 varillas Lock Rod
---
Comentarios realizados por nuestros clientes
Por: Mr. B
2020-06-05T00:00:00
I bought a set of Lockrods, along with various accessories and attachments, recently, and would like to mention one or two improvements that would be of benefit. Firstly, the tongue on the male end, and corresponding socket on the female end meet-up at the same time as the screw threads do, making them awkward to assemble. I would suggest extending the tongue by about 2 - 3 millimetres to allow the tongue and socket to engage before the screw threads meet-up. Second point is the screw parts are knurled and will eventually wear smooth. Also they would be difficult to grip covered in slime after removal from a pipe, I would recommend the brass fittings be made from hexagonal stock, allowing the connections to be tightened and undone with a suitable spanner. I have a number of tools which, although apparently not made by you, appear quite useful. One such tool is a crank handle allowing the user to twist the rods. My suggestion is a sliding "T" bar, with the tommy bar about 25 - 30 cm in length, allowing two-handed operation, and the sliding "T" enabling adjustment of the leverage.
---
Por: JOHN T
2017-10-14T00:00:00
FROM A DIY POINT OF VIEW THEY WORK WELL ALTHOUGH THE LOCKING SCREWS CAN BE STIFF. THEY DO NOT COME WITH A DRAIN BRUSH .DOES ANYONE KNOW IF YOU CAN GET ONE AND FROM WHERE ??
---
Por: Steve C
2016-08-05T00:00:00
Excellent piece of kit. Used to unblock a drain recently. Really quick and easy to put together and work well, making the job quick and easy! Would definitely recommend - fantastic bit of kit and excellent value.
---
Garantía de por vida
Este producto Silverline Juego de varillas de drenaje Lock Rod, 12 pzas dispone de 30 días de garantía desde la fecha de compra contra defectos de fabricación y materiales defectuosos. Registre su producto online para extender el periodo de garantía de por vida. Todas las piezas defectuosas serán reparadas de forma gratuita.