323710
Destornilladores hexagonales con mango en T, 10 pzas
---
---
Acero cromo-vanadio
Mango en T de plástico moldeado
Soporte metálico
Tamaños: 2, 2,5, 3, 4, 4,5, 5, 5,5, 6, 8 y 10 mm
Doble extremo
---
Comprar online
Buscar un distribuidor
Comentar este producto
129 comentarios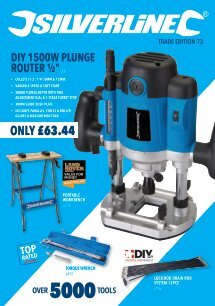 ---
Características técnicas
| | |
| --- | --- |
| Tamaño del atornillador | 2, 2,5, 3, 4, 4,5, 5, 5,5, 6, 8, 10 mm |
| Tipo de atornillador | Hexagonal |
| Acabado | Cromado satinado |
| Acabado - Empuñadura principal | Plástico |
| Endurecido | Sí |
| Peso | 0,950 kg |
| Rango/capacidad | 2 - 10 mm |
| Diseño | Hexagonal |
---
Descripción del producto
Destornilladores hexagonales con mango en T. Fabricados en de acero cromo-vanadio. Doble punta y soporte para almacenaje. Destornilladores incluidos: 2, 2,5, 3, 4, 4,5, 5, 5,5, 6, 8 y 10 mm.
---
Contenido en el embalaje
Soporte para almacenaje
Llaves hexagonales con mango en T, 10 pzas
---
Comentarios realizados por nuestros clientes
Por: Richard
2016-08-22T00:00:00
Good quality product for a great price. Have a few silverline tools now, use them weekly and they stand up to the use.
---
Por: Surinder C
2016-08-22T00:00:00
Brilliant hex keys with moulded handles, this lets you use extra force when trying to undo stiff hex bolts and easier on the hands too!
---
Por: Eric T
2016-08-22T00:00:00
brilliant product and excellent value
---
Por: P. F
2016-08-22T00:00:00
The right tool, does the job. Strong and good quality. Works every time.
---
Por: Paul K
2016-08-22T00:00:00
Without realizing it Silverline have in the Hex T-Handle Set the ideal tool for people like me who have extreem difficulty using hand tools of any kind. I am spinal injured with broken neck and am clasified as tetraplegic. I am always searing for tools I can use and this fits the bill. If it is good for me then it must be good for the able bodied as well. A great tool set at a fantastic price. I always review tools I buy measured against my limited physical ability 5* to me means 10* really
---
Por: Marc
2016-08-22T00:00:00
The tools are good and resistant and the prize is very cheap
---
Por: John G
2016-08-22T00:00:00
Was after a set of these to replace my old ones, these have proved. To be excellent in daily use in my trade as an electrician
---
Por: David D
2016-08-22T00:00:00
I purchased this T Handle Hex Set over 12 months ago for working primarily on bikes (mountain, road and motorcycles) and some work on cars. For that period it has been my go to set of hex heads. Overall, all offer a good solid bite on the majority of bolts and screws. Some of the smaller sizes are a ''touch'' small and on cheaper screws can slip. The set has been reliable at a great price. I would recommend as a good set for the home mechanic.
---
Por: Ben
2016-08-22T00:00:00
Great seat of tools for maintenance of my everyday bike
---
Por: Lee B
2022-12-02T00:00:00
Bought the Hex Key T-Handle Set as I install CCTV and found the smaller hex keys are just too fiddly when you''re 10ft up a ladder. These are ideal as they are just as strong and with excellent grip as a lot of very, very expensive other brands.
---
Por: Derrick
2022-11-14T00:00:00
Good tools in most popular sizes and comes with a good storage rack.
---
Por: john
2022-07-01T00:00:00
Well made, comfortable to hold. Work well. What''s not to like?
---
Por: Julie H
2022-05-07T00:00:00
Strong and sturdy product easy to use great value for money and quick delivery.
---
Por: DAVID
2021-06-08T00:00:00
I bought the set for a couple of specific jobs which required a longer reach hex key. I found the plastic handle not only gave much more "feel" in locating the hex bolt when out of sight but was much more comfortable for my arthritic hands to grip. They feel solid, have a lifetime guarantee and were a great price. They will probably outlast me. What more could you want.
---
Por: Mario
2020-06-09T00:00:00
it is reliable and robust, it helps to keep the work table tidy
---
Por: Adi
2020-06-09T00:00:00
Nice set of hex keys in a handy stand at a good price.
---
Por: Duncan
2020-06-09T00:00:00
I didn''t know how much I needed these until I bought them. So much more useful than a traditional Allen key set. Also, comes with a great stand that allows you to easily secure it. Wish I had bought this a long time ago.
---
Por: Giulio
2020-06-05T00:00:00
Ho acquistato questi attrezzi per uso hobby su bicicletta. La robustezza è inimmaginabile per questa fascia di prezzo. Li consiglio
---
Por: Sandy
2020-06-03T00:00:00
Bought these to repair/maintain my bicycle they are almost perfect just missing the ball end for those awkward bolts. They are well balanced and great in the hand even if you have grip problems. Really good for bolts with rounded heads too(YMMV) but I''ve managed to remove a few stripped bolts with the small end.
---
Por: Ben H
2020-05-19T00:00:00
Really well made tools at a phenomenal price. This T-Handle set is perfect for so many tasks and feels well made.
---
Por: Peter R
2020-05-19T00:00:00
Standard hex/Allen keys can be very uncomfortable if you really need to apply a lot of torque. But these ones have the t-handle for a comfortable grip and the longer shaft for better leverage. Nice that they come in a little rack too that you can screw to a horizontal lath at the back of your shed or similar.
---
Por: David B
2020-05-16T00:00:00
The set look good for the price however the smaller Hex Keys can be twist and the metal ends can burr if doing a lot of work with them stronger steel might have helped or thicker steel used part way up to help to strengthen the smaller hex keys.
---
Por: Patrick V
2020-05-16T00:00:00
Just excellent. Ideale tools, liggen goed in de hand en van uitstekende kwaliteit.
---
Por: Mike S
2020-05-13T00:00:00
Great set of t-handle hex keys to have available in the shed. There''s plenty of leverage for stubborn bolts. A good addition to the tool box. On the downside it would be nice to have a ball end for the awkward bolt For the price they''re a good set
---
Por: Pippa
2020-05-03T00:00:00
Quality is very good for the price and the stand is great for tidy storage
---
Por: Jacob
2020-05-03T00:00:00
Brillant value for money, tools are very durable and good quality. And comes with lifetime warranty (if registered). Stand can mark easily and can bend
---
Por: Elliot R
2020-04-19T00:00:00
Was a little worried about the plastic holding up in the handle but so far so good. I''ve used them for numerous jobs servicing my bikes that I can''t fault them. Very handy that they come in a holder that I''ve mounted on a block of wood and attached to my wall of tools in the garage. Would highly recommend and look forward to getting some more Silverline tools in the near future.
---
Por: Eibert
2020-04-03T00:00:00
Nice set hex keys, with good T-handle, giving a firm grip. Nice metal stand, you can easily get the size/ number hex key you need
---
Por: Steven G
2020-03-16T00:00:00
Perfect set for any heating engineer. This has already got me out of a pinch with some odd sized danfoss rad valves that were on so tight that a regular set of Allen keys just did not have the leverage needed to break them. Also essential if servicing boilers. For the sake of £10 - £15 you really cant go far wrong and would be a fool to pass these by.
---
Por: Don J
2020-03-16T00:00:00
Not much to say really, hex keys just work don''t tbey? I just REALLY wish someone would do a set of hex keys with screwdriver handles all I could use them inside my model aircraft easier
---
Por: José C
2020-02-22T00:00:00
Adquirí estas llaves hexagonales porque me compré una bicicleta nueva y no queria romper la tornillería de esta con herramientas de mala calidad, por eso me estuve informando y vi que silverline tools se adecuaba a mis exigencias. Compré estas llaves y hasta el momento estoy muy contento con ellas, no se han redondeado y son muy manejables. Muy recomendable la compra.
---
Por: Ruben
2020-02-20T00:00:00
---
Por: Stephen D
2020-02-19T00:00:00
Arrived with rust showing on the ends of the Allen keys. Would have sent back but needed them on that day. Quality feels OK, because they are opened now I''m hoping Silver line will honor what looks like an OK guarantee. Handles have plastic overspill and are not that well finished. Holder looks OK and holds the Allen keys in the same place but does need to be screwed to or leaned up against something to guarantee that it stays upright. Would I recommend? For the price and if the guarantee is OK then yes... But based on quality alone...then probably not.
---
Por: Sheila P
2020-02-14T00:00:00
Given as a present, this set is perfect for the man who has most tools, and is indeed excellent value at an unbelievable price. And a lifetime guarantee! Will be buying more Silverline products soon.
---
Por: Alex R
2020-02-12T00:00:00
They do exactly as expected, however the plastic on the handle has quite sharp seams and the length of the 8mm and 10 mm isn''t enough to get a good amount of torque on bolts, but for the price very happy
---
Por: Cosmin
2020-02-11T00:00:00
Good quality and good price
---
Por: Sheila P
2020-02-07T00:00:00
Excellent product at a fantastic price! I shall always look for Silverline when I need any more tools in the future.
---
Por: Aaron C
2020-02-01T00:00:00
Really sturdy and work as advertised, sized very well.
---
Por: Noel A
2020-01-22T00:00:00
Bought two sets of these hex keys for doing maintenance work for my job......yes they don''t supply tools. They are pretty sturdy and with a forever guarantee so cant go wrong.
---
Por: Mark L
2020-01-10T00:00:00
These tools are designed for use and are designed for comfort when working with them I even love the nice little stand that comes with them wicked design
---
Por: Sean T
2020-01-05T00:00:00
From what I''ve used them for in short time I''ve had them done what I needed
---
Por: Mark L
2020-01-03T00:00:00
These are some of the best tools I''ve bought
---
Por: Gerard L
2019-12-16T00:00:00
I recently bought a set of security bits,, a set of T handle hex keys and a set of T handle TRX keys. They are quality items and with the lifetime guarantee a no brainer both cheap and excellent quality.
---
Por: James O
2019-12-06T00:00:00
Great priced hex keys and garanteed for ever, really amazing compared to other tool companies. Well made and feel great in the hand
---
Por: Graeme
2019-11-25T00:00:00
For the price paid can't get any better great size range and well designed
---
Por: Paul
2019-11-05T00:00:00
Had to replace a broken tool but these tools have a silverline-ing. Excellent value for money. Top quality professional standard tools at DIY tool prices :) They are that goid that I''m working my way through replacing all hand tools with Silverline kit 😺
---
Por: Robert
2019-10-17T00:00:00
Great set of tools. Already used on installing a difficult piece on my bike. Really a must in a man cave
---
Por: Ian
2019-09-18T00:00:00
Really well made product and at a great price. The lifetime guaranteed speaks volumes. The handles of the smaller wrenches coul be bigger to add to the comfort of use but overall very good.
---
Por: Brian h
2019-09-03T00:00:00
Great range of sizes and strong handles
---
Por: Derek A
2019-08-27T00:00:00
Great addition to any toolbox, ideal for getting into the awkward places
---
Por: Brian h
2019-08-27T00:00:00
Good range of sizes and well made
---
Por: K A
2019-08-24T00:00:00
Needed a set of these for working on my strimmer. Having used Silverline tools with good results for years I bought this set and they haven't disappointed. Quality appears good in use and I'm happy with the purchase. The lifetime guarantee is just an extra benefit which I've never registered for before for some reason.
---
Por: Daniel D
2019-08-22T00:00:00
I had an expectation that these would work but in a cheap sort of way. I figured they would twist or break when I put them to work because they were quite cheap. In no way did they perform as expected. They have stood up to my rough handling of them. So two big thumbs up from me. The purchase also saved me a bunch of money.
---
Por: Stephen F
2019-08-11T00:00:00
Delivery spot on, and hex keys good quality
---
Por: Rob H
2019-06-29T00:00:00
The Tools are solid enough although the thinner ones do flex a bit as they are quite long. The moulding of the handles does leave some sharp edges but they can be removed with a fine grit sandpaper. Given the ''Forever'' guarantee they are very good for the price.
---
Por: jody a
2019-06-26T00:00:00
So i recently purchased the T handle hex key set from silverline tools, firstly the product was a steal at the price! so excellent value for money, when it arrived i was really impressed with the quality of the tools and also it come in avery handy wall or worktop mountable holder overall for the price and quality i would recommend these tools to anyone in need of a decent set of hex keys.
---
Por: Andrew
2019-06-23T00:00:00
very impressed with this product, well built and built to last. It also comes with a storage shelf which can be wall mounted to keep tools in the right place. Would definitely buy and recommend silverline products in the future. very happy with my purchase.
---
Por: Jf v
2019-06-14T00:00:00
10 stuks voor de prijs van 2 bij de gamma De kwalitijt is prima en tool station is veruit de goedkoopste winkel.ben zeer tevreden.
---
Por: P W
2019-06-12T00:00:00
This set fulfilled my needs. Good quality and so far hasn''t rounded off at all. The holder also handily can be screwed on to a wall or shelf.
---
Por: Martijn
2019-05-31T00:00:00
Great and thrusty set of hex keys. nice grips.
---
Por: Vaughan T
2019-05-31T00:00:00
Makes life easier finding the right Hex key,rather than scrabbling through tool box trying to find right size
---
Por: Neale M
2019-05-14T00:00:00
What a great set of T bar Allen keys. They give an excellent grip when turning an Allen bolt.The holder is a bonus and it has holes for attaching to the wall. I''ll be purchasing some more Silverline products soon.
---
Por: Enrico P
2019-05-02T00:00:00
---
Por: William
2019-01-19T00:00:00
Great for gransons bikes and scooters not having to search out Alan keys they are all in a line ready to go worth the money just to save the time searching in tool box great product
---
Por: Jack
2019-01-07T00:00:00
Great variety or sizes, and don't seem to flex.
---
Por: Daniel M
2019-01-06T00:00:00
Great set of Hex Keys, using for Mountain Biking Maintenance. Helpful stand that fits well on a workbench.
---
Por: Jason
2019-01-04T00:00:00
Love them. Although the short end could do with being a bit longer.
---
Por: John L
2018-11-01T00:00:00
These are a fantastic buy and so much easier to use than a normal hex key without handle. For the price, I thought they would twist and bend at the first attempt at a tight fixing, but I have been using them on various size bolts and they are still looking good. It would be nice if they had a ball end, but that''s a bit cheeky at this price. All in all, a nice bit of kit.
---
Por: Bas
2018-10-27T00:00:00
Strong set off tools for a good price.
---
Por: Charles P
2018-10-18T00:00:00
Excellent bit of kit well worth the money used them twice now and nice stand for them to sit in.
---
Por: Markus H
2018-10-18T00:00:00
I bought this set to repair and inspect circulation pumps. Most of the time i need SW4 and the work is very easy because of the ergonomic handle. All of the Keys fit perfectly to modern screws and do no damage even if the screws are thight. I can definitely recommend buying this nice set of T-Handle Hex Keys. It will be a good friend for lot of DIY projects,
---
Por: Paul C
2018-09-10T00:00:00
This is the best allen key set I have ever had. Very well made and good construction. Has a handy wall mountable holder for easy storage. All in all a great purchase.
---
Por: Mike
2018-07-22T00:00:00
I lost a standard allen key in the long grass so was looking for something to replace it. These are bright blue and easy to see when I drop them in the grass!
---
Por: David D
2018-07-20T00:00:00
I brought these as I work on a lot of Motorcycles, these I must say are brilliant!! Handles good and strong you great great torque for undoing most bolts. Stand really good
---
Por: Jason
2018-07-03T00:00:00
Do exactly what they should, had no problems so far. The smaller keys have a bit more flex to them than I''d like, and annoyingly the size labels on the rack don''t line up with the actual keys, so it can be a bit of a guessing game which one you''re getting.
---
Por: Michael b
2018-05-22T00:00:00
Very good value for the price very strong and perfect if you have a bolt that''s deep in a car door panel.
---
Por: Dan R
2018-05-03T00:00:00
Just received my set of Silverline hex tools in the post and they are great. Strong and robust and easy to store in the rack that they come in. I'll be using them mainly on mine and my children's bikes. Great purchase.
---
Por: Paulo C
2018-05-02T00:00:00
This kit has great quality and great grip on the hand to take screws out, very nice kit to work on bikes and cars.
---
Por: Martin l
2018-04-30T00:00:00
Bought the full set of hex keys and they're awesome. The little holder they come in screed straight into the van so they're at hand when I need them. They've got every size you need not like some sets that are cheap because they skip a few. What you pay for what you get is brilliant. Totally recommend.
---
Por: Aron B
2018-04-20T00:00:00
I could not be more satisfied.
---
Por: John M
2018-04-15T00:00:00
Hex keys with handles make the job so easy ,should of purchased a set years ago. Silver line tools are great value and good quality tools. Has saved me time in the first week.
---
Por: Alec W
2018-03-31T00:00:00
Silverline Hex key t-handles - great value for money and a lifetime guarantee to boot, you cant go wrong. Helped me dismantle motorcycle brakes no worries. For the price, 5 stars.
---
Por: Piet C
2018-02-22T00:00:00
Voor dit geld een mooi en degelijk product
---
Por: Rob S
2017-12-12T00:00:00
Excellent hex key set. Comfortable handles and precise solid construction too. The holder has holes designed specifically for each key so you don't get them mixed up. Also it can be wall mounted or stood on your bench. Both ends of the keys are proper hex finish and not the ball type, which I my opinion never gives a satisfactory a fit. Overall a great purchase at an amazing price.
---
Por: Brian A
2017-12-01T00:00:00
Excellent product just what I needed, have recommended it to a number of like minded people. good price great delivery.
---
Por: Nathan E
2017-11-28T00:00:00
Great set, Well priced and highly durable. Definitely Reccomend!
---
Por: Matthew V
2017-10-12T00:00:00
Bought these tools to aid my lutherie; they deliver in every way. Their sturdy structure mean I can turn a trus rod without the risk of tearing up the hex socket. What I like most is the long reach and t-handle, this allows me to fit in between guitar strings and also have great leverage. Would recommend these for any auto repairs too as the length and opportunity to gain torque would be a massive help. If I find a need for them in my garage I may purchase a 2nd set that can get dirty seen as they are a fairly inexpensive tool.
---
Por: PW
2017-09-14T00:00:00
I''ve seen good reviews regarding the Silverline tools especially these T-Handle hex keys. I do a lot of DIY and have found these to be an excellent set as they have the intermediate sizes of hex i.e. 2.5, 3.5 etc. Often you don''t get these included. They were a good price too. I was pleased to find that they had a lifetime guarantee - easy to register them on the Silverline site.
---
Por: Chris
2017-07-24T00:00:00
these are great hex keys hard wearing and with the added hex key in the handle they are very handy, another great #SliverlineTools product
---
Por: Ash
2017-07-18T00:00:00
These are cheap enough for a set, it would be helpful if there was a 1.5mm version like other similarly priced sets. However, these hex keys are really much larger than I expected. For the larger keys this is necessary, but for smaller keys the size really gets in the way if you are trying to use them in a tight space. I had to buy an additional smaller hex key set after these arrived because these ones were too big to fit in the gap that I needed. I''ve kept this set anyway because they are sturdy and have a wallmount.
---
Por: Russell G
2017-07-08T00:00:00
Light weight but feel strong enough and an excellent price. Happy purchaser.
---
Por: Russell G
2017-07-01T00:00:00
Compfy in the hand, seem solid and a good price.
---
Por: Geoff E
2017-06-03T00:00:00
I bought this set because you get two tools in one, which comes in very handy having long and short hex keys, ideal for those stubborn hex bolts. The handle is comfortable to use, it comes with a useful stand, so it''s easily noticeable if you have placed one down somewhere, which encourages you to put away you''re tools.
---
Por: Pete
2017-05-13T00:00:00
I''m really pleased with this hex key set. They were a fraction of the cost of other sets, and in some cases, only as much as individual hex keys. Ok - the handles might not be those soft grip tactile handles, but they seem robust, fit for purpose and backed by a lifetime guarantee. You can''t really ask more for a £7 set...apart from them throwing in a stand for them!! A nice extra bonus for the workshop.
---
Por: Gareth w
2017-05-04T00:00:00
Used these wrenches few times now good honest tools priced correctly and with the lifetime warranty you would be crazy to look elsewhere than silver line tools
---
Por: andrew s
2017-04-10T00:00:00
fantastic value for money,silverline all the way.....
---
Por: Robert P
2017-04-05T00:00:00
Bought set of hex Allen keys, they were excellent value for money,very well made and strong material, good handles which gives you a nice grip and very easy to work with. I have used silver line tools before and find them all excellent. Would recommend to any DIY enthusiasts.
---
Por: James b
2017-04-03T00:00:00
well happy with quality product for great price..best of all lifetime warranty! ! I will now always buy silverline instead of other big brand names in the mtb tool world..
---
Por: Craig o
2017-03-30T00:00:00
I''ve used these for a few weeks now and they are better than many more expensive brands that i have purchased in the past Looks great feels solid well worth the the money 😁
---
Por: Richard S
2017-03-11T00:00:00
An excellent set of Allen Hex keys enabled me to fix the item in No time. The T-Handle could do with being a bit longer otherwise it worked fine. That''s for extra leverage and to make ir easier on the wrists.
---
Por: Gary W
2017-03-08T00:00:00
Great set of T-Bars! I'll be using on my motorbikes and bicycles.
---
Por: Anibal
2017-02-01T00:00:00
Es un kit de 10 llaves Allen con mango hergonómico,resistente y de buena calidad. Son muy resistentes y manejables a simple vista parece que no vayan a aguantar un gran esfuerzo pero al usarlas ves que aguantan muy bien y cómodas. Traen un soporte simple y muy eficaz ya que lo atornillas al banco y tienes todas las llaves ordenadas y a mano. Sin duda un articulo calidad-precio inmejorable.
---
Por: Henri T
2017-01-25T00:00:00
Whilst these tools are not the most expensive, they are great for the job and with the warranty offered it is clear that Silverline are confident in their longevity
---
Por: Anibal
2017-01-24T00:00:00
Al principio no estaba convencido pero despues de usarlas he visto que la calida-precio es inmejorable, mago ergonómico y cómodo. Las pumtas se ven un poco toscas y parece q no vayan a aguantar mucho,tras el uso veo que aguantan con firmeza. A de más tienen garantía ilimitada y las recomiendo 100%
---
Por: Tim
2017-01-17T00:00:00
A great 10 Peace set of T-Handled Hex Keys,, Great for the price with a Lifetime Guarantee, you can''''t go wrong.
---
Por: Nathan
2017-01-17T00:00:00
Great product, exceptional value for money. I woukd definitely recommend!
---
Por: Dan C
2017-01-17T00:00:00
Great little Allen set, ideal for working on push bikes and trials bikes - great value
---
Por: Dawn
2017-01-14T00:00:00
Bought these for my son as a gift to use whilst doing Mechanic Course. Just great for this an excellent piece of equipment at a great price. Would recommend this product.
---
Por: Geoff T
2017-01-13T00:00:00
Very easy to use and do the job very well
---
Por: Paul S
2017-01-13T00:00:00
I bought these Allen Keys as a present for a young (15) mechanic as he was complaining that the Allen Key set he had was not up to the job. Upon receiving them, I was impressed by how well they were manufactured for the price. Needless to say I ordered another set for him and kept this set for my self. So far I have used them on countless jobs and they are still as good as new!! The only problem I can see is how to stop my work mates pinching them for their toolkits!!!
---
Por: Dan L
2017-01-11T00:00:00
I have loads of sets of high end tools at work but needed a set of Allen keys for home to work on my push bikes. These are ideal, every size you will need are in the set and they are easily accessible with the supplied stand. The metal is good quality and is suitably hardened so there shouldn''''t be a problem with the ends rounding off in normal use. I always check the hardness on new tools with a needle file and won''''t use them if they are soft. These are not ball ended, just the normal flat end. The handles are hard plastic but are still comfortable to use. I bought from Amazon at a really good price, 8 times cheaper than the equivalent Park Tools set. Highly recommended
---
Por: Walter
2016-12-15T00:00:00
What can you say about a Set Hex Key T-Handle Allen Keys which does the Job Perfectly ? Comfortable to your Hands Excellent Grip, Does the Job Perfectly , Lifetime Guarantee at a very good Price. Excellent Product
---
Por: cliff c
2016-11-08T00:00:00
good selection of sizes should cover everything I need moulding finish on handles a bit rough but for the price you don''''t get rolls Royce smooth do a good job though used nearly every day on my job see how they do in the future
---
Por: Gordon M
2016-11-06T00:00:00
This is a well made and designed tool set and all at a very reasonable price. I''''ll certainly be looking to getting more from Silverline.
---
Por: Larry
2016-10-24T00:00:00
The Hex Key Handle Set is quite simply a brilliant excellent value for money, quality tools that are perfect for the mechanic and jobs alike.These are simply one of the best alternative branded tools that you could want in your tool chest/box. I have now purchased other Silverline tools and found those also to be of great quality and match quality, power and above all cheaper than those of the top brands - Furthermore Silverline is a brand I definitely recommend and trust.
---
Por: Ryan C
2016-10-17T00:00:00
Ordered these off Amazon. They are perfect for everyday use. The only situation they may not be suitable for is for super high torque applications. Other than that at the money they sell for, these are an essential item in any tool box, would recommend to friends.
---
Por: Dave
2016-10-12T00:00:00
Great set of allen keys especially with the T handle. Helped me strip and rebuild my bike with ease and no rounded screws - or keys. Great product
---
Por: Simon W
2016-10-10T00:00:00
Great product and price always but Silverline where possible
---
Por: Luca L
2016-10-10T00:00:00
---
Por: Alfonso
2016-10-10T00:00:00
This Hex Key Set is very usefull, you can apply all your arm strength without making and injure to your hand.
---
Por: norman l
2016-10-10T00:00:00
they stand nicely on my bench, making it handy to reach for them when working on my bike. The sizes cover all the parts on the bike - so " they do what it says on the tin"
---
Por: Roy F
2016-09-26T00:00:00
Great product at a brilliant price, got these for my Cycle build/maintenance jobs and they are spot on. Only thing stopping them getting 5*''s is a lack of a ball end. Would recommend them any day.
---
Por: Ian M
2016-09-19T00:00:00
As a cheap set this does the job, I had to return the 2 mm bit as it had rounded, a new set was sent to me. I haven''t used the new 2 mm bit yet, stuck with the old fashioned allen key for the small size - just in case!
---
Por: Dan
2016-09-19T00:00:00
The set of keys is super strong, I''ve had no issues at all with them starting to round off even under some very high pressures. Would thoroughly recommend
---
Por: Martin S
2016-09-19T00:00:00
Unlike cheaper hexagonal keys that ''round'' on first use these keys do the job. Well pleased with the hex key T-handle set 10pce.
---
Por: Adam g
2016-09-05T00:00:00
This product was spot on one of the best I''ve ever seen so so happy with it thanks
---
Por: Adam B
2016-08-22T00:00:00
These were purchased to work on a mountain bike and a car but have come in handy in lots of other places. They are strong, very comfortable to use and with the warranty I would recommend there to anyone.
---
Por: Jake T
2016-08-22T00:00:00
Great little set in a handy stand. Quality is good for the price although the sizes are a little small fitting. As before, great at this price. Nice and sturdy tools with a good look and feel. Would be great if they had ball ends, that would make them 5 stars!! Would highly recommend for the home DIY mechanic or handyman ☺☺
---
Por: John W
2016-08-22T00:00:00
A very useful bit of kit it saves all the fiddling about with Allen keys
---
Garantía de por vida
Este producto Silverline Destornilladores hexagonales con mango en T, 10 pzas dispone de 30 días de garantía desde la fecha de compra contra defectos de fabricación y materiales defectuosos. Registre su producto online para extender el periodo de garantía de por vida. Todas las piezas defectuosas serán reparadas de forma gratuita.