421042
Lijadora delta 140 mm, 130 W
130 W (UK)
---
---
Almohadilla de lija con sujeción autoadherente
Salida de extracción de polvo
Interruptor de encendido/apagado protegido
Empuñadura engomada y ergonómica
Incluye adaptador y salida de extracción de polvo
---
Comprar online
Buscar un distribuidor
Comentar este producto
20 comentarios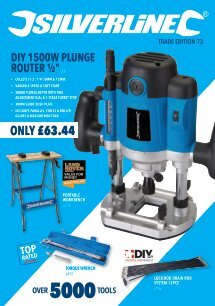 ---
Características técnicas
| | |
| --- | --- |
| Acabado | Plástico, TPE |
| Grano | 100 |
| Clasificación PPI | IP20 |
| Potencia | 130 W |
| Tamaño del papel de lija | 140 x 140 x 90 mm |
| Velocidad variable | No |
| Velocidad sin carga | 12.000 min-1 |
| Peso | 0,96 kg |
---
Descripción del producto
Lijadora delta compacta con funcionamiento orbital, ideal para utilizar en espacios reducidos y esquinas. Empuñadura engomada y ergonómica para reducir la vibración y mayor comodidad. Salida de extracción de polvo para conectar a una aspiradora o sistema de extracción de polvo. Compatible con hojas de lija triangulares y autoadherentes de 140 mm.
---
Contenido en el embalaje
Lijadora delta 130 W
Salida de extracción de polvo
Hoja de lija (grano 100)
Manual de instrucciones
---
Comentarios realizados por nuestros clientes
Por: David
2022-11-20T00:00:00
Received sander and put it to work straight away. Highly delighted with performance and would recommend it.
---
Por: Paul J
2022-09-30T00:00:00
powerful sander and easily performs as well as other more expensive brands
---
Por: Peter P
2022-05-25T00:00:00
I bought this product at a very reasonable price and was surprised how well made it was. After using the sander it performed exceptionally well.
---
Por: Bill G
2022-01-04T00:00:00
Fits neatly in your hand and makes it easy to sand both small and larger surfaces. Convenient for difficult areas too
---
Por: james c
2020-06-13T00:00:00
great wee sander. done a fabulous job
---
Por: Jon S
2020-05-30T00:00:00
I''ve never owned a sander before but after seèing this in store and at a decent price i decided to buy hoping it would save me some effort. When i got home i put on a disc and set to work on some tough old paint jobs all i can say is thanks silverline it certainly changed a nightmare to a dream its a handy size and great for all ive used it for. Will certainly buy more in future.
---
Por: Ken B
2020-05-19T00:00:00
---
Por: Peter M
2020-04-23T00:00:00
I have been using this sander for a couple of weeks using it for pre decorating. I have attached it to my vacuum cleaner I used gaffer tape to securely attach it. Pro''s excellent sanding with the switch easily accessed with my finger on the front, feels very comfortable to use, price very good. Con''s No collection dust bag, only one sanding disc but I bought two packs of mixed graded disc''s
---
Por: C J
2020-03-12T00:00:00
Great machine easy to use and very light, fantastic price and highly recommended
---
Por: Nathan G
2019-10-13T00:00:00
Great tool for the price just as good as the more expensive ones
---
Por: Christine d
2019-10-06T00:00:00
We have been using our silverline sander while decorating and would highly recommend it it''s better than the black and decker 1 we replaced this with and very reasonably priced
---
Por: Christine d
2019-09-29T00:00:00
Very powerful sander for something so small,had different Sanders in the past but found this one by far the best
---
Por: John E
2019-08-23T00:00:00
great little detail sander at a fantastic price. Well made and comfortable to use. the vacuum cleaner attachment is a bonus! saves a lot of mess and it means I get less grief from partner! Would definately buy again.
---
Por: Kenneth M
2019-08-08T00:00:00
Priced exceptionally well for the type of product. Easy to use and performs well. Fits neatly into the palm. Has a good length of cable if just for bench use. Extension lead required for elsewhere. 3 year guarantee once registered.
---
Por: Rj
2019-07-31T00:00:00
I can''t fault this little sander, since Iv had it it''s seen some pretty hard graft sanding a variety of surfaces from decades old gloss paint to bare wood, both hard and soft wood and it hasn''t missed a beat. Iv found it works best if you apply very little pressure and let the sander do the work. If I had to find a fault it''d be that the Velcro on the pad isn''t the greatest and I suspect the day the sander gives up the ghost it will be because the Velcro no longer holds the sanding sheets and not because it burns out. All in I wholeheartedly recommend this sander.
---
Por: T w
2019-06-25T00:00:00
Purchased this sander to replace my old black and decker Found this to be a better product
---
Por: Peter L
2018-12-14T00:00:00
Wanted sander mainly for finishing off lathe work that had been parted off, but has been so useful for many other little sanding jobs Great little tool with bags of power.
---
Por: R M
2018-12-01T00:00:00
Really good value for money, seems just a good as my more expansive sanders. Great buy,
---
Por: Mrs a
2018-09-08T00:00:00
Very easy to use makes jobs a lot easier. Makes sanding more fun
---
Por: Mike C
2018-05-15T00:00:00
Great item &amp well worth the money.!!!!!!
---
Garantía 3 años
Este producto Silverline Lijadora delta 140 mm, 130 W dispone de 30 días de garantía desde la fecha de compra contra defectos de fabricación y materiales defectuosos. Registre su producto online para extender el periodo de garantía 3 años. Todas las piezas defectuosas serán reparadas de forma gratuita.