521333
Lijadora orbital 1/3 hoja, 135 W
135 W
---
---
Sujeción mediante pinzas
Salida de extracción de polvo
Interruptor de encendido de gran tamaño y botón de bloqueo
Empuñadura ergonómica
Incluye salida de extracción de polvo y hoja de lija
---
Comprar online
Buscar un distribuidor
Comentar este producto
17 comentarios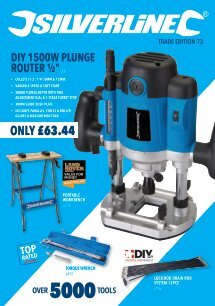 ---
Características técnicas
| | |
| --- | --- |
| Salida de extracción de polvo | Sí |
| Clasificación PPI | IP20 |
| Potencia | 135 W |
| Tamaño del papel de lija | 90 x 240 mm / 90 x 230 mm |
| Velocidad sin carga | 10.000 min-1 |
| Peso | 1,15 kg |
---
Descripción del producto
Lijadora orbital indicada para tareas ligeras de lijado. Botón de boqueo, sujeción mediante pinzas para cambio de lija rápidos. Compatible con hojas de lija perforadas de un 1/3 hoja (90 x 230 mm). Almohadilla de lijado de 90 x 187 mm. Velocidad sin carga 10.000 min-1. Salida de extracción de polvo para conectar a un sistema de extracción de polvo o aspiradora.
---
Contenido en el embalaje
Lijadora orbital 1/3 hoja, 135 W
Salida de extracción de polvo
Hoja de lija (grano 120)
Manual de instrucciones
---
Comentarios realizados por nuestros clientes
Por: roy
2023-09-28T00:00:00
A good very good tool the Name says it all
---
Por: susan d
2020-06-20T00:00:00
I am very impressed with my sander. It did the job i wanted for very well.
---
Por: Gwyneth E
2020-05-11T00:00:00
For a reasonably priced tool the performance of this sander is first class. Replacing sanding sheets is easy and fuss free and not fiddly and time consuming.
---
Por: richard m
2020-01-29T00:00:00
It broke awaiting replacement other wise seems like a good tool
---
Por: Andrew G
2020-01-22T00:00:00
Good finishing sander. Inexpensive so good value for money.
---
Por: Andrew G
2020-01-15T00:00:00
Good finishing sander. Works best with fine grade sheets. Inexpensive so well worth the money.
---
Por: David H
2019-08-14T00:00:00
A basic sander that does the job beautifully. Really good value and the 3 year guarantee adds confidence. 1/3 sheets held securely in place by integral clamps. Cannot fault.
---
Por: Alisdair B
2018-10-22T00:00:00
Not at all bad for the cost. Beware though, it indicates on Amazon that it has hook and loop capability but it doesn''ty so I wasted an add-on item by purchasing the wrong sandpapaer.
---
Por: John N
2017-10-18T00:00:00
I enjoy DIY and with Silverline I find just what I need,and this sander is great value for money plus doing a great job.
---
Por: Phil
2017-06-30T00:00:00
Does what it is supposed to do at a great price. Good for those diy projects.
---
Por: Peter B
2017-05-05T00:00:00
Another great Silverline product, I have bought a few Silverline tools in the past including air nail gun, jigsaw, planner , all great products
---
Por: David R
2016-09-12T00:00:00
No problems with this basic good value sander. It does the job
---
Por: Shane s
2016-09-12T00:00:00
Got this sander to help me sand down a garden bench. Being a small size it suited the job perfectly. The small engine lasted the pace and I was able to complete the job pretty quickly
---
Por: Peter B
2016-09-12T00:00:00
Light enough to use with one hand while hanging on to the ladder with the other. Quickly smoothes the paintwork ready for undercoating. A good price
---
Por: Timothy F
2016-09-12T00:00:00
great product, did what I wanted.
---
Por: Ralph
2016-08-16T00:00:00
Use this to prepare a large bedroom, sanding walls and paintwork for about 4 hours. The sander worked well and at the price is great value. Lead is long enough for most jobs. Build quality is good.
---
Por: David F
2016-08-08T00:00:00
Overall quite pleased, lightweight, handles well. Only fault not much length left over on sheet to grip.
---
Garantía 3 años
Este producto Silverline Lijadora orbital 1/3 hoja, 135 W dispone de 30 días de garantía desde la fecha de compra contra defectos de fabricación y materiales defectuosos. Registre su producto online para extender el periodo de garantía 3 años. Todas las piezas defectuosas serán reparadas de forma gratuita.