571295
Amoladora angular 115 mm, 650 W
115 mm (UK)
---
---
Empuñadura auxiliar ajustable en 2 posiciones
Bloqueo del husillo
Interruptor de encendido/apagado con bloqueo para mayor seguridad
Indicada para cortar, amolar metales, piedra y hormigón
Compatible con cepillos de alambre para retirar restos de óxido y corrosión
---
Comprar online
Buscar un distribuidor
Comentar este producto
15 comentarios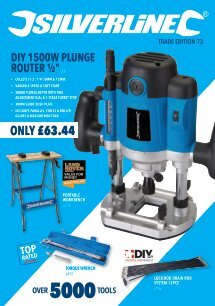 ---
Características técnicas
| | |
| --- | --- |
| Diámetro del disco | 115 mm |
| Diámetro del disco de lija | 115 mm |
| Acabado | Plástico |
| Clasificación PPI | IP20 |
| Tamaño de la rosca | M14 |
| Potencia | 650 W |
| Velocidad sin carga | 11.000 min-1 |
| Peso | 1,77 kg |
---
Descripción del producto
Amoladora angular versátil y compacta para realizar cortar, amolar y lijar. Protector ajustable y empuñadura con 2 posiciones. Interruptor de encendido/apagado con bloqueo para mayor seguridad. Diámetro del disco: 115 mm. Velocidad sin carga: 11.000 min-1.
---
Contenido en el embalaje
Amoladora angular 115 mm, 650 W
Brida roscada
Brida interior
Empuñadura auxiliar
Llave de espiga
Llave hexagonal
Par de escobillas de carbón
Manual de instrucciones
---
Comentarios realizados por nuestros clientes
Por: Gerald F
2020-06-15T00:00:00
Fantastic tool,nice soft start, does what it says on the tin, could do with it's own proper storage case, but for the price excellent value.!
---
Por: Martin
2020-06-11T00:00:00
Nice little angle grinder great value easy to use and turn off and on when using it, came with handle disc removal tool and a spare set of motor brushes !
---
Por: Dainius
2020-06-02T00:00:00
Great build quality. Sturdy and no wobbly parts. So far works like a charm. Managed to cut some metal and brush some rust. I''m sure I will have more things to do with my new toy. Small thing I liked is extra carbon brushes to replace
---
Por: Angus M
2020-05-22T00:00:00
Excellent tool to work with, I always buy Silverline tools. Very happy with the product
---
Por: m c
2020-05-12T00:00:00
nice tool easy to handle fairly light just right
---
Por: Marilyn M
2020-04-29T00:00:00
My husband is thrilled with the results he''s got taking the paint off his Vespa. He bought the pads and I bought the buffer to go with it. The two wire brushes that came with the angle grinder are doing a great job.
---
Por: Marilyn M
2020-04-22T00:00:00
My husband is thrilled with the angle grinder. He also bought the box containing grinding discs and wire brushes. I bought him the buffing pad. Extremely good value for money. Does what it says on the box.
---
Por: Andrew S
2020-04-06T00:00:00
Quietly please and very satisfied with the smooth transition from switch it on, and the commencement of the rotation as a very smooth action, not jerking like many others I have had in the past, excellent quality, highly recommended.
---
Por: Steve D
2019-10-23T00:00:00
Used the grinder to cut some tiles, did the job very well and controllable. Bought it for this purpose but I am sure it will be a very good piece of kit to have and come in very useful in the future for all sorts of jobs.
---
Por: Christine W
2019-06-04T00:00:00
Excellent grinder did the job great no fuss just good simple instruction brilliant
---
Por: Christine W
2019-05-28T00:00:00
Bought this for my son to get some bolts cut from a garden bench . He said it did the job was easy to use .
---
Por: taimoor k
2019-05-12T00:00:00
you can''t get the better grinder in this price I am so happy with that it is working perfectly Thanks silverlinetools
---
Por: Keith B
2019-04-23T00:00:00
Very good grinder works very well and of good quality, just as good as the more expensive makes
---
Por: Robert G
2018-09-07T00:00:00
I needed an angle for a single job so didn''t want to spend to much money. My purchase was just what I needed. It did the job with ease and came supplied with everything I needed. I''ve since for it useful in other small jobs. Would definitely recommend it.
---
Por: Shaun C
2018-04-19T00:00:00
Over the years I've got through a lot of angle grinders and always found issues with them but this grinder is incredibly pleasing. It's comfortable to hold, weighted just right, it's quite compact but packs a hell of a punch for such a small unit. Overall it's just perfect for what i need.
---
Garantía 3 años
Este producto Silverline Amoladora angular 115 mm, 650 W dispone de 30 días de garantía desde la fecha de compra contra defectos de fabricación y materiales defectuosos. Registre su producto online para extender el periodo de garantía 3 años. Todas las piezas defectuosas serán reparadas de forma gratuita.