633518
Serrucho universal
230 mm, 14 dpp
---
---
Hoja de acero endurecido y templado
Corte en ambas direcciones
Para maderas duras, blandas y sintéticas
---
Comprar online
Buscar un distribuidor
Comentar este producto
5 comentarios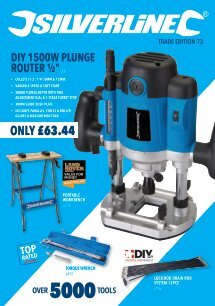 ---
Características técnicas
| | |
| --- | --- |
| Longitud de la hoja/disco | 234 mm |
| Anchura de la hoja | 59 mm |
| Acabado | Azul y gris |
| Acabado - Empuñadura principal | ABS |
| Dientes por pulgada | 14 dpp |
| Peso | 0,184 kg |
| Endurecido | Sí |
---
Descripción del producto
Hoja de acero endurecido y templado. Para cortes en ambas direcciones, más rápida y precisa que otras sierras convencionales. Corta maderas duras, blandas y sintéticas.
---
Contenido en el embalaje
---
Comentarios realizados por nuestros clientes
Por: Arnaud
2018-05-23T00:00:00
Cette scie effectue un travail précis surtout à l''amorce de la coupe (en poussant plutôt qu''en tirant comme une scie égoine). Légère et efficace, j''en suis très satisfait (testée sur du contre-plaqué principalement, à voir plus tard si elle permet un travail relativement propre sur du mélaminé)
---
Por: James G
2017-12-18T00:00:00
I bought this tool has a hobbiest one of my best buys thank you silverline .
---
Por: Ryan M
2017-10-14T00:00:00
This saw is a great addition to any tool set i have used mine lots and it is still sharp and give a neat cut. The handle is comfortable. I would recommend this saw and silverline tools to anybody.
---
Por: Bob L
2017-07-13T00:00:00
I bought this saw on a whim, along with a conventional hardpoint crosscut at Toolstation. I''ve fancied a Japanese pull saw for years, but they''re pricey. This wasn''t pricey,but it was a waste of money. A thin blade, like the saws it was based upon, but, attempting to cut a softwood section (across the grain) it binds in the cut. I got my micrometer out and measured the blade thickness at the back, then at the teeth. Both measurements were the same, 30 thou, or approx 0.75mm. The blade seems to have neither a taper to it, nor any set to the teeth. That''s a recipe for the binding I experienced. The blade''s not terribly secure in the handle, either. I didn''t expect a lot at the price, but its performance was even poorer than I thought possible.
---
Por: Vivian S
2016-08-31T00:00:00
I found this a little awkward to use at first. With a little more application however it really does ann excellent job Very sharp and kept its edge. Sturdy and well made it is an excellent addition to the toolbok and not at all expensive. A good buy.
---
Garantía de por vida
Este producto Silverline Serrucho universal dispone de 30 días de garantía desde la fecha de compra contra defectos de fabricación y materiales defectuosos. Registre su producto online para extender el periodo de garantía de por vida. Todas las piezas defectuosas serán reparadas de forma gratuita.