675062
Clavadora neumática 32 mm
Calibre 18
---
---
Grapadora ligera fabricada en aluminio con empuñadura engomada
Incluye conector rápido macho de 1/4"
Interruptor de seguridad para prevenir disparos accidentales
Compatible con clavos sin cabeza de calibre 18 (10 - 32 mm)
Ideal para reparaciones provisionales
---
Comprar online
Buscar un distribuidor
Comentar este producto
4 comentarios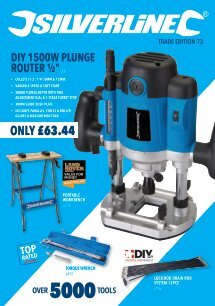 ---
Características técnicas
| | |
| --- | --- |
| Consumo de aire | 113 - 142 l/min |
| Tamaño del conector | BSP 1/4" |
| Acabado - Empuñadura principal | Engomado |
| Material - Secundario | Aluminio |
| Peso | 1,089 kg |
---
Descripción del producto
Grapadora ligera con empuñadura engomada. Interruptor de seguridad para prevenir disparos accidentales. Compatible con clavos sin cabeza de calibre 18 (10 - 32 mm). Incluye conector rápido macho de 1/4".
---
Contenido en el embalaje
Clavadora neumática 32 mm
Conector BSP de 1/4"
---
Comentarios realizados por nuestros clientes
Por: Ramon b
2019-01-05T00:00:00
The silverline minibradnailer is an amazing tool. I havn''t had a singel problem with it.
---
Por: Finn K
2017-03-25T00:00:00
I would recommend this tool to anyone who wants a value for money nailer. It may not be finest nailer on the market, with tool free adjustment on the body. But it''s not real haste to change the pressure of the airline to dial in the power. If you are looking for a robust tool that is fit for purpose at an amazing good price then this is the tool for you. I've been using it for a couple of weeks and I can''t complain about anything. It is supplied (but not fitted) with a PCL 19 connector which doesn''t suit the rest of my setup so I fitted a High Flow 25 connected which was a breeze.
---
Por: Krzysztof P
2016-11-20T00:00:00
Quite compact but capable of doing the job. So far tried firing few 15mm nails into different woods and worked just fine. Users manual is a joke. Not a single word how to load nails, how to lubricate the tool (oil included which is a plus) so no good for newbies. Can''''t tell about reliability as just did few nails to test compressor and the gun. Overall looks very good for the price except the manual.
---
Por: Brian M
2016-09-27T00:00:00
I have quite a few SILVER LINE TOOLS and find them generally speaking good value for money. This etem has been working well untill now and just allow air to escape in the body as though a seal is giving out. I have added oil as advised and some times this corrects the faul. Any advise would be helpful
---
Garantía 3 años
Este producto Silverline Clavadora neumática 32 mm dispone de 30 días de garantía desde la fecha de compra contra defectos de fabricación y materiales defectuosos. Registre su producto online para extender el periodo de garantía 3 años. Todas las piezas defectuosas serán reparadas de forma gratuita.