792084
Juego de fresas TCT de 1/4", 12 pzas
1/4"
---
---
Bordes de corte de TCT
Vástago de acero endurecido
Selecciónj de fresas para realizar diferentes tipos de tareas
Incluye fresa con borde recto, ensambles, cola de milano, chaflanar
Fresa para enrasar, redondear, biselar, radio convexo y para perfilar
---
Comprar online
Buscar un distribuidor
Comentar este producto
32 comentarios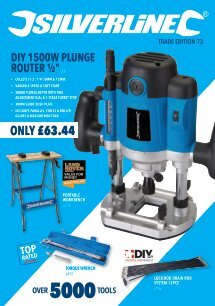 ---
Características técnicas
| | |
| --- | --- |
| Acabado | Vástago pintado y pulido, revestimiento en seco resistente a la corrosión |
| Endurecido | Sí |
| Material - Secundario | Carburo de tungsteno YG8 |
| Máx. rpm | 24.000 min-1 |
| Método de construcción | Rectificado / Fresado y soldado |
| Peso | 0,455 kg |
| Dimensiones de la fresa - A | Dimensiones marcadas en la fresa |
| Dimensiones de la fresa - B | Dimensiones marcadas en la fresa |
| Dimensiones de la fresa - C | Dimensiones marcadas en la fresa |
| Dimensiones de la fresa - D | Dimensiones marcadas en la fresa |
| Dimensiones de la fresa - R | Dimensiones marcadas en la fresa |
| Almacenaje | Estuche de madera |
---
Descripción del producto
Juego de fresas con bordes de corte de TCT y vástago de acero endurecido. Incluye : fresas rectas 6 x 20 mm, 12 x 20 mm, 16 x 20 mm; Ensambles 90°: 12,7 mm; cola milano: 12,7 mm; 45° chaflanar: 32 mm; enrasar: 12,7 x 13 mm; Redondear: R6,3 Ø22,2 mm, R9,5 Ø28,6 mm; Biselar: R6,3 Ø12,7 mm; radio convexo: R6,3 Ø22,2 mm; perfilar: R4 Ø25,5 mm.
---
Contenido en el embalaje
Fresa para chaflanar de 32 mm, 45°
Fresa para cola de milano 12,7 mm, 45°
Fresa para chaflanar de 32 mm, 45°
Fresa para enrasar con rodamiento 12,7 x 13 mm
Fresa para redondear R6,3 mm D22,2 mm
Fresa para redondear R9,5 mm D28,6 mm
Fresa de radio convexo R6,3 mm D12,7 mm
Fresa de radio convexo R6,3 mm D22,2 mm
Fresa para perfilar R4 mm D25,5 mm
Fresa recta 6 x 20 mm
Fresa recta 12 x 20 mm
Fresa recta 16 x 20 mm
Estuche de almacenaje
Llave hexagonal
---
Comentarios realizados por nuestros clientes
Por: Chris H
2020-06-11T00:00:00
Wish I''d have bought these ages ago! Excellent cutters, finish didn''t really need sanding. Will use Silverline again without doubt.
---
Por: Christopher H
2020-06-06T00:00:00
Bought these to replace a set previously obtained from a well known tool shop which were ripping the timber rather than cutting. What a difference these cutters made! Should have bought them weeks ago. Will use Silverline again without doubt.
---
Por: Jay
2020-05-04T00:00:00
Great set of the most common used router bits. They give a great finish and would def buy again Fantastic value for money
---
Por: Richard
2020-01-14T00:00:00
After reviewing customers comments on similarly priced sets I chose to go for the Silverline set as they are guaranteed for life, Most of the negative comments were due to bearings failing and as I have always been very impressed with Silverline tools and didn''t think that this would happen at least they would be covered. I need not have worried, the router bits have performed really well on hard and soft wood with very smooth cuts. I would not hesitate to recommend.
---
Por: John
2019-12-09T00:00:00
For my introduction to routing I could not have asked for more! A great set of bits that allow lots of finishes to be achieved with ease. For the price they can''t be beaten.
---
Por: Gordon C
2019-10-23T00:00:00
I am just amazed at the standard of the router bits. They are superb. The selection is brilliant and I have no hesitation in stating I am expecting a long life for these tools, maintaining their sharp edge for years. THANK YOU Silverline!
---
Por: ScottP
2019-05-10T00:00:00
This box set of 1/4" cutters is a great starting set to go with a 1/4" router. 12 cutters for less than the price of a single one. Include the lifetime guarantee and why would you look anywhere else?
---
Por: Michael F
2019-04-26T00:00:00
This is the first time I have purchased an item from Silver line Tools. The product I bought was very good quality and value for money. The service from Silver Line was very good and delivery was prompt. I would on the evidence of this first time delivery recommend them to anyone. I will certainly use them for future purchases.
---
Por: Michael F
2019-04-18T00:00:00
This is the first time I have bought from Silver line Tools. I was very impressed with the speedy service and the quality of the product supplied. Then to offer a lifetime guarantee just by registering the tools is excellent and shows they have the confidence in the products they sell. I have not used all the routers at the moment but I well satisfied with them so far. All in all I would recommend them to anyone. I will definitely order more from this company.
---
Por: Kenneth S
2019-04-15T00:00:00
I bought this set for my Bosch 1200 and the ones I have used so far have been easy to fit and have done the job well. Great selection for someone starting out with their first router like me and left a nice clean finish even for a novice like I am.
---
Por: Huw
2019-01-30T00:00:00
I was worried that for such a low price, these would be good for one or two cuts at best (which was all i needed), but they''ve proven remarkably reliable and durable.
---
Por: Alan B
2018-11-19T00:00:00
these seem identical to a lot more expensive sets. with a lifetime guarantee hat can you do wrong with this set? A good tip0 online was not to buy a full set of Bosch/Makita router bit but a less expensive set .. like this.. and find out which ones you use a lot .. Then consider an expesive single bit. However often times many DIYers will find they don''t need anything other than a set like this... would buy again
---
Por: Rob P
2018-11-16T00:00:00
Really good quality router bits, nice to have them in a box
---
Por: Kimberley
2018-07-25T00:00:00
Impressive pieces fast delivery.
---
Por: Keith J
2018-07-12T00:00:00
I purchased this router bit set based on previous reviews on Amazon. I have to be honest and say I'm "Router" impressed. Each bit feels solidly constructed, they are sharp, and come in a presentation box all for the price that other companies charge for a single bit. I have used several of these bits now and I'm more than happy with the quality of the finish. This is my first experience of Silverline products, and based on the quality of these bits, I'm sure I'll be purchasing more tools in the future.
---
Por: Michael G
2018-03-23T00:00:00
Excellent quality bits. Nothing else to say really, except that I will be buying more silverline Tools from now on.
---
Por: Matt
2018-03-06T00:00:00
Absolutely worth every penny Highly recommended it Good value for money and good quality
---
Por: Nathan
2017-12-29T00:00:00
A great product and exceptional value for money
---
Por: Nathan v
2017-12-29T00:00:00
Great product, only just got them but seem to be made well and should last a good while.
---
Por: John C
2017-11-17T00:00:00
Good quality product at exceptionally good price.
---
Por: Michael c
2017-04-11T00:00:00
Dont be fooled into thinking that they are a budget tool because of their price. They compare to bits of a much higher price and also come with lifetime warranty/guarantee. I keep hearing '' you get what you pay for''.... not here! You get much more!!
---
Por: john m
2017-03-30T00:00:00
I have used the router bits extensively and found them to be an excellent product, especially at the price, this is not the only product I have bought from silverline and so far I have not been disappointed
---
Por: Steve
2017-03-16T00:00:00
I have a few silverline tools in my toolbox and the quality and value for money makes them my choice. These router bits are no exception they are well made, and although I have not used them all the ones I have performed well. Be warned they are very sharp! Removing them from the wooden box resulted in me cutting my finger.
---
Por: Harry B
2017-02-05T00:00:00
The bits are great! I have used them frequently and they show no signs of wear.
---
Por: Richard B
2017-01-15T00:00:00
This is my first go with a router, and bits. I bought these from Amazon, for a great price, having read some very good reviews of them. First impressions, the box is good, gives you great storage for them (read lots about not letting router bits hit each other as they chip easily). This is a great selection of bits, everything I''''ve needed so far has been in here. All well made, spin perfectly straight, no chips in the cutting surfaces. I''''d highly recommend them, and more than happy to buy Silverline again.
---
Por: Mark
2016-10-31T00:00:00
So far, this bit set has been very useful. The cuts are clean and the blades appear to be very sharp. The case is simple but sturdy enough to store the bits safely. Too early to give 5 stars as not sure about the longevity although the life time guarantee that is available with these is a bonus in this regard. For the price, you can''''t go too far wrong with these!
---
Por: James R
2016-10-11T00:00:00
My purchase of this router bit set was originally only to complete one job: The internals of a fitted wardrobe made from 25mm and 12mm MDF. For this initial project, any set of correctly profiled bits would have been able to complete the task for the MDF, but beautiful quality of the cut from these tools spurred me on to use them more, and they continue to genuinely impress. The case is easily stowed with my router, and the attention to detail with the little diagrams provided next to each bit in the case, are a welcome visual reference.
---
Por: Mark W
2016-09-26T00:00:00
Never been disappointed with Silverline products and this Router Cutter set is no exception. For the same price as generic sets of dubious manufacture you get a set from a trusted brand with a lifetime guarantee.
---
Por: Steve R
2016-09-26T00:00:00
Haven''t done any routing for a long time but with the birth of my first grandaughter, the request was made for a handmade toybox. Me being me - I had to go one step further and purchased a router in order to inset boards and to inscribe names and make shaped edges etc. Wasn''t sure about them when I ordered as they were very cheap compared to other makes and it was a brand I had not heard of, but the lifetime guarantee helped sway my decision. Very impressed! Good quality and say sharp - even though I have gone through a couple of screws. The box is nearly made and I now have order''s for more from my family so the bits will be put to good use. Because of the quality of the bits, I will have no qualms about using Silverline again.
---
Por: Tracy W
2016-09-26T00:00:00
great perfect set other half has used on lots of little project including a unique bird table
---
Por: Chibimarko
2016-09-26T00:00:00
I have used several bits so far, with and without bearings, and they all work well.
---
Por: Tony L
2016-09-05T00:00:00
just what i have always wanted and it does just the job .
---
Garantía de por vida
Este producto Silverline Juego de fresas TCT de 1/4", 12 pzas dispone de 30 días de garantía desde la fecha de compra contra defectos de fabricación y materiales defectuosos. Registre su producto online para extender el periodo de garantía de por vida. Todas las piezas defectuosas serán reparadas de forma gratuita.