951855
Amoladora angular 230 mm, 2400 W
2400 Wv (UK)
---
---
Potente motor de 2400 W y encendido progresivo
Empuñadura principal giratoria y empuñadura auxiliar ajustable en 2 posiciones diferentes
Indicada para amolar, cortar y amolar metales, piedra y hormigón
Compatible con cepillos de alambre para retirar óxido y corrosión
Incluye protector para disco de desbaste, protector para disco de corte y llave de espiga
---
Comprar online
Buscar un distribuidor
Comentar este producto
11 comentarios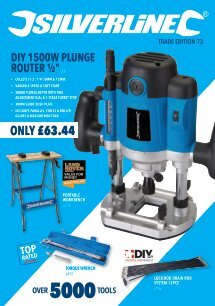 ---
Características técnicas
| | |
| --- | --- |
| Diámetro del disco | 230 mm |
| Clasificación PPI | IP63 |
| Encendido progresivo | Sí |
| Tamaño de la rosca | M14 |
| Tamaño del disco | 230 mm |
| Potencia | 2400 W |
| Velocidad sin carga | 6.000 min-1 |
| Peso | 4,5 kg |
---
Descripción del producto
Potente motor de 2400 W y encendido progresivo. Empuñadura principal giratoria y empuñadura auxiliar ajustable en 2 posiciones diferentes. Indicada para amolar, cortar y amolar metales, piedra y hormigón. Compatible con cepillos de alambre para retirar óxido y corrosión. Incluye protector para disco de desbaste, protector para disco de corte y llave de espiga.
---
Contenido en el embalaje
Amoladora angular 230 mm, 2400 W
Protector para disco de desbaste
Protector para disco de corte
Brida roscada
Brida interior
Empuñadura auxiliar
Llave de espiga
Manual de instrucciones
---
Comentarios realizados por nuestros clientes
Por: LES
2019-07-25T00:00:00
Used extensively over the past 2 weeks and would highly recommend to the odd jobber! Easy to use, efficient and a great price -just the job..
---
Por: David
2019-06-21T00:00:00
Excellent well balanced grinder. Nice soft start and not too heavy. Would recommend as a great DIY tool.
---
Por: Jimmy n
2019-06-06T00:00:00
It''s the Rolls Royce of angle grinders
---
Por: Jimmy n
2019-05-29T00:00:00
The angle grinder is perfect.....a nice tool to work
---
Por: Scott G
2019-04-26T00:00:00
Great tool does what it says on the box. It's niceband powerful.
---
Por: bennie w
2017-10-08T00:00:00
een zeer goede haakse slijper voor een scherpe prijs
---
Por: MICHAEL G
2017-04-18T00:00:00
GREAT TOOL (LOCKABLE HEAD) WITH THE CORRECT DISCS FOR THE JOB IT CUTS MASONRY LIKE A KNIFE THRU BUTTER! LOVE IT....
---
Por: C B
2017-04-15T00:00:00
Very convenient and an excellent replacement for my old machine. Very good value for money
---
Por: Frederick W
2017-04-10T00:00:00
A first class article. It has done the job for which it was purchased with ease. Very comfortable to use. I just wish that the flex was a little longer.
---
Por: Harry B
2017-03-05T00:00:00
I''ve only just got this so I haven''t any long term experience, but it feels really solid. The smooth start is slower than some others, which I like as it puts less strain on the windings and gears. I am impressed with the two guards. I normally will only be using the cutting guard, but there is a chance that the job I''m working on at the moment will require some grinding so it''s really useful to have the guard available for it. The revolving handle seems a very smooth action compared to other I have used. It comes with a spare pair of brushes - I hope I get the chance to use them - every other angle grinder |I''ve had has worn out or broken before the brushes needed replacing. The key for changing the blade is good and solid. All in all a well made piece of kit, and a three year warranty gives a lot of confidence.
---
Por: Anjam a
2017-02-25T00:00:00
The tool is easy to handle as well as I was very impressed with how you can rotate the handle from left to right. Also like the soft start.
---
Garantía 3 años
Este producto Silverline Amoladora angular 230 mm, 2400 W dispone de 30 días de garantía desde la fecha de compra contra defectos de fabricación y materiales defectuosos. Registre su producto online para extender el periodo de garantía 3 años. Todas las piezas defectuosas serán reparadas de forma gratuita.