MS124
Tenaza curvatubo con guías, 3 pzas
---
---
Mango de acero resistente y mecanismo de aluminio
Dobla tuberías de cobre el 15 y 22 mm y tubo de acero inoxidable de 15 mm hasta 180°
Ideal para usar en tuberías de gas, calefacción y agua
Puede montarse sobre un tornillo de banco para mayor eficacia
Incluye guías de aluminio anodizado de 15 y 22 mm
---
Comprar online
Buscar un distribuidor
Comentar este producto
15 comentarios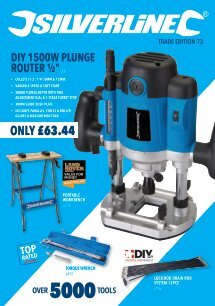 ---
Características técnicas
| | |
| --- | --- |
| Ángulo | 180° (máx.) |
| Capacidad - Tubo | Tubería de cobre: 15 y 22 mm |
| Acabado | Electropintado |
| Acabado - Empuñadura principal | Electropintado |
| Mecanismo de ajuste | Palancas |
| Peso | 3,95 kg |
---
Descripción del producto
Curvatubos de alta resistencia con mango de acero y mecanismo de aluminio. Dobla tuberías de cobre el 15 y 22 mm y tubo de acero inoxidable de 15 mm hasta 180°. Puede montarse sobre un tornillo de banco para mayor eficacia. Incluye guías de aluminio anodizado de 15 y 22 mm. Guías de repuesto de 15 mm y 22 mm disponibles. Longitud: 745 mm ,mejora la facilidad de uso. Compatible con las guías para curvatubos Silverline (incluidas).
---
Contenido en el embalaje
Tenaza curvatubo con guías
Guía de aluminio anodizado de 15 mm
Guía de aluminio anodizado de 22 mm
---
Comentarios realizados por nuestros clientes
Por: John I
2018-04-30T00:00:00
The bender wrinkled the copper tube every time I tried today use its. I gave taken it back for a refund.
---
Por: Chris K
2018-04-10T00:00:00
Rubbish tool, the tool ripples pipe on 15mm and 22mm. flats the bend or at best ovals the pipe, professional plumbers have tried this tool and had same outcome. I would rather use fittings than waste anymore pipe making poor bends! The best place for this is on my scrap pile as it was to late to return this to the shop when I got around to using it. Very dissatisfied,! I had to select 1 star rating as 0 was not available.
---
Por: David I
2017-06-11T00:00:00
---
Por: M Q
2017-04-27T00:00:00
Absolutely do the job needs to be done. I love it and recommend it to all.
---
Por: Alan k
2017-04-24T00:00:00
Very well priced product. However it does leave small ripples on the 1/2 inch pipe.
---
Por: Stephen N
2017-01-05T00:00:00
Good quality Worked well with aluminium
---
Por: Peter O
2016-10-26T00:00:00
I am using the bender in France where the walls of the copper pipes are slightly thicker than in the UK - I was concerned there might be problems with some of the benders I looked at but as soon as I received the Silverline product I knew it was robust enough and up to the task. I have not been disappointed and, to date, have never had a problem with any Silverline products in my toolbox. As usual, a good product for a good price.
---
Por: James k
2016-10-11T00:00:00
---
Por: Andy M
2016-10-11T00:00:00
An excellent value piece of kit. Easily bent some 15mm chrome plated copper pipe with no damge to the surface. Quality belies the price.
---
Por: Chris L
2016-10-10T00:00:00
these are a good quality,sturdy reasonably priced set of benders
---
Por: Bill S
2016-09-27T00:00:00
I''ve had his bender for a while now and its been worth every penny. It''s pulled me out the s*** a few times allowing me to make up varying bends to follow the contours of walls etc.
---
Por: Matt
2016-09-26T00:00:00
Very good and a good price
---
Por: Dave L
2016-09-06T00:00:00
Very good product and easy to use.
---
Por: joseph b
2016-09-05T00:00:00
This is just what I needed, having to plumb a bathroom.Worked fine just had to tighten the hex screw a few times on the roller and a bit of muscle needed for 22mm bends, that''s normal..Good price for bender. .Have used professional benders through work in the past ,This is fine for DIY projects.Happy with my purchase.
---
Por: Jonathan
2016-09-03T00:00:00
Solid piece of kit, works very well for both 15 and 22mm pipes - recommended.
---
Garantía de por vida
Este producto Silverline Tenaza curvatubo con guías, 3 pzas dispone de 30 días de garantía desde la fecha de compra contra defectos de fabricación y materiales defectuosos. Registre su producto online para extender el periodo de garantía de por vida. Todas las piezas defectuosas serán reparadas de forma gratuita.